The springtime sun is out again, which means those outdoor gatherings we've been waiting for are just around the corner, including Cinco de Mayo and Victoria Day this month!
As fun as BBQs and other outside get-togethers are, those salty, sugary, and carb-loaded snacks can be our worst enemies when it comes to the health progress that we've worked so hard for.
Thankfully, The Low Carb Grocery is here to help you find the best selection of low-carb and sugar-free grocery products so you can stay on top of your health goals.
Founded in 2004, this one-stop-shop has a wide catalog of 2,500+ low-carb, sugar-free, and keto-friendly foods, including breads, pastas, snacks, desserts, energy drinks, and chocolates. In fact, a lot of the items they carry will not be found anywhere else in B.C., or Canada for that matter.
To help you prepare for your social gatherings this spring and summer, here's a round-up of our favourite low-carb, keto, and sugar-free foods available at The Low Carb Grocery. Plus, continue reading on for a chance to win a $500 shopping experience!
Savoury low-carb snacks
Get the party started by ditching the potato chips and munching on our favourite choices of low-carb chips instead.
High in plant-based protein, BeyondChipz TorPillas are an all-natural tortilla chip replacement that has the perfect crunch in every bite. Beanitos bean chips are high in fibre and 100% corn-free and soy-free, making them a favourite gluten-free alternative to traditional chips.
Farmed responsibly "from gate to plate", low-carb beef snacks are a clean, delicious, and oh-so satisfying high protein snack that'll be a hit at your BBQ.
BUFF's Bison Meat Snack Sticks and Wenzel's Farm's Grass-Fed Beef Nick's Sticks are high in protein, low in fat and calories, certified Paleo and Keto, and packed with wholesome, natural flavours.
Sweet sugar-free refreshments and desserts
Sugar-free drinks and mixes, which boast zero sugar-added and zero calories, are a good replacement for the carbonated, sugar-filled pop that's typically served at BBQs.
Using stevia as a sweetener, Zevia organic iced teas and natural diet sodas offer a refreshing alternative to traditional sodas andare a crowd favourite. If you're ready to mix it up, Chase cocktail mixers can be added to your hard drink of choice and are available in Cola and Mango Pineapple flavours. 4C Totally Light fruit punch mix enhances water and even provides the daily recommended dose of Vitamin C. Even Kool Aid has its own sugar-free drink mix, available in blue raspberry, green apple, grape, and tropical punch.
Treat yourself to sweet, sugar-free frozen treats and jellos for dessert! Try Dutch Monarch's gourmet all-natural sugar-free ice cream mixes (available in classic vanilla and chocolate flavours), or Hunt's and Kraft's ready-to-eat low calorie jello mixes that come in a variety of flavours!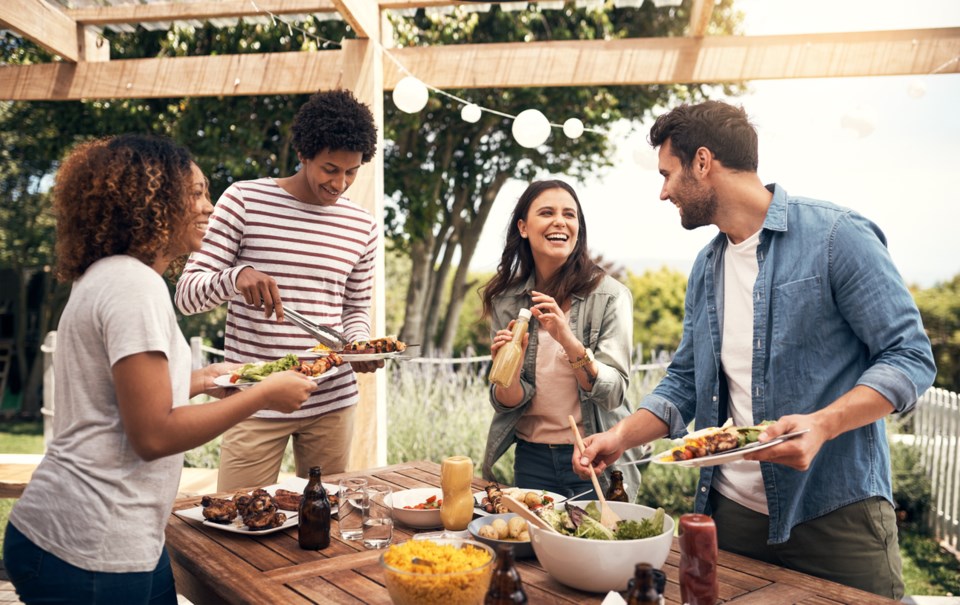 Low-carb buns and wraps
Because you can't serve a BBQ without bread, there are many low-carb bun and low-carb tortilla options to wrap your hamburgers and hot dogs in!
Baker's Deluxe Dream Rolls and Dream Buns are high in protein and fibre and low in carbs. For keto-friendly breads and buns, try Carbonaut products. Nuco organic coconut wraps are another unique low-carb option made from 100% organic, sustainably-farmed coconuts that come in Original, Cinnamon, Moringa, Cassava, and Turmeric flavours.
Made with flax, oat bran, and reduced-carb whole wheat, Joseph's Bakery offers a selection of European-style breads, including pita bread, tortilla wraps, and flatbreads. Other recommended low carb tortilla brands include La Tortilla Factory, with their whole wheat, soy flour tortillas that serve a good source of protein, Mr. Tortilla taco tortillas that give that homemade taste you love, and Mama Lupe's tortillas that are low in fat and calories.
Low-carb sauces and condiments
When attending a BBQ, you get to dress up your hamburgers and hot dogs with sauces and seasonings! The Low Carb Grocery has you covered with tons of tasty low-carb condiments and sauces to serve the whole crowd.
Heinz reduced-sugar ketchup allows you to enjoy the rich taste of this classic with only 1g of carbs and 75% less sugar per serving. And remember to pick up the pickles and relish from Mt. Olive Pickle Co., sweetened with Splenda.
To pack in even more smoky, spicy, or hot flavour, pick-up sugar-free and low-carb BBQ sauces from Crazy Mooskies, G. Hughes, and Guy's. These sauces are low in sodium, low in calories, and all around good! Sinai Gourmet fresh hot coulis are vinegar-free and made with real fresh hot peppers, herbs, and spices - and nothing else.
Add more flavour and heat into your burger with all-natural, gluten-free, and low-carb salsas from Desert Pepper! With flavours like peach mango and diablo, there's the right heat for everybody!
You can pick up all of these items (and more!) for your BBQ at The Low Carb Grocery, located in Burnaby at 8610 Glenlyon Parkway, Unit #137.
To learn more or place an online order, you can also visit thelowcarbgrocery.com! Shipping Canada-wide.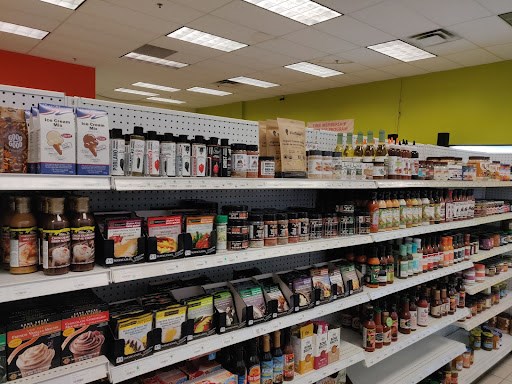 We've partnered with The Low Carb Grocery to give one lucky winner a $500 gift card to shop for low-carb and sugar-free groceries!
You can enter via the contest entry form below. For additional chances to win, visit The Low Carb Grocery at their website for 10 bonus entries, and visit their Facebook and Instagram for another 25 bonus entries each.