Electricians often find themselves working at heights — be it on the slab of a 30-storey high rise, on an aerial platform installing lights, or climbing microwave towers. No matter where they are stationed, trade workers in the electrical energy sector have lots of opportunity to excel while meeting the challenges of everyday work.
And no matter the situation, safety is paramount in this industry. In the field, electricians are always suited in personal protective equipment (PPE). Whether they wire the highest level of a building or bend pipe on the ground floor, safety always comes first.
In celebration of B.C.'s hard-working electrical skilled trade workers, who brave the highest buildings, have incredible dexterity while working with their hands, and thrive in an adrenaline filled atmosphere, we've partnered with the Electrical Joint Training Committee (EJTC), the Electrical Contractors Association of BC (ECABC), and The Hive Climbing Gym in Port Coquitlam to create a contest for those who have similar interests as our electrical heroes.
The Grand Prize includes:
An indoor climbing prize pack for The Hive Climbing & Fitness Gym in Port Coquitlam (Valued at $200)
A $150 gift card to Sport Chek
Total Grand Prize Value: $350
To enter for your chance to win, send us a photo of yourself in the highest, most exciting place you have been to or have climbed. It could be anything from the tallest tree you climbed as a child, or a visit to the Eiffel Tower! Photos must be taken only with sufficient risk management in place, and reckless photos will not be accepted.
In the contest entry form below, submit your photo (in .jpg format) along with your name, a small caption of where you were, and a short description (30 word maximum).
For additional chances to win, visit EJTC, ECABC, and The Hive at their websites for 10 bonus entries, and visit their Facebook and Instagram pages for another 25 bonus entries each.


This contest is open to British Columbia residents, and entrants must be 18 years of age or older (winner must provide proof of identification). The contest closes on August 11, 2022. The contest winner will be contacted via email on this date. In sharing your photo, you grant the EJTC, ECABC and The Hive permission to share on their respective social media and communication platforms
About the EJTC
The Electrical Joint Training Committee (EJTC) is a collaborative initiative of the International Brotherhood of Electrical Workers (IBEW) Local 213 and the Electrical Contractors Association of BC (ECABC) with a vision to offer the finest trades training possible to support national standards and ensure a strong electrical industry in B.C.
The EJTC is the training and apprenticeship arm of the unionized electrical sector in B.C.'s Lower Mainland and Okanagan. Governed by a joint board representing the IBEW Local 213, the ECABC, and the B.C. Shipbuilding sector, EJTC is a leader in apprenticeship, training, and innovation. They take pride in the quality of their programs, delivery of training, management of over 800 apprentices, and of course, their state-of-the-art training facility.
About the ECABC
The Electrical Contractors Association of British Columbia (ECABC) represents approximately 140 members around the province including open shop and union electrical contractors, line utility contractors, and associate members, including manufacturers, distributors, suppliers, and agents.
ECABC's members are integral to the construction industry that builds our province, contributing $1.3 billion annually to B.C.'s economy. In a world that is increasingly powered by renewable electricity, ECABC's members have never been more vital to building the infrastructure B.C. families and communities need.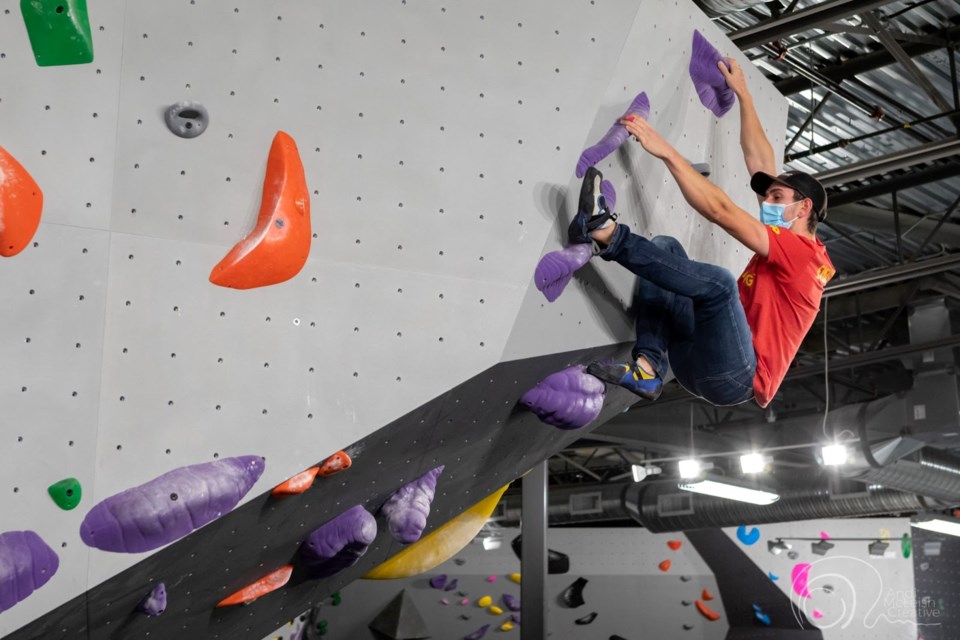 About The Hive
The Hive Climbing & Fitness in Port Coquitlam is a bouldering gym where you can come for the climbing and stay for the community. The gym is a great place to get in a good workout, confront and overcome fear, meet new friends, and have fun. From seasoned climbers to first timers, The Hive has something for everyone. Come for a drop-in session or take one of the many courses to develop and refine your climbing skills.