Carry on with your favourite end-of-summer tradition at Vancouver's biggest fair!
From August 20 to September 5 (and closed on Mondays with the exception of Labour Day), the annual PNE Fair will bring back all of the classic attractions that regular fair-goers know and love, including the Superdogs, BCAA ToonCity, Marketplace, PNE Prize Home and Agriculture displays, along with all of the Fair treats you've been craving — like mini donuts!
In addition to the rides and games, the 2022 edition of the PNE Fair will provide family-friendly fun by showcasing a diverse entertainment lineup of internationally acclaimed performers.
Here are some of these can't miss shows and attractions that you can experience this summer at the PNE Fair.
Summer night concerts
The Fair's summer night concert series is back! Staged on the PNE Amphitheatre with shows running every evening, PNE Fair guests will enjoy sensational live performances from some of music history's biggest names in pop, rock, R&B, and more.
Some of the highlights of the 2022 Summer Night Concerts line-up include The B-52s Farewell Tour, Blue Rodeo, the Barenaked Ladies with Kim Mitchell, Chicago, Steve Miller Band, TLC and Shaggy, Chaka Khan & Patti LaBelle, the Stars of Drag with Vancouver's own Kendall Gender and more, and The Beach Boys' 'Sixty Years of the Sounds of Summer tour.
Coca-Cola stage shows
This year, you can enjoy fierce performances from some of Vancouver's drag superstars daily in the Revel District at 4:30 p.m. and 6:00 p.m. during a tribute show of legendary icons including world-class drag celebrity impersonations of Cher, Tina Turner, Lady Gaga, Madonna, and more. There are also live bands playing at 1:30, 2:30, 7:30, and 10:00 p.m.
​The Flying Fools Highdrive Show
These incredible world-class divers will make you laugh and even gasp as they dive from incredible heights. Hold your breath, but don't close your eyes as acrobats plunge from 80 feet in the air! Shows will be running at 2:00, 3:30 and 7:00 p.m. daily at Playland Point.
The stars of the Peking Acrobats
Pushing the limits of human ability and defying gravity with displays of contortion, flexibility, and control, THE STARS OF THE PEKING ACROBATS® have redefined Chinese acrobatics for the past 32 years.
During the show, which runs daily at 4:30 p.m. and 7:00 p.m., audiences can expect to see daring maneuvers and technical prowess in arts such as trickcycling, precision tumbling, juggling, somersaulting, and gymnastics.
Festival park cultural showcase
This celebration of B.C.'s diverse landscape will delight fairgoers of all ages and backgrounds. From dynamic dancers to exhilarating musical performers, the stage at Festival Park will come alive with multicultural showcases daily at 1:00 p.m., 3:00 p.m., 4:00 p.m., and 5:30 p.m.
Dueling Pianos
Returning to the PNE Fair for 2022 is the fair favourite musical battle, Dueling Pianos. Two talented piano players will go head-to-head every night at Festival Park, and you are welcome to come request your favourite tune, raise a glass, sing along, and have a roaring good time!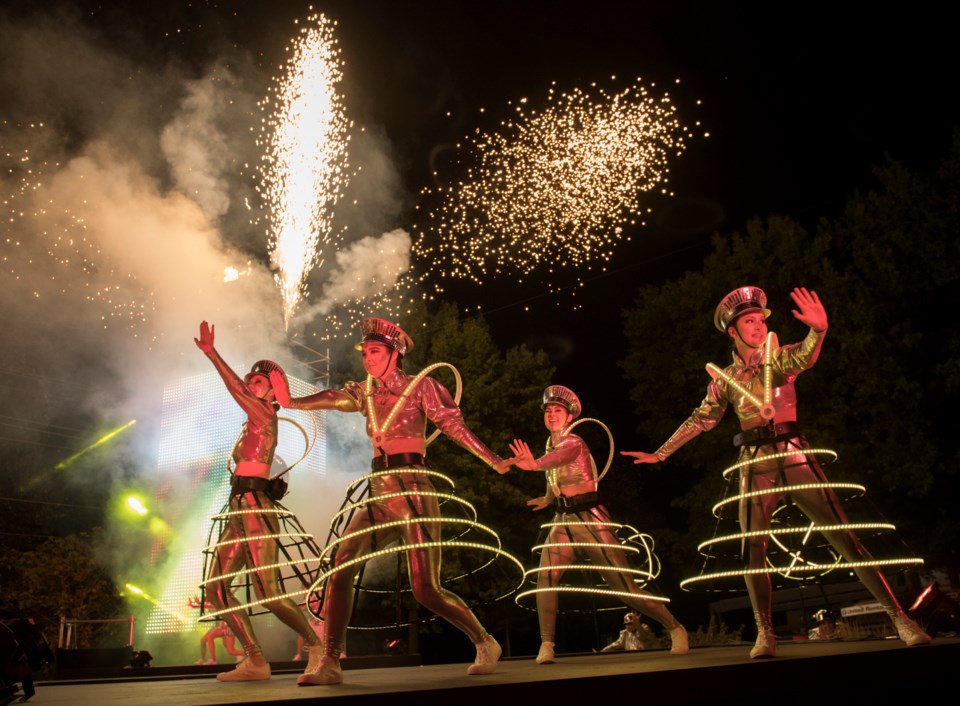 ​Electric fire
Feel the heat of the nightly pyro musical finale at the PNE Amphitheatre, as the skies erupt with flying rockets, exploding fire, live performers, and high-voltage intensity.
PNE Fair tickets are $20 for adults, $14 for seniors and youth 13 to 18, $7 for kids 4 to 12, and free for children 3 and under. You can save $2 on gate admission tickets by purchasing in advance online at ticketleader.ca.

For more ways to save on PNE Fair admission, BCAA Members can save up to 30%, and Fair Fridays with Translink allows the first 5000 guests to show their Compass Card or proof of transit fare to receive 2-for-1 gate admission.

Admission tickets for the PNE Fair are limited due to daily attendance capacity limits, and all tickets must be purchased for a specific day. To avoid disappointment, advance ticket purchases are highly encouraged.

For tickets and more info, visit pne.ca.