"Lots of people are talking about the Downtown Eastside right now, and they should be. The DTES deserves our attention, but too often, these conversations don't include the people who actually live there," says First United Interim Executive Director Amanda Burrows. "Listening to the community is essential and informs the work we do at First United."
That's why the inclusive low-barrier service provider made a conscious effort to get feedback and insight from DTES residents when making plans to redevelop its deteriorating two-storey building at 320 East Hastings into an 11-storey purpose-built facility with amenities, services and housing.
Responding to the needs of the community has shaped First United into the organization it is today. Its first forays into social services began during the Spanish Influenza. Over the decades, as poverty in the neighbourhood increased, it continued to respond and adapt, launching a meal program during the Great Depression, legal advocacy and tax assistance programs in the 60s and 70s, and serving as an incubator for programs tackling issues ranging from safe injection to employment skills training.
In 2007, it closed its worshipping congregation and transitioned into a nonprofit, adapting its aged church building to act as a full-time shelter and direct needs service centre.
Consultations with community members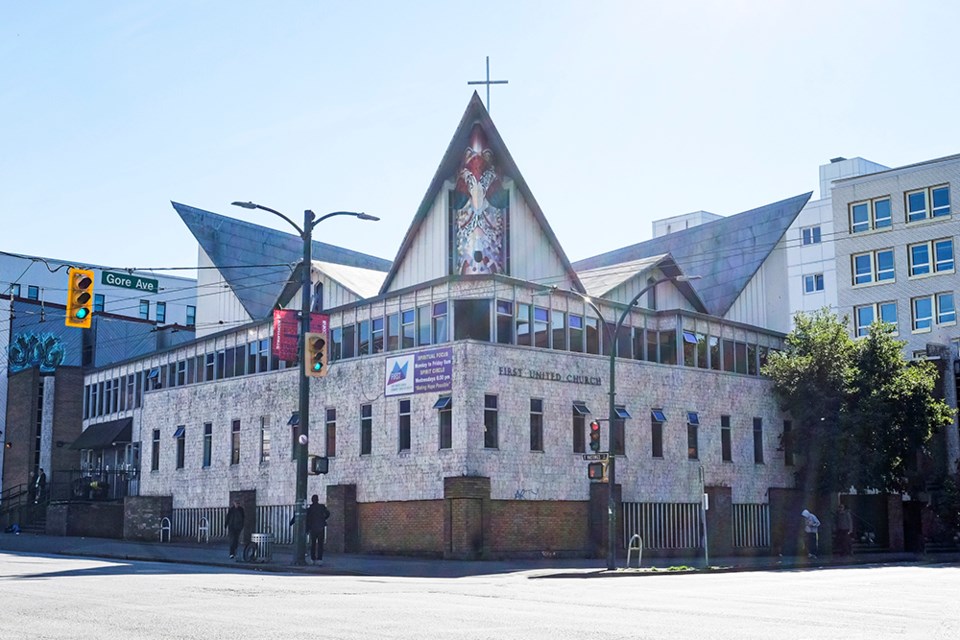 When redevelopment planning got underway in 2017, First engaged in extensive consultations with nearly 100 DTES residents with lived and living experience and familiarity with its services. They also engaged fellow service providers, government, and community partners, sitting for one-on-one conversations and focus group sessions to learn what gaps in services needed to be addressed.
They then took this feedback and incorporated it into the design of the new building.
"If you don't live in the DTES, you may not know the issues faced by the community," Burrows explains. "For example, there are very few public washroom facilities or public spaces where people are free to gather or sleep during the day if they're unsafe doing so at night, without being shooed away."
In answer, the new First United will feature two drop-in spaces, an outdoor rooftop deck, an interfaith sacred space, expanded washrooms and shower facilities, and a day sleeping room.
First United's flagship meal, advocacy and tax programs will have expanded space in the new building, as will other services, such as private counselling spaces, a help desk, mail and phone services, a computer lab, and more.
Below-market housing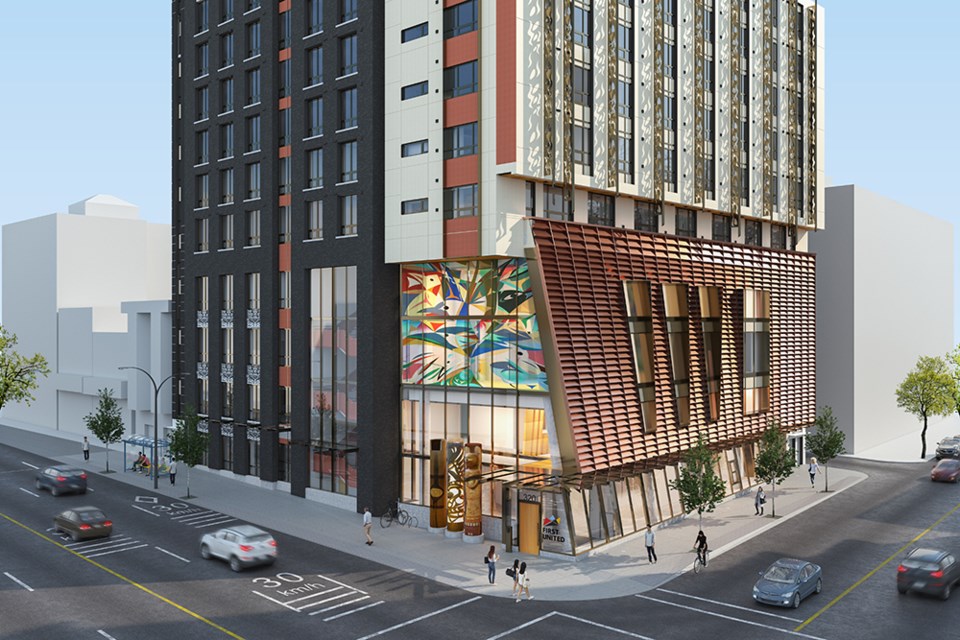 "There is no way to address the needs of our community without addressing housing," says Burrows.
To do their part, First United has partnered with Lu'ma Native Housing Society to develop over 100 units of below-market housing for Indigenous peoples, who comprise 30-40% of the DTES population. Housing will occupy the top seven floors of the building, and all residents will have access to First United's services, creating a supportive housing environment.
The total cost of the building is approximately $80 million. The cost of First United's four-floor services podium is approximately $30 million, and in November 2021, First United launched its First Forward Building Connections Campaign to fundraise the costs. To date, the organization has raised over $25 million.
"You can't put a price on dignity, but you can help build a space that embodies it," Burrows says.
She invites Vancouver residents to help move First Forward, and support a DTES neighbhourhood where everyone's worth is celebrated and all people thrive by making a donation to the First Forward campaign.