They say, 'Home is where your heart is.'
For Terraces On Seventh resident Muriel Morris, Vancouver has been a longtime love. It's where she put down roots as a child, had a career caring for others, raised a family, and ran a successful business with her husband.
Muriel was born in the small town of Churchbridge, Saskatchewan - close to the Manitoba border - and lived there until she was 12.
After her mother passed away, her father brought her to Vancouver in the early 1940s.
"I actually feel like I am a native of Vancouver, because I was so young when I came here," says Muriel, who turns 91 this June. "It was after the war, and rationing was still in place.
"Things were quite different back then, not all built up like today. And I remember walking over the wooden boardwalk of the Granville Bridge to my aunt and uncle's house on West 14th."
Later, she would earn a degree as a piano teacher. But Muriel's true calling was to care for others, and Muriel chose nursing, graduating from Vancouver General Hospital's nursing program in 1953.
"It was difficult. I didn't really want to be a music teacher, so I went into nursing and loved it," she says. "I've got that type of personality; I'm a caregiver. I feel good when I help people."
Muriel spent 14 years as a nurse at VGH, and then went into business with her husband. Together, they ran a furniture and giftware store in the Chinatown area - Benmor Furniture - for 30 years.
"I think we had the original 99-cent store in town," she laughs.
The business's success allowed her and her husband to retire relatively young and enjoy their time with each other travelling. But, the draw of Vancouver as the home was always there. They had a family home in the Oakridge area for many years, then moved to South Granville, not far from Terraces On Seventh, for 30 years.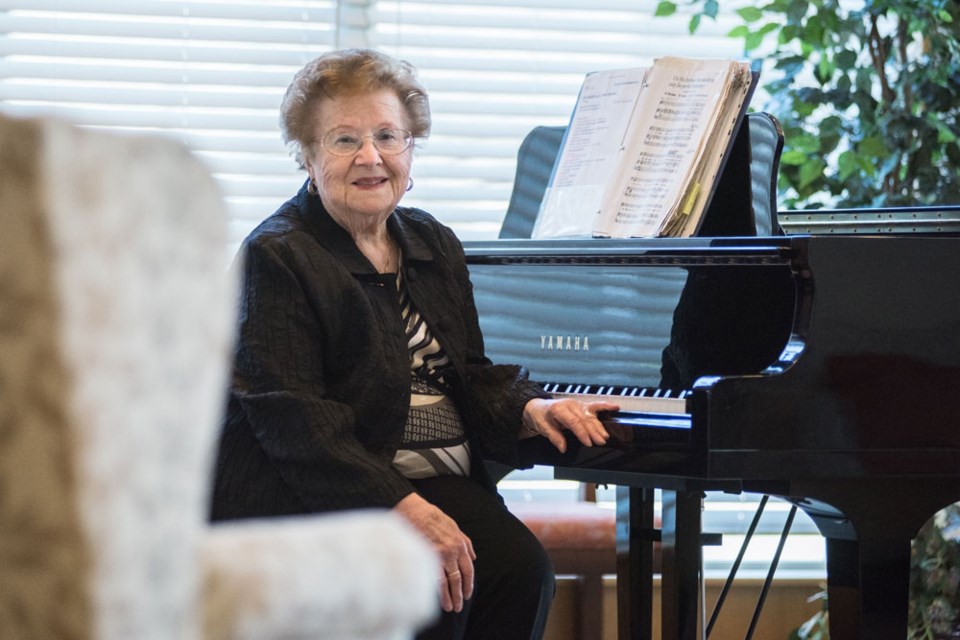 "This really is my neighbourhood," Muriel says. "That was one of the primary reasons I decided to live here now. I'm close to my daughter, and other important things, like my doctor, lawyer and accountant."
And Muriel has really made her new surroundings home, even though she had to pare down much of her belongings before moving in, except for her beloved piano.
"Everything I brought had some sentimental value to it. That way it really feels like home to me.
"Music has lasted all my life, that's why I brought the piano," she continues. "Plus, I belonged to a group in
Vancouver called Showtime that would visit many of the seniors' homes across Vancouver, and even out to Richmond and Surrey."
The delight of performing for others was still there for Muriel, who has now officially retired from playing live.
"The two-year gap because of COVID-19 that didn't allow gatherings really put an end to performing for me," she says. "But I enjoyed it. You'd go and see the 'old folks' and, at first, you'd think they weren't sure if they were going to appreciate the performance. But it wouldn't be long before they were tapping their hands and feet to the music."
"That was so great to see," reflects Muriel. "It was very rewarding that I could, with the rest of our group, help bring a little bit of enjoyment to their lives."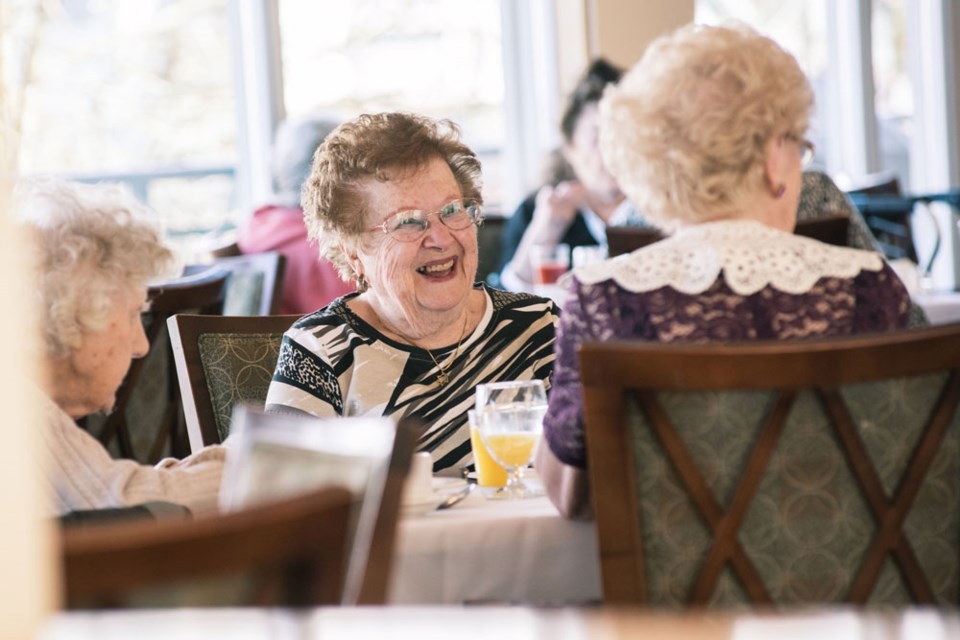 Today, Muriel enjoys the sense of community at Terraces On Seventh, where there is a series of daily programs that keep her, and other fellow residents, active.
"I am an early riser," shares Muriel. "That's when I get my energy. I always have a book going and staying active is very important to me. There's so much to do here."
It starts with daily exercise sessions and a changing selection of after-lunch activities that include enjoyable challenges such as Word In A Word.
"It's so much fun, and a good mental workout," Muriel says. "You are given a long word and the game is to see how many other words you can make from it. Sometimes, from a 25-letter word, we can get about 300 different, new words."
With that kind of result, Muriel must be a keen Scrabble player, right?
"No, I am not," she laughs, adding Scrabble success calls on a specific set of skills.
Perk is another activity held weekly which offers a rotating array of challenges.
"One time, you will get a blank sheet of paper to draw a picture, then you turn it over and re-draw what you did from memory," Muriel said.
Every time, Perk members are tasked with recalling a list of words given to them at the beginning of the session.
"The other day I got six out of the seven given to us, which I think was pretty good," Muriel says with a smile.
Then there are opportunities to explore the nearby community.
"I am quite lucky because every Sunday I get a ride somewhere with my daughter and son-in-law," Muriel says. "But we also have a dedicated bus here that will take you to the shops. And during the summer, we go to the beach, and we drive around Stanley Park.
"This really is home for me."

Visit terracesonseventh.com or call 604-738-8380 for more information on the Terraces on Seventh community.