"It has been my childhood dream to have a cafe… when I had my own family, that dream of mine was tucked away on a shelf. It became a fantasy that I only accessed when I felt like daydreaming."

Kaye del Rosario immigrated to Canada with the goal of pursuing a Nursing career in Manitoba and eventually in B.C., but a series of events made them realize they weren't ready to give up on their dream.

"I wanted to make food and share it with everyone. I wanted to become an entrepreneur", says Kaye. "I knew I had the skills and personal experience, but I didn't know how to start."

Fortunately, Kaye discovered the Immigrant Services Society of BC's (ISSofBC) SPARK and IGNITE programs; two free entrepreneur programs designed to help immigrants, refugees, and newcomers to Canada conceptualize, launch, and grow their businesses through one-on-one mentorship and ongoing business support.

With SPARK, individuals take part in three phases over four months: research, refining, and realizing, which ultimately lead to having an idea that is ready to be developed into an actual business. During these four months, participants will also have access to mentors and be able to build connections and skills that will help them as their business grows.

After SPARK, participants can move to ISSofBC's IGNITE program, which provides one-on-one help from a business advisor, guiding participants through the development of their business plan, registering their business, exploring funding and lending options, and helping them address their own unique challenges and needs.

"ISSofBC's programs SPARK and IGNITE were the answer to my prayers", says Kaye. "Spark equipped me with the knowledge and information I needed to turn my dream into reality. It also enabled me to get in touch with people/networks who could help promote and improve my business. The support and guidance really helped me to grow and become a better entrepreneur."

As some of the only programs of its kind in the province , the ISSofBC's SPARK and IGNITE programs do so much more than improve the lives of those who participate; small businesses like the ones that have emerged from these programs provide jobs and bring careers and opportunities to the communities in which they operate. One opportunity leads to another, a ripple effect that benefits us all. The ISSofBC has helped launch 20 successful companies to date, including Kaye Bakes, an online food store and commissary kitchen in Coquitlam.
If you find you're craving something sweet Kaye has a recommendation: their Sansrival cake, a popular Filipino cake with scrumptious layers of nutty meringue, filled and covered with Buttercream and your choice of nuts (Kaye recommends cashews).
As new businesses open, Kaye continues to think big, "I hope to open a physical cafe where we can fully execute our vision and serve more Filipino comfort foods. For me, my dream cafe would have tables where everyone can enjoy their food and sit together. Like many Filipino households, food is the key to bringing people together."
And there are so many success stories like Kaye's.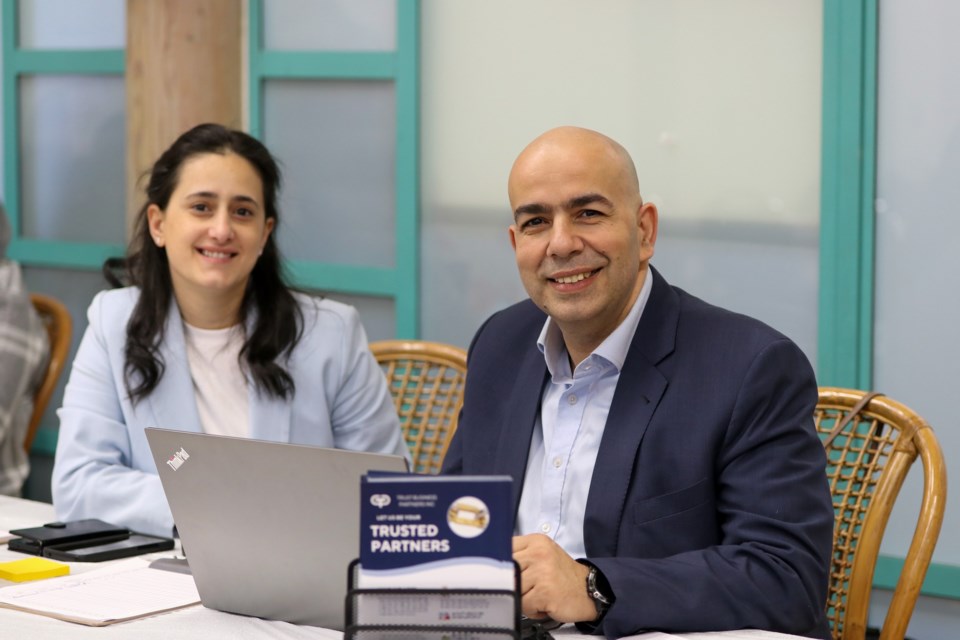 "IGNITE supported me to find the right connection and tools for my business needs", says "Maryam Alyamani, owner of the online antiques business called Storytime Antiques. "At Storytime Antiques, every piece tells a story. When you purchase a piece and place it in your home or gift it to a friend, you are adding a story and a bit of a character to your home. IGNITE helped me to craft my marketing strategies and build a stronger online platform and presence."

Similarly, Alaa Aljamal launched Trust Business Partners Inc., an accounting and tax services company based in Surrey, B.C. "We started to be known in my community, I started sponsoring our community events and started to be a reference in accounting and taxation", Alaa told us, "It was a dream when I started the SPARK program, and the goal, step by step, became steadfast with every section I attended and every task I completed."
Whether you're dreaming of becoming self-employed, or just need help improving an existing business, ISSofBC's SPARK and IGNITE programs will work with you to develop and strengthen your ideas and get you one step closer to succeeding in business and beyond.

To learn more about eligibility and how these programs can benefit you or someone you know, visit www.issbc.org/business today.