Butter, cream, and a little bit for French technique. That's the recipe for indulgence.
Despite Vancouver's coastal geography, we tend to excel at international eats. While we're predominately recognized for our Asian cuisines, our French bakeries should not be missed.
From delicate pastries to buttery croissants, here's where to get the best French baking in the city.
Franck Buiron, the pastry chef behind L'Atelier Patisserie is an ambassador for French flavour in Vancouver. Fuelled with passion, he wakes up every day to bake the best of France with a touch of Provence: croissant, pain au chocolat, macaron, nougat, Paris-Brest, mille-feuile. Franck has traveled the world developing his skills and it definitely shows at this cute East Van spot.
Traditional French pastries made in the heart of Kitsilano. Plaisir Sucré makes French pastries exactly how you like them to be made; ornate, dainty and as fun to look at as they are to eat. With their 100% butter traditional french baking technique, this is a fabulous spot to enjoy classic sweets like Eclairs, Macarons, Fruit Tarts, Sablés, and Pains au chocolat.
La Baguette et Compagnie – 3273 W Broadway
These croissants are handmade because "no machine can ever replace the skill of a true baker." Baguette & Co takes their craft very seriously and that's no surprise, they create beautiful breads, pastries and French delicacies that celebrate the fundamentals of French baking. They're traditional, they're delicious and they're made with care.
Bon Macaron Patisserie offers a vast and ever-changing variety of sweet and savoury macarons, made with the finest ingredients. Owners Yann Fougere and David Boetti—native Frenchmen with extensive backgrounds in pastries and customer service—have been friends since attending university in the South of France. Their Macarons are gluten-free and are dairy-free flavours are available too.
Bâtard is a family run boulangerie and café that makes all their breads and pastries in house. Their recipes are inspired by the family's travels in France, as well as traditional recipes from their own culinary repertoire
L'Eclair de Génie serves classic French éclairs featuring a variety of toppings and fillings, including an ornate Chantilly Fraise and a Passion fruit éclair that reads "I Love Vancouver."
Faubourg specializes in delicate French cakes and pastries. From triple chocolate decadence to passion fruit mousse, this bakery/cafe is a must-try for those wishing to be whisked away to Paris.
Ladurée – 1141 Robson St and 737 Dunsmuir St (Holt Renfrew)
Vancouver was lucky enough to be the first Canadian home of Ladurée back in 2016. While the French sweet shop is best known for their macarons, they recently introduced a line of cakes and pastries that are an absolute must for anyone that appreciates technique.
With traditional offerings like Butter Tarts and Sour Cherry Tarts in tow, Le Marché St. George is the perfect place to curl up with a notebook and indulge in something sweet.
Uniquely designed and handcrafted by a team of pastry chefs, the menu at Ganache is inspired by the seasons and changes regularly. The one consistent theme at Ganache is French technique with subtle Asian influences running throughout each of their delicious pastries.
Cadeaux Bakery pumps out so many heavenly treats from their open concept bakery that looking at their display cases can be an almost overwhelming experience. They've got tons of meringues, cookies, squares and beautifully decorated pastries and cakes.
Foto is a French-Asian bakery that specializes in Fresh Croissants. While traditional flavours like cheese, chocolate and almond are up for grabs, their more inventive offerings like Garlic and Parsley, Maple Bacon and Blueberry Lavender should definitely be on your radar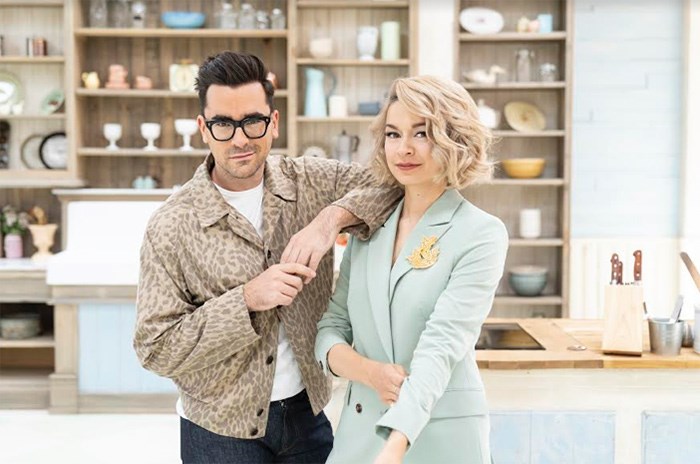 Craving more? The Great Canadian Baking Show has returned to CBC for its second season!
Hosted by Dan Levy and Julia Chan, The Great Canadian Baking Show brings together 10 amateur bakers from across the country to compete in a series of themed culinary challenges that celebrate their diverse backgrounds, families and communities.  
Each week bakers will compete in three challenges, The Signature Bake, the Technical Bake and the Show Stopper. After the judges taste and critique the bakes, they crown one Star Baker and ask one baker to leave the tent. The final three bakers compete for The Great Canadian Baking Show title.
To learn more visit, cbc.ca, or watch now via the CBC TV APP.