Summer is here, and what better way to enjoy the season than by heading to the ballpark to catch a game (and maybe a foul ball if you're lucky)? Whether you're a baseball nut, a casual sports fan, or simply looking to introduce your little sluggers to the greatest game on earth, an afternoon at Rogers Field at Nat Bailey Stadium cheering on the Vancouver Canadians is an experience that's hard to beat!
The Vancouver Canadians are Vancouver's very own Minor League Baseball team, affiliated with the Toronto Blue Jays, and the only MiLB team based in Canada. They're also conveniently located here in Vancouver, which certainly beats hitting the road to Toronto to catch the Jays in action.
The Canadians play their home games Tuesdays through Sundays and fans should definitely arrive early to enjoy the pre-game festivities, including music, entertainment and local food vendors. For fans of legal drinking age, nothing goes better with sunshine and baseball than a nice, cold beer. The Canadians are proud to offer a wide selection of local beers, including some of the best craft breweries in the Lower Mainland. So grab a fresh one, get stoked, and cheer loud and proud for the boys in red.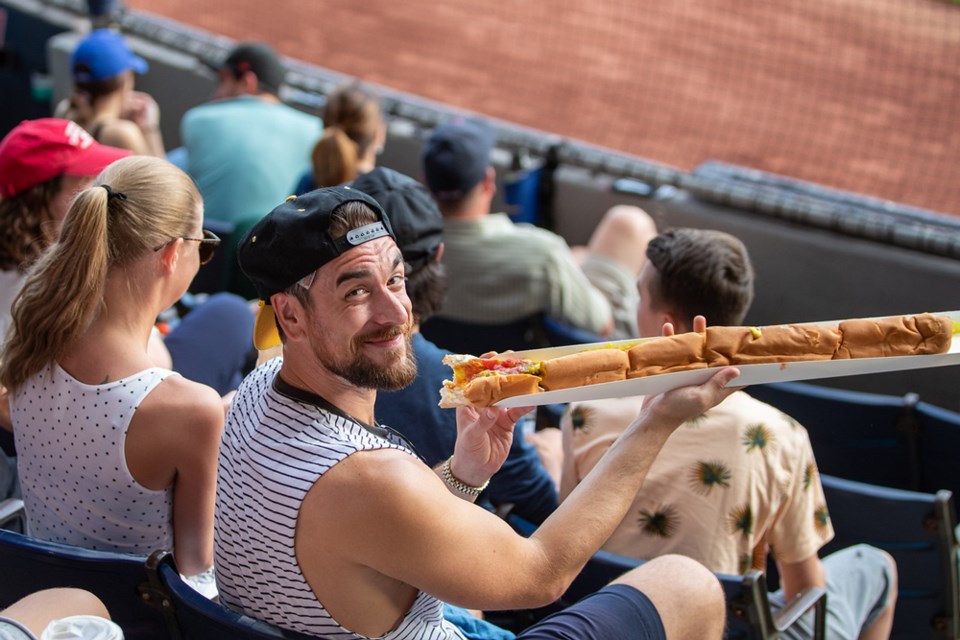 But it's not just about the beer and the baseball. The Vancouver Canadians are committed to creating a fun and welcoming atmosphere for all fans. From the moment you step into the ballpark, you'll be greeted with friendly smiles and helpful staff who are there to make sure you have a great time.
Speaking of tiny baseball fans, be sure to check out the Baseball Buddies Benefits ticket program! It's hard to imagine a better birthday present for young baseball enthusiasts than getting together with their pals (min group size of ten) and watching the Canadians blast some dingers — along with a whole bunch of additional awesome perks! Not only will the mini-ballers get the chance to join the Vancouver Canadians for the National Anthems, but they'll also get reserved seating for the group, a Nathan's hot dog, fountain soda and bag of potato chips. Plus, with a special group welcome on C's Diamond Vision and a digital team photo emailed to the group leader after the game, it's sure to be a day your little ones will remember.
So, what are you waiting for? Grab your friends and family and head to Rogers Field at Nat Bailey Stadium to watch the Vancouver Canadians play. It's the perfect summer activity for people of all ages, and a great way to support a local team, and with tickets starting at just $20, it's a super affordable way to spend an afternoon or evening and beats dealing with the Sea-to-Sky gridlock any day.

With great baseball action, local craft beers, delicious hot dogs and an exciting and friendly atmosphere, there's no better way to spend a summer day than by cheering on the Canadians.
To purchase tickets, please head to www.milb.com/vancouver, call 604-872-5232, or head down to the Nat Bailey Box Office, Monday – Friday 9:30 a.m. – 5 p.m. and Saturdays from 10 a.m. – 3 p.m.