Canada's leading meal-kit company is extending an official apology to the Canadian raccoon community.
HelloFresh's effort to change the way people prepare meals for the betterment of our planet and our people is also impacting the scrap-finding ways of Canada's notorious "trash pandas".
HelloFresh meal kits generate 72% fewer food scraps during meal preparation than non-HelloFresh meals. As more and more Canadians choose HelloFresh, these waste-loving bandits are finding themselves out of luck when hitting up their local green bins.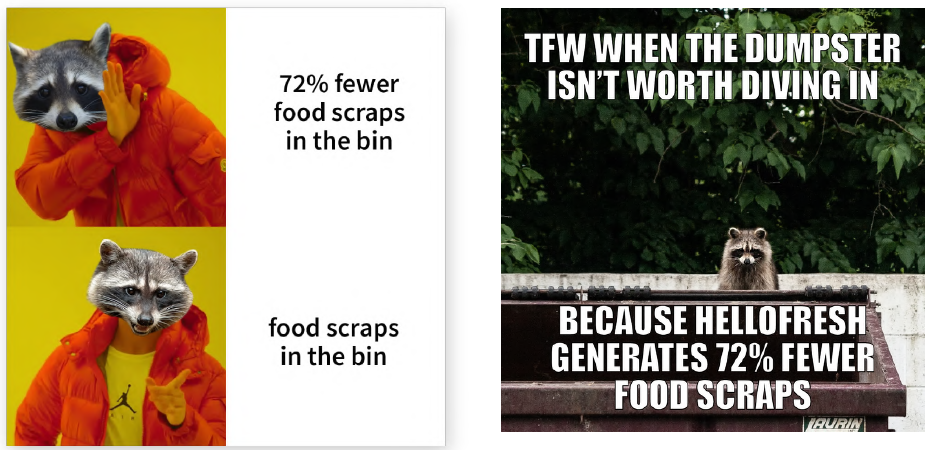 As disappointing as the low supply of food scraps may be for our neighbourhood raccoons, the positive impacts on our environment cannot be dismissed.
The impact on your cooking process
We've all experienced the leftover waste that comes with meal prep. Imagine you've tried a new recipe that calls for ¼ cup of fresh cilantro. You buy it fresh, cook the dish and then are left with an almost full bunch of leftover cilantro that will likely end up unused and in the trash in a matter of days. And while one bunch of herbs may not seem like a lot, it adds up.
According to a recent study, the average Canadian household generates approximately 372 pounds of avoidable food waste annually. This weight is equivalent to that of a single bed, a fridge, or 1,000 hockey pucks. Furthermore, the study revealed that the total cost of food loss and waste in Canada is more than $1,700 per household per year.
With HelloFresh's purchase-to-order model, you get exactly what you pay for - the precisely measured amount of farm fresh ingredients needed for cooking a specific dish. This process results in 36% less food in weight when compared to the traditional way of shopping and cooking for dinner.
As a whole, the HelloFresh way generates less waste at a lower cost, which is great for the environment (and for your wallet).
The impact on our climate
Wasted food not only means waste in terms of the water, energy, and resources it takes to grow, harvest, and transport food, it also leads to the emission of harmful greenhouse gases.
When food waste ends up in local landfills, the rotten scraps produce methane - a greenhouse gas that is even more potent than carbon dioxide.
Cooking with HelloFresh actively addresses this significant environmental concern, primarily through the pre-portioned ingredients within their meal kits. As well, with vegan and vegetarian meal options offered, customers are given more opportunity to further reduce their carbon footprint.
As a result, HelloFresh meal leftovers produce 29% fewer greenhouse gas emissions when disposed of when compared to a meal prepared without HelloFresh.
With fresh ingredients and easy recipes delivered straight to your door, HelloFresh offers Canadians tangible mealtime solutions. From prep to post meal, you can rest assured that you'll not only be serving up a healthy and delicious meal, but you'll be doing so in a way that minimizes food waste every step of the way.
To learn more about how HelloFresh helps Canadians reduce their household food waste, check out HelloFresh.ca. And don't forget to click HERE to get up to 16 free meals from HelloFresh!