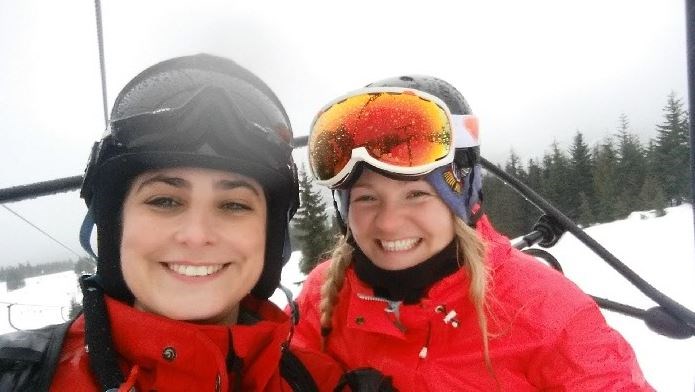 I'm not gonna lie. It's been quite some time since I've skied. And the last time was in Ontario. I know, I know. I was thinking the same thing. "Those aren't mountains, they're hills." Regardless - this was my time to go down some world-class mountains with a world-class snowboarder – three-time Olympian Mercedes Nicoll.
Great, I'm going up to Whistler Blackcomb. But I don't want to fight the crowds. I don't want to wait in long lines. I want to get my ski on. So, I figured having a local with me (wait, can I call a three-time Olympian a 'local'? Isn't that like calling the President Of The United States, 'Dude'?) was going to give me quite the leg up. And I was right - Mercedes informed me of the best times to ride, the best hills to check out, and shared some expert local tips.
1. Let The Weather Guide You
First things first. Locals base their choices on daily and hourly weather reports; that's how they determine where to go. On a perfect powder day, definitely Whistler! Locals know to take the Peak chair as early as possible to get to the tippity-top of the mountain. Or, if you're early enough, you might start off on Blackcomb and wait until Peak opens up. When you're a local, it's all about how much time you actually get to enjoy your sport, rather than where you are on the mountain. Did you know that Whistler Blackcomb is made up of over 8,000 acres (8,171 acres to be exact, but who's counting)? And it's all amazing terrain. So the fewer people to share it with, the better.
2. There's An App For That?
Seriously. Whistler Blackcomb has probably the most important app a skier or snowboarder or snow bunny needs. Get it. The first thing Mercedes did when we met up was check the app. It was a particularly rainy and windy day, so she checked to see which lifts and what hills were open. Real-time info is certainly useful when you're staring down the peak of a 2,300m (or 7,500 ft) mountain.
This app tells you the latest weather report, what to wear for said weather, which runs and lifts are open or closed. It also gives you weather reports, and you can use it as an alarm system to know when fresh snow has fallen and a whole lot more. Sure you can get the info on their website, but that's so passé.
3. Breakfast of Champions
Splurge for the Fresh Tracks Breakfast and you'll get there even before anyone else, since those lucky folks get to start as early as 7:15 a.m. But for everyone else, the mountain "opens" at 8:30 a.m., so be ready at the lift starting around 8 or 8:15 a.m. If they can let you up a little early, they just might.
4. Be Early for the Après
Another benefit to starting early - you get to take an early lunch break as well. Most tourists will stick to the regular tourist schedule, which means starting around 9 or 10am, stopping for lunch around 12 or 1pm, and then getting some afternoon skiing in before the 'après-ski.' This involves relaxing, sharing your experiences by the fire, having a bevvie, and enjoying the time off-mountain. You get the best seats with the best tables and views. #score
5. Getting Fuelled Before and Après
When it comes to the sport of skiing (or snowboarding), you need to fuel up to have an incredible day. And with so many choices all over, it's hard to know where the real locals actually like to break bread. Well, now I know. For starters, El Furniture Warehouse in The Village is a cool hangout with casual food. The kicker? All food is $5. Grabbing a Caesar at Dusty's Bar in Creekside is also recommended, and also at Merlin's – the only real bar in Whistler according to locals – where they serve up four different types of Caesar.
6. Where Everybody Knows Your Name (Sort Of)
But the coolest thing about riding like a local? The extended family you get. Everyone in the Whistler area grew up with skiing or snowboarding as part of their everyday routine. So, it stands to reason that they all grew up on Whistler Blackcomb. And with their shared passion for the sport (and their mountains), it's no wonder they love being there as often as possible. Everyone knows each other. I mean, when Mercedes and I got into the gondola, she immediately knew three of the other four people in the car with us. And it's not because she's been to the Olympics – it's because they've been skiing together for years, or have all worked in the ski/snowboarding industry together. In fact, she did mention that if you want to keep your private life private, avoid taking a date to Sushi Village. Otherwise the whole town will know soon enough who you're with! However, it sounds like their sake margaritas are pretty amazing.