This month Zipcar and RainCity Housing have come together to help drive acceptance and equality forward alongside Vancouver's LGBTQA+ community. Until August 1st Zipcar will be donating $1 for every hour that their local Pride Zipcars are reserved.
Proceeds will be donated directly to RainCity Housing and Support Society, a local initiative that has made it their mission to advance social equity by providing housing, promoting good health and facilitating hope and opportunities for those in need.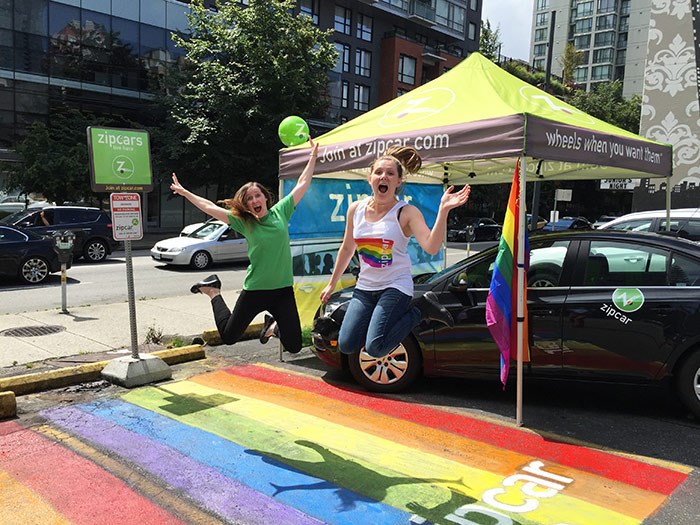 The Pride Zipcars, (a MINI Cooper named "Mazey" and a Chevrolet Cruze named "Cloud") are located at 1100 Jervis St. (at Davie St) and 654 Nelson (at Seymour).
There's something in it for you other than good Karma; enter of Zipcar's Twitter contest before August 1st at 12:00am to win free driving credit to help get you where you need to be. Use the credit at any of Zipcar's 100 locations throughout Vancouver and the Lower Mainland.
Twitter Contest:
Take a selfie at Zipcar's Pride Pod at 654 Nelson St. at Seymour St. and tweet it @ZipcarBC to receive $20 in driving credit.
Take a selfie in the Pride Celebrations this weekend and tweet it @ZipcarBC and receive $15 in driving credit.
About Zipcar:
Zipcar is the world's leading car sharing network with operations in more than 500 cities and towns. We provide members with access to a wide variety of cars—small cars, big cars, BMWs, vans, etc.—in cities, campuses and airports around the globe.  Once you join, you can reserve by the hour or day, on-demand or up to a year in advance. Gas and insurance included. To learn more, visit their website HERE.