West of the majestic Rockies, the Okanagan Valley slowly ripens on another glorious sun drenched day. Canada's fruit orchard permeates the air with the sweet smell of… Cherries? Strawberries? Apples?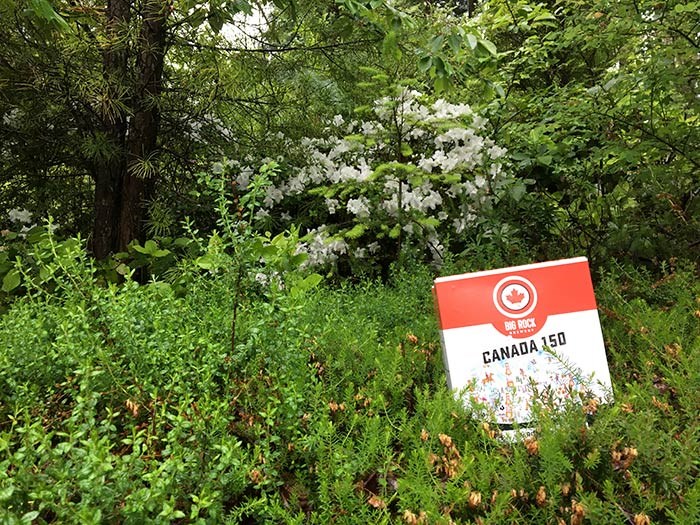 Peaches! The sweet, crisp and slightly floral flavour of the BC peach has been called upon to represent the West Coast in Big Rock Brewery's limited-edition Canada 150 6-Pack. Much like the West Coast, Big Rock's Peach Pilsner has a unique, refreshing flavour, distinct from the traditionally rich flavours one might associate with Canada as a whole.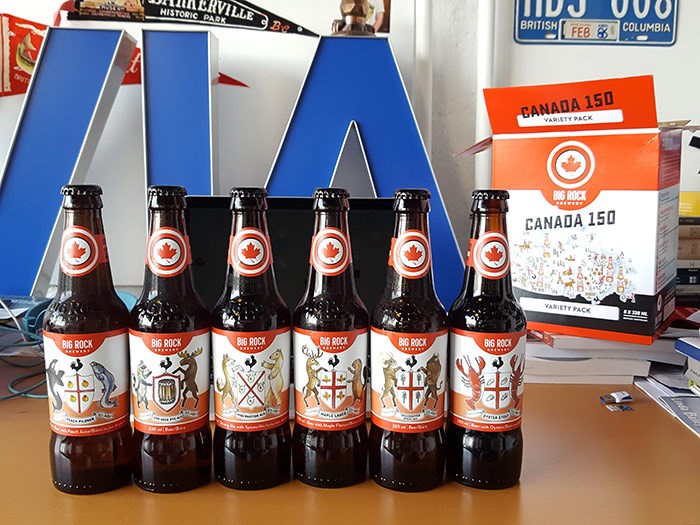 We coaxed Big Rock into giving us a sneak-taste of the Peach Pilsner and sipped it with the upmost patriotism. Its light body, medium carbonation, subtle bitterness and nice peach finish would definitely pair nicely with a sunny day on a BC lake or lazy afternoon on a Vancouver patio. Not one to play favorites, the Vancouver-based brewery has crafted a 6 bottle variety pack to pay tribute to the of the country's unique flavours.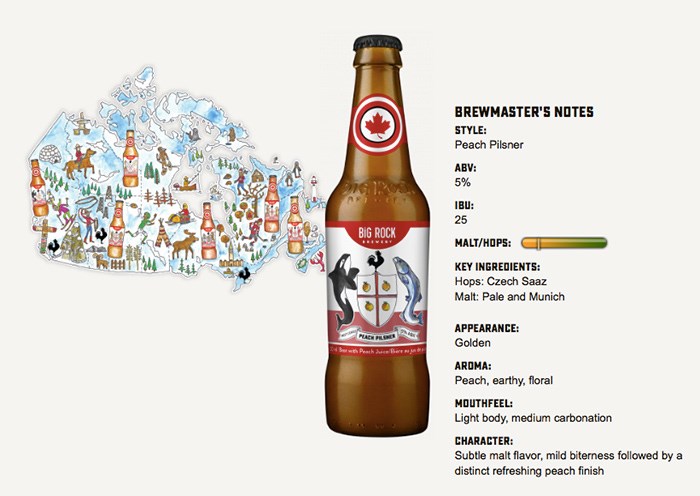 Their Grasshopper Wheat Ale pays tribute to the Prairies with its light hops and notes of bread and fruit while the Hibernation Ale takes on the character of the Canadian North with caramel malt and a woody, slight floral and spicy aroma.
Quebec is represented with a sweet Maple Lager and Ontario gets a hearty salute with Big Rock's Oak Aged Rye Ale, which is aged in small batches in old whisky barrels. Our personal favourite may be the strangest of the bunch; the East Coast Oyster Stout, which takes the full-body creaminess of a traditional stout and adds a touch of brine and salt to represent those cool Atlantic waters.
The limited edition 6-pack is moving fast and is likely to sell out by July 1, well before this year's Canada 150 celebrations come to a close.If you're hoping to try it, your best bet is to is to grab the variety pack at the Big Rock Urban Brewery and Eatery in Mt Pleasant. It is also available at a number of liquor retailers for a limited time, including most Liquor Depots in the area.
On top of their Canada 150 offerings, Big Rock has also launched a seasonal Kiwi Fruit Dry Hopped Blonde that is only available in BC. Get your growler filled, eat some food and celebrate the beer, the flavours and the people that make Canada awesome.
For more information, visit bigrockbeer.com or follow them on Facebook, Instagram or Twitter.
This Content is made possible by our Sponsor; it is not written by and does not necessarily reflect the views of the editorial staff.