As we enter the second half of February, it's about the time where those optimistic New Year's resolutions - like eating smarter and cleaner - start to lose their novelty or are tossed out altogether.
If you're like many who feel like giving up on their eating goals - or you're simply getting bored of your food options - read on to see how thousands of people sustain better eating habits every day, all year long.
With a vast catalogue of delicious and healthy options, The Low Carb Grocery provides you with all the essential foods and yummy treats to support your healthier eating goals and feel good doing it.
Shopping for low carb and sugar free foods in regular grocery stores can be highly frustrating. Looking through the aisles, you have to keep picking up products, turn them around to read the label, only to find that most products are too high in carbs or sugar. Further, you may need to hop to multiple locations to find everything you need.
The Low Carb Grocery provides an incredible selection of 2,500+ low-carb and sugar-free products to replace those traditionally high-in-sugar or high-in-carb foods with healthier alternatives. As you inspect the labels, almost every product will fit your low carb diet saving you lots of time (and gas!) And because the store focuses exclusively on products with a carb reduced profile, you'll find a huge selection of items not found anywhere else.
With so much choice, you don't need to limit or deprive yourself of your traditionally high carb foods such as bread, muffins, pasta, chips, and chocolate to reach your goals. The Low Carb Grocery offers health-conscious alternatives that help you not only eat better, but smarter, too.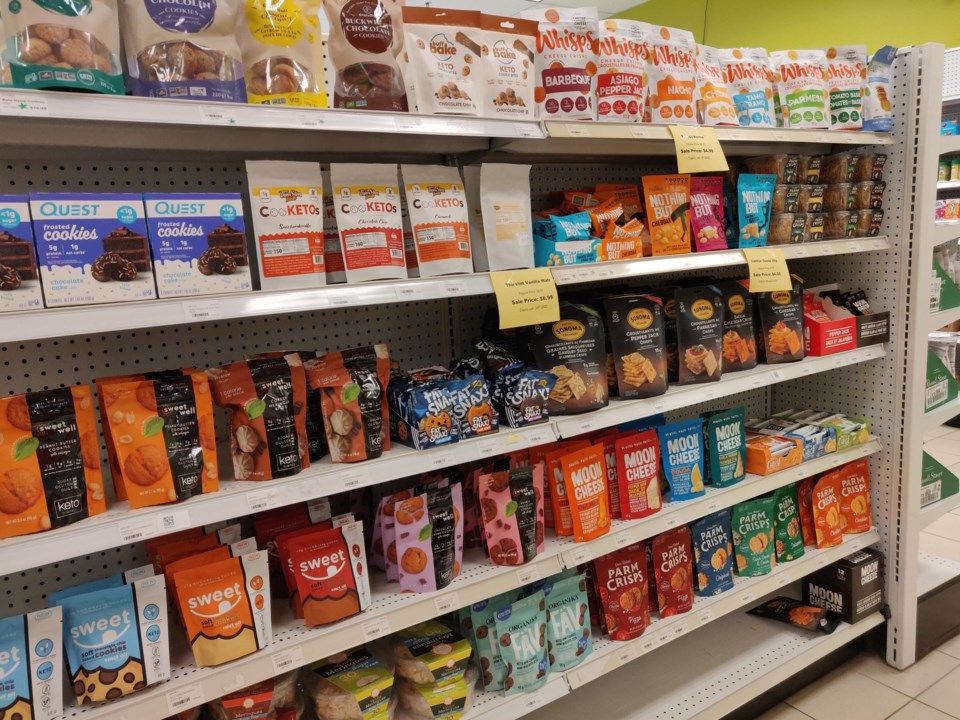 The Low Carb Grocery in Burnaby, B.C. Photo: The Low Carb Grocery
Love to bake? Most people watching their carb intake have to give up baking too because traditional baked goods made with wheat flour are very high in carbohydrates. The Low Carb Grocery stocks an incredible selection of hard to find baking ingredients, baking aids, and pre-mixed flours to save you time and money.
Want to be sure you're maintaining ketosis? Pick up Ketone tests too at this one-stop-shop! The Low Carb Grocery stocks products to help maintain ketosis by offering Canada's best variety of keto-friendly foods to keep you on track.
Low carb products are helpful for individuals managing type-2 diabetes as these food options are less likely to cause blood sugar levels to spike compared to higher-carb alternatives. Thus, many people shop at The Low Carb Grocery for friends and family who are living with diabetes. Those living with diabetes will be thrilled that they can have carb reduced breads, pitas, wraps, crackers, noodles, and baked goods again.
That said, even if you're not on a strict low carb diet or have a metabolic condition, there are numerous reasons to cut down on carbs and sugar. Ever feel sleepy in the middle of the day after having a large plate of pasta or sugary drink? That's a carb crash! Being smart about carbohydrate eating will sustain and stabilize your energy levels and contribute to several health benefits, including improved mental performance, reduced anxiety and depression, reduced appetite and sugar cravings, pain relief, and better sleep.
The Low Carb Grocery is located in South Burnaby at the center of Richmond, Vancouver, and New Westminster. If you can't get into the store, The Low Carb Grocery also offers fast and convenient delivery across Canada. Free shipping is also available!
Whether you're following a specific program or just doing your own thing to stay as healthy as possible, you're sure to find all you're looking for from The Low Carb Grocery's thousands of fabulous products.
The Low Carb Grocery is located in Burnaby, B.C. at 8610 Glenlyon Parkway, Unit #137. To learn more and get started, visit thelowcarbgrocery.com.
We've partnered with The Low Carb Grocery to give 5 lucky winners a $100 gift card to shop for low-carb and sugar-free groceries!
That's a total of $500 in gift cards to be won!
You can enter via the contest entry form below. For additional chances to win, visit The Low Carb Grocery at their website for 10 bonus entries, and visit their Facebook and Instagram for another 25 bonus entries each.
This contest is open to British Columbia residents and closes on March 18, 2022. The contest winner will be contacted via email on this date.