With a new year comes new expectations...higher expectations. It seems as though everyone is setting goals, making plans and developing new habits. But what if you can barely slog your way out of bed in the morning? It's a reality for many of us. It's the darkest time of year. The holidays are over and the credit card bills are coming in. People feel alone.The good news is that despite how isolated we may feel, we certainly aren't alone. VGH & UBC Foundation is presenting the second installment of a speaker series that aims to get us talking about our mental health struggles.
Me Too Conversations Vol. 2 is happening January 13th, and is an event where individuals with mental illness can share their personal stories of hope, resilience and innovation. The idea is that by talking about mental health and how it affects us all, we can reduce the stigma that keeps people from seeking help.
The list of speakers is impressive and represents people who have worked in mental health care, and been recipients of it as well.
Mental health writer Natasha Tracy of Bipolar Blurble, who has been named one of the most influential people on the Internet on the subject of depression. Her blend of professional and personal experience with mental health challenges makes her a compelling and insightful voice.

Sandra Yuen MacKay, who was diagnosed with schizophrenia at age 15. In spite of a diagnosis that would stop many people, she's an inspiring artist, author and speaker, with a degree in art history from UBC. She's even received a Courage to Come Back award for her outstanding achievements.

Ryan Tine is a frontline mental health worker who has supported people in Vancouver's Downtown Eastside who are struggling with mental health issues. Ryan draws on his personal experience with bipolar disorder, trauma and addiction. He's also experienced homelessness after aging out of the youth care system in Manitoba. He specializes in transgender health issues and rights, and is a proponent of harm reduction and "housing first" models
To get the dialogue started, organizers are encouraging people to share their own "me too" stories on twitter using the hashtag #metoovan and tagging @VGHFdn. Having the courage to say "me too" could make a huge difference for people suffering with mental health issues, at the time of year when the need is most acute. We aren't alone in this.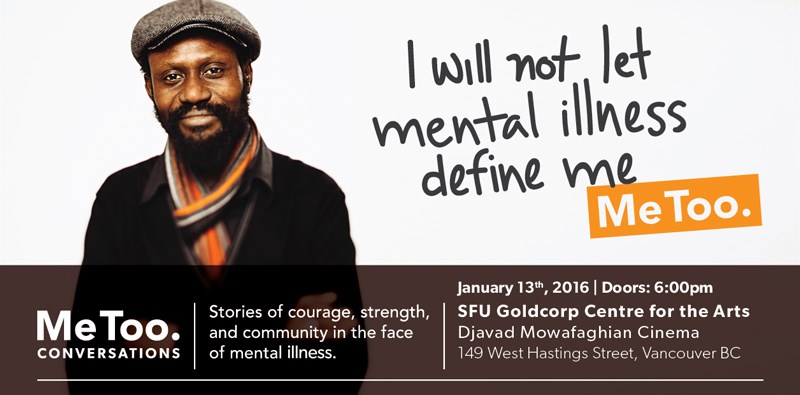 When: January 13th, 2016 at 7pm (doors at 6pm)

Where: SFU Goldcorp Centre for the Arts, Djavad Mowafaghian Cinema, 149 West Hastings St.

RSVP: RSVP for Me Too Conversations and find out more about the event