You can help local families, children, and seniors maintain ongoing access to the support they need to learn, grow, and thrive by participating in one of Vancouver's largest annual fundraiser events.
On March 3, the 2021 RBC JCC Sports Dinner will be going virtual! For the second year in a row, the JCC is thrilled to have the unwavering support of their Title Sponsor RBC, who continue to show such a strong commitment to community and children's services.
Hosted by the voice of the Canucks at Rogers Arena, Al Murdock, the online livestream will include raffle and 50/50 draws, live and silent auctions (conducted by Howard Blank) of sports memorabilia and curated experiences.
The evening culminates in a keynote address, sponsored by ZLC Financial, — an exclusive interview with Earvin "Magic" Johnson, conducted by James Cybulski of Sportsnet 650's Starting Line Up.
The former LA Lakers superstar, current owner of the LA Dodgers and LA Sparks, 5x NBA champion, 3x NBA MVP recipient, and 1992 Olympic gold medalist (with the Dream Team), Johnson is the Chairman and CEO of Magic Johnson Enterprises — an investment conglomerate that provides high-quality products and services that focus primarily on ethnically diverse and underserved urban communities.
People from around the world can purchase tickets to attend the online 2021 RBC JCC Sports Dinner. Available for $36 CAD, one ticket per household is needed to enter the virtual event. Even more, each ticket purchase will give you an entry to win an autographed framed photo of Magic Johnson.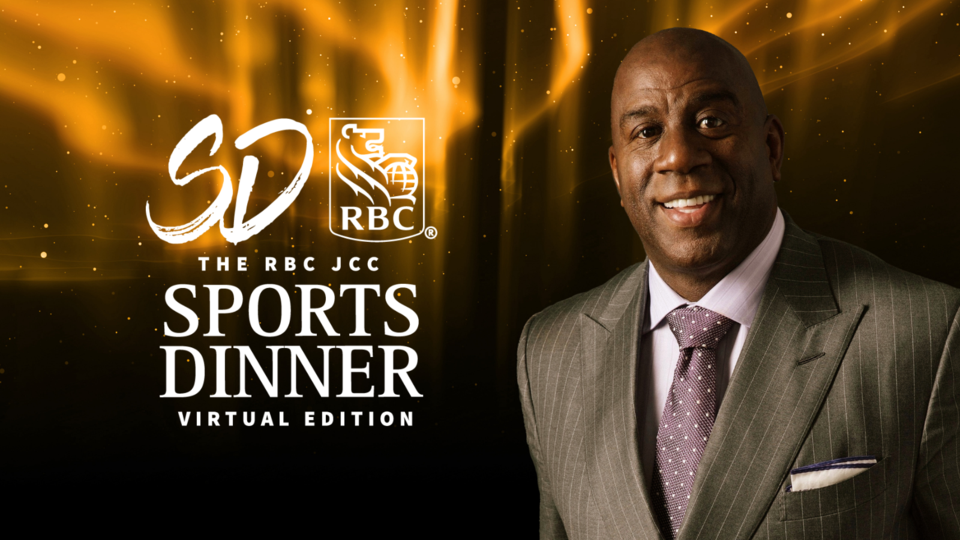 The 2021 RBC JCC Sports Dinner has a ton of amazing prizes available to be won through their highly-anticipated Cadillac Raffle and 50/50 Draw.
This year, the raffle grand prize is a brand new 2021 Luxury Cadillac XT4 Crossover SUV, donated by Dueck Autogroup. The winner will cruise away in a Shadow Metallic XT4 (valued at over $44K) featuring sophisticated technology, bold style, and luxury performance designed to transport you in comfort and safety.
The raffle runner-up prize consists of an unforgettable tropical vacation in Hawaii. This secondary prize includes a 7-night stay in Maui at a private 3-bedroom condo at Kaanapali Shores Resort, just steps away from the beach, along with $1000 in gift cards for flights and spending cash.
Purchase your tickets by midnight on February 4 to enter the Early Bird Draw for $1000 cash.
Pricing tiers for the Cadillac Raffle tickets are as follows:
1 Ticket for $50;
3 Tickets for $100;
7 Tickets for $200;
18 Tickets for $300
You can also enter into the 50/50 Draw and potentially win over $120,000 in cash.
The Cadillac Raffle and 50/50 draw will be drawn on March 3 with the winners announced live on air during the virtual gala broadcast.
Pricing tiers for the 50/50 Draw tickets are as follows:
3 Tickets for $10;
15 Tickets for $25;
36 Tickets for $50;
100 Tickets for $100
Funds raised at the RBC JCC Sports Dinner provide scholarships and subsidies for youth, family, and senior services and programs at the JCC — a charitable organization that provides a welcoming community for more than 4,000 members and thousands more of all ages and ethnicities.
Throughout the year, the JCC offers diverse programs and services in areas of education, fitness, arts and cultural programs (including some of Vancouver's best performing arts and music programs of youth), inclusion programs for youth and adults with special needs, seniors' recreation, and more.
With your help, JCC can continue to give kids a brighter day, keep seniors connected, let families bond, and spread joy to and lift up those in need in the community during these challenging times.
Ticket sales for the 2021 RBC JCC Sports Dinner Cadillac Raffle and 50/50 Draw start on January 11. You must be 19+ and a resident of B.C. to purchase tickets.
For raffle and 50/50 draw ticket purchases, visit sportsdinnerraffle.com. For event info, visit jccsportsdinner.com.