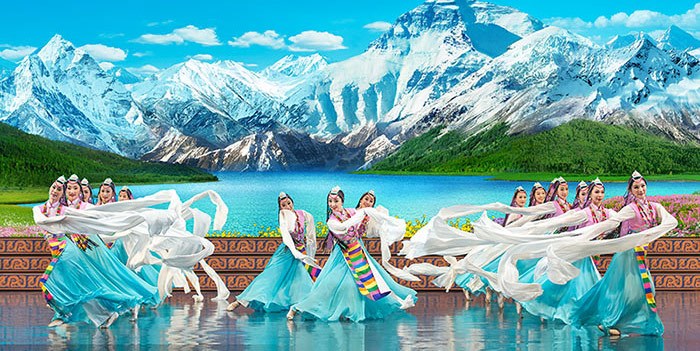 Chances are, you've probably seen a billboard or advertisement for Shen Yun somewhere around town. If the elaborate costumes and gorgeous colours have piqued your interest, you're in luck, we're here to demystify all there is to know about this world class fusion of dance, art, theatre and ancient Chinese history.
Shen Yun will be performed March 22 - 31, 2019 at the Queen Elizabeth Theatre.
A story 5,000 years in the making
Shen Yun is the world's premier classical Chinese dance company. Each performance depicts the history of ancient Chinese dynasties, through the art of five-thousand-year-old classical Chinese dance. It's much more than a history lesson however, in Shen Yun, you'll be mezmermized as poised performers glide and leap gracefully across the stage, punctuated by exquisite costumes and set pieces.
Flips, leaps, spins, and death defying postures will leave your heart pounding. There's drama, there's comedy and it's all wrapped in a colourful spectacle unlike eanything you've ever seen.
A performance banned in China
Before communism seized control of the country in 1947, China had a long, deep history of spirituality, including Buddhism, Taoism, and Confucianism. In this same tradition, Shen Yun performers have a background in the Buddhist spiritual practice Falun Dafa, also known as Falun Gong. Shen Yun was founded in New York by people who fled communism, and therefore, Shen Yun is actually banned in China. You can read more about Shen Yun's story HERE.
The world's most unique orchestra
"The performers are accompanied by an orchestra that combines Chinese instruments, like the stringed pipa, the guzheng (sometimes called the Chinese zither) and the bamboo flute, with Western instruments." (New York Times, 2010).
Shen Yun's live orchestra combines unique instruments from China with a full orchestra of Western strings, brass, woodwinds, and percussion. Truthfully, you won't hear this kind of lush Chinese-Western fusion anywhere else. If you are a musician of any stripe or a music aficionado, Shen Yun's music is an experience in itself. In fact, Shen Yun's orchestra has its own symphony tour in the fall, just something to keep in mind for later this year.
One of the most colourful stages you've ever seen
Each ofShen Yun's 20 or so performance pieces comes with its own brilliantly colored costumes and props, making for an exuberant pageantry that will transport you to an entirely different time and place. In fact, after seeing Shen Yun in New York City, clothing designer Donna Karan, creator of DKNY, said, "It was like taking a journey to China, here in New York!"
Better than 3D
The performers and talented technical crew have created scenes in which the actors seem to come out of the digital backdrop, sometimes so flawlessly as to pass into the realm of stage magicians. It gives a whole new meaning to the idea of 3D—with no glasses required.
Here's what else you need to know...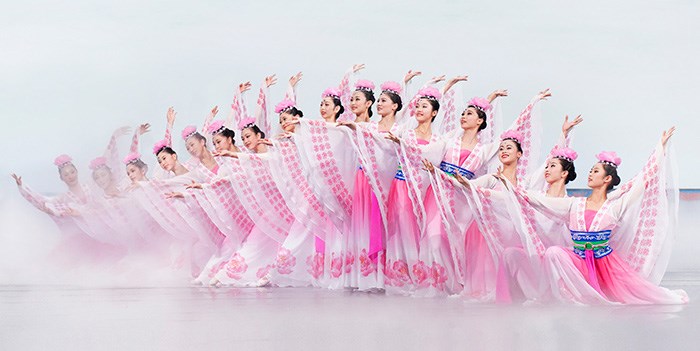 You don't need to speak Chinese to enjoy the performance: Two bilingual hosts with smiling explanations make the performance easy for any English-speaker to enjoy. Still, for many viewers in the West, Shen Yun will be an introduction to China's 5,000-year-old culture. Who, for example, is the Monkey King? He's a magical monkey, a kung fu fighter, and a Buddhist monk all rolled into one, and Shen Yun usually includes a piece with him in it.
A few good sources to look into for exploring the richness of true, pre-communist Chinese culture include Arthur Waley's Monkey, which is an abridged adaption of the Monkey King's story from the 16th-century novel Journey to the West. 
The production: Shen Yun features an unusually large cast of highly trained dancers and musicians, plus technical staff that actually have to travel to the different cities on their annual world tour by bus and plane. The fact is, very few performing arts groups travel with a full orchestra, simply because it's a hugely expensive undertaking. For some audience members, just the hundreds of gorgeous hand sewn costumes are enough to justify the cost of a ticket, which ranges from $80 - $300 depending on the value of the seat. There's no question Shen Yun is a huge production with the most detailed and extravagant performance many have ever seen. Each year, they put together all-new choreography and musical compositions that will never be repeated after the season is over.
The dress code: In an age when the most powerful tech CEOs wear jeans and a T-shirt, it's difficult to gauge what's inappropriate for a show like Shen Yun. In line with Shen Yun's themes, though, tradition seems to reign at the performances. Coats, jackets, ties, and evening gowns are in. A Shen Yun performance is a great excuse to dress up extra fancy, have a night on the town, and take a few photos in the process.
Q+A: Here are some common questions people have asked when reading Shen Yun reviews.
1. How is Shen Yun different from other Chinese classical shows?
Shen Yun was founded by Chinese people living in New York, independent of the Chinese communist regime, making the storytelling aspect completely different from other classical Chinese dance companies. In conjunction with eleborate stagecraft and incredible costumes, you'll really feel the "5,000 years of Chinese civilization" in each and every act of the show.
2. Can I download it online?
Shen Yun performances are not available online. You can check the Shen Yun YouTube channel for some short videos to give you an idea, but the show really has to be experienced in person.
3. Is the show promoting Falun Gong?
One common thread of art throughout the ages has been a devotion to the divine, respect for humanity, and an aspiration for perfection. Falun Gong seems to inspire Shen Yun's amazing performers, musicians, and artists to strive for perfection and to honor their talents by using them to uplift and inspire the audiences.
Shen Yun is an evening of world-class music and song and dance performed live. You'll be entertained, and you'll share some laughs and maybe even a heartfelt tear or two with your friends and family. But as with all real art, Shen Yun could also open your eyes, give you food for thought, and expand your horizons—it's an experience in the truest sense of the word, and it touches down in Vancouver March 22 – 31, 2019 at the Queen Elizabeth Threatre.
To learn more, visit shenyunperformingarts.org