Summer is well underway, which means escaping from the city for a relaxing weekend, chilling with close friends and capping it all off with the perfect summer drink... 
But sometimes, that's easier said than done.
Even for those who are thirsty for new experiences, life often gets in the way, summer turns to fall, and we start daydreaming about the summer trips we promise to take next year. But don't give up just yet, there's still hope for this summer! With that in mind, we've partnered with Strongbow Rosé Apple Cider to highlight the best summer road trip destinations near Vancouver.
The Paradise Valley is located just outside of Squamish, 80 km from Vancouver. The fittingly named 28-ace nature park predominantly serves as a family campground and is also a WIFI free zone. Paradise Valley is an excellent day trip destination for those looking to get active as the area boasts incredible bouldering, climbing, kayaking, birding, biking, hiking AND wind sports. It's also the gateway to the Federal Fisheries and Oceans Tenderfoot Creek Salmon Enhancement Salmon Hatchery, which offers self directed tours, 7 days per week between the hours of 9 am and 3 pm.
Located just 65km from Vancouver, Alouette Lake is the ideal destination for an off-the-cuff picnic during the summer months. Located in Golden Ears Park, the lake itself is partially man-made and was expanded in length in 1928 when they built a BC Hydro dam at the foot of it. Nonetheless, Alouette Lake offers visitors the gorgeous BC scenery we all love (think shimmering water and mossy forest trails) as well as a unique snapshot of BC history. Walking the shores you'll come across almost-century-old remnants of the damming process. There's a trail system that goes deep into the park that you can explore and a lot of less strenuous trails that stay close to the lake if you're looking for more of a chill summer walkabout.
Cascade Falls Regional Park is a 22 hectare park located just northeast of Mission, 92km from Vancouver. The park's crowning jewel is Cascade Falls, a majestic waterfall that drops a staggering 30 metres into a large emerald pool. From here, Cascade Creek runs into a series of smaller falls within a dramatic gorge, which fall an additional 18 metres before emptying into area's lower pools of water.
Barely a hop from the city, the Squamish Estuary is a wonderful place to go for a peaceful walk and get away from the hustle and bustle of the city. As an estuary, this hidden gem serves as a protected habitat wherein you'll find forest, grasslands and a tidal flat whose water levels vary extremely throughout the day. It's also a feeding, spawning and rearing ground for a variety of fish species, including provincially significant species such as Eulachon, Steelhead and salmon. The area offers walking trails and endless views of the surrounding mountains.  Keep an eye out for totem poles and Indigenous artwork that can be found throughout the estuary's system of trails.
Situated just outside of Harrison Hot Springs, this provincial park has a few lakes to visit and a ton of opportunities to explore. The park is characterized by a series of pocket lakes, a unique second-growth and birch forest, and scenic mountain ridges. The adjacent lands containing Hicks, Deer, and Trout Lakes were added in 1968 and the park was renamed Sasquatch Park after the legendary Bigfoot, who is alleged to have roamed the area. Hicks and Deer Lakes are ideal for motor-boating and canoeing, while Trout Lake provides a tranquil fishing experience. Visitors can also enjoy camping, hiking, wildlife viewing, and picnicking. Though the final stretch in the 2 hour drive from Vancouver is a dirt road, it's a mellow drive that any vehicle should be able to make.
What's summer without a trip on a ferry! Located about 30 minutes from Vancouver, Bowen Island is an absolute stunning island destination complete with bewitching wilderness, breathtaking ocean views, hidden coves and a small collection of restaurants that are worth the trip alone. With a laid-back, "island time" attitude, this is truly one of the best destinations to unwind near Vancouver. Whether you're taking on the 727m-high peak of Mount Gardner, or simply taking in the burgeoning artisan community in Snug Cove or Artisan Square, Bowen Island is truly an awesome place to discover something new, not far from home.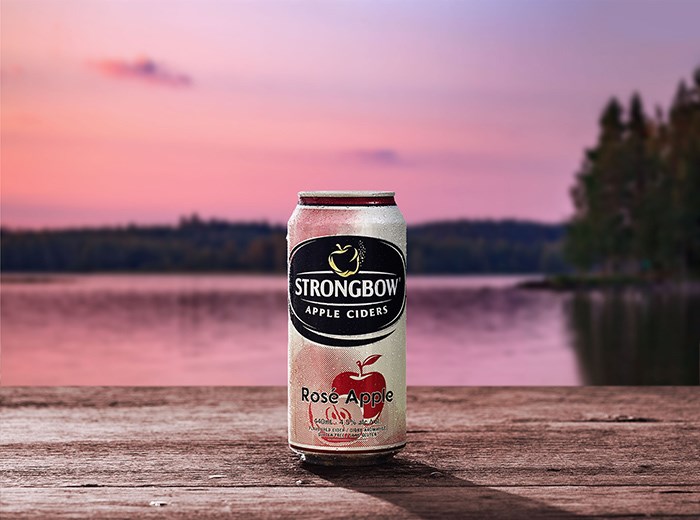 Speaking of discovering something new… Strongbow's newly launched Rosé Apple Cider is an elegant yet approachable alternative for when rosé-o'clock hits, made with real red-fleshed apples. From its sparkling rosé effervescence to its pleasant tartness balanced by fruity notes of red-fleshed apple, Strongbow Rosé Apple Cider is brewed for Canadians looking to discover a refreshingly new summer drink. Please enjoy, but enjoy responsibly. To learn more visit, strongbow.com