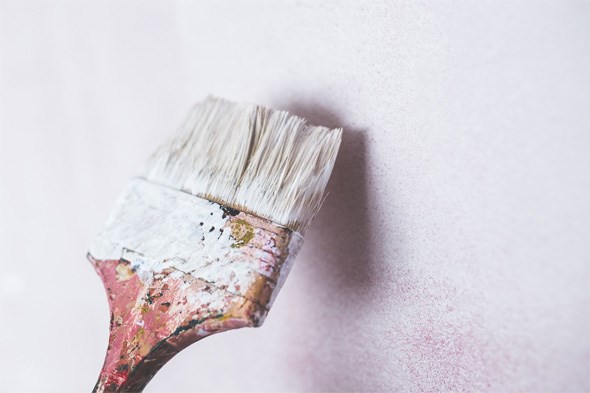 Photo: Kaboompics
Instead of hunting around for somewhere new to call home, think about the potential in the place you're already living. Renovating and remodelling your current spot can be a great way to add resale value, but you'll need to be smart about the improvements you make and spend your bucks wisely.
For those of us without the immediate means to fund home improvement projects, a personal loan can be a solid choice. Application processes for personal loans are usually quite painless, and you can expect to have access to the loan relatively quickly.  
Here are a few different things you can do to improve your home's worth:
Revamp the kitchen: The heart of your home, and the room with the most potential to make a good impression. One of the most cost-effective ways to spruce up your kitchen is to paint it. The look and feel of the space can be drastically improved with a fresh coat of paint in a modern colour. Also, consider replacing any older appliances with newer, energy-efficient models.
Fix the roof: While fixing your roof may not actually increase the value of your home, a roof in poor condition will certainly decrease the value of your home. You'll have to decide whether to simply patch the damaged areas of the roof or if an actual re-roofing is required. In the event of a re-roof, there is the option of covering over your existing roof, or removing it entirely. In either case, most prospective home buyers will expect a roof in good repair, so it's well worth the investment to upgrade.  
Add a bathroom: Consider turning an underutilized room into an additional bathroom. Even closets can be a potential spot for a new bathroom—having that extra shower, toilet, and sink adds a lot of convenience. As with the kitchen, painting the walls and updating the appliances are always recommended.
Install energy-efficient windows: These can save you hundreds per year on heating and cooling costs. Energy-efficient windows are also designed to eliminate drafts and lessen condensation buildups that lead to frost in the winter months.
Build a deck: An outdoor living space will definitely add value to your home, and makes your yard more appealing. You can save a ton of money (up to half) by opting to construct the deck yourself, but do bear in mind that specific tools will be required, many of which will be expensive, especially if you don't plan on using them again.
Remember, some home improvements will appeal to you but others may feel differently. Most prospective homeowners will view luxuries like tennis courts, backyard ponds, wine cellars, and hot tubs as bonus features as opposed to must-haves.  
Of course, self-funding home improvements can be a difficult proposition for many of us, which is why a personal loan from a bank or credit union can be the perfect solution. For example, Prospera Credit Union loans include options like one- to five-year terms, the choice of a fixed or variable rate, and automatic payments set to your schedule. This enables you to tailor the loan to your specific situation and needs. The straightforward application process will get you started.
Prospera also offers a number of other options for financing your home improvements. For smaller renovations, you may want to consider a Visa credit card—they offer different rates and annual fees along with the Bonus Dollars program that allows you to put 1% of purchases towards various rewards . For renovations without a pre-determined budget, a line of credit offers the flexibility you'll need. If you're looking at larger renovation projects for a major home makeover, refinancing your mortgage or using the equity in your home can be the right way to go.