Attention all computer science students, recent grads, and game industry veterans!
What if you could take your love for all things video games and turn it into the career of your dreams? Well, now's your chance because SkyBox Labs, one of the biggest game development studios in Metro Vancouver, is hiring!
Contributing to the development of world-class titles, including Halo Infinite and Minecraft, while also creating their own original games, SkyBox Labs works hard to preserve the culture of a small studio while simultaneously channeling its ambition to make a big impact.
SkyBox Labs works towards these goals by creating an atmosphere built on camaraderie and mutual respect, with support and trust between team members. This creates a culture that continuously supports learning to set employees, like Amy and Gursaanj, up for success.
After graduating from UBC in Spring 2021, where she had studied computer engineering and was an active participant in the university's game development club, Amy joined SkyBox Labs. Through SkyBox University (SBU), Amy was able to build upon her knowledge of programming languages.
"The weekly lessons were at a good pace and assignments were largely self-directed," says Amy. "I appreciate that it was very in-depth about C++ and how applicable it is to industry work."
Gursaanj had finished a software engineering co-op opportunity at another game studio prior to joining SkyBox Labs.
"I had a great time with the practical problem sets and appropriate acceleration of difficulty, which made learning the material stick faster and become more usable in my personal projects," reflects Gursaanj.
Upon their completion of SBU, both Amy and Gursaanj were invited to join the Minecraft team as Software Engineers.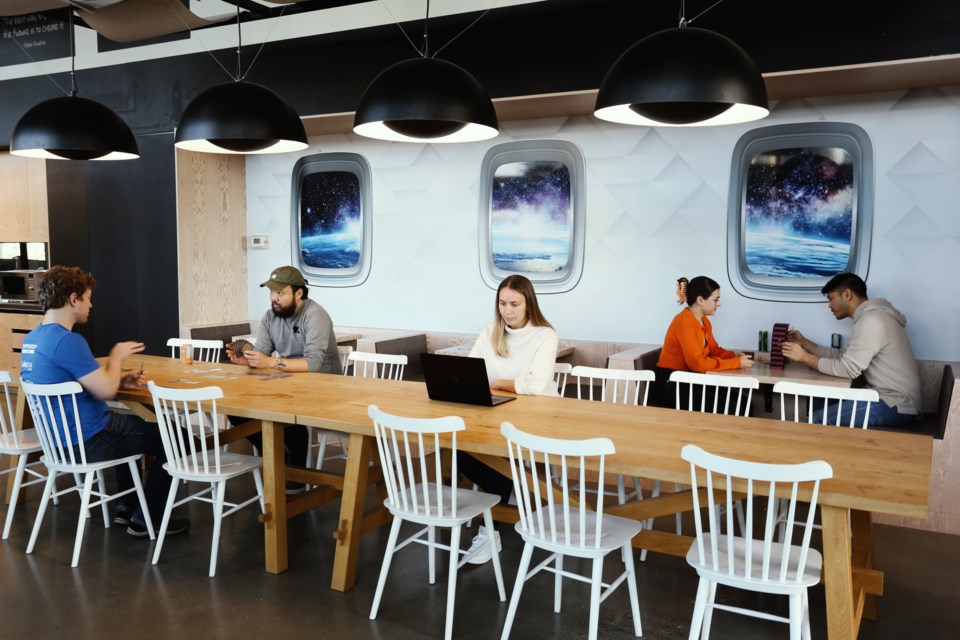 Photo: SkyBox Labs
SBU is a prime example of how SkyBox Labs places learning at the forefront of its organization. The program comprises multiple offerings as part of a comprehensive learning strategy: technical, leadership development, and guilds..
The technical track offers a number of curriculums including C++, advanced C++, and rendering. The C++ course supports software engineers with developing their C++ knowledge to a level where they are ready to work on AAA game projects, while the advanced C++ and rendering courses are tailored to more experienced developers.
For those aiming to become industry leaders, the leadership track offers programs in a monthly cohort-based experience throughout the year that sets up our new and existing managers with the right tools and knowledge to become more effective leaders.
Finally, the guild program supplies domain-specific communities that leverage the depth, talent, and expertise of the SkyBox Labs studio through initiatives such as workshops, competitions, and engaging discussions.
One of SkyBox Labs' strongest core beliefs is supporting personal growth and promoting from within. Programs like SBU allow them to do both. It also grants the business the privilege of casting a wider net when hiring, thereby promoting greater diversity in its team.
For example, suppose an applicant seems like a fantastic culture fit, shows a strong work ethic, and exhibits a genuine passion, but simply misses some specific technical knowledge. In that case, the company is confident that its various internal programs, like SBU, can help bridge the gap.
In this way, SkyBox University (SBU) serves as a crucial recruitment tool, allowing candidates to prioritize learning and career growth while working within a team genuinely invested in their development.
If you're looking to transform your passion for computer science or development and want to pursue a game job in Vancouver, this could be the ideal opportunity for you. Don't miss out!
For more on career opportunities with SkyBox Labs, visit skyboxlabs.com/jobs.