What's the difference between having "just a job" and a meaningful, rewarding career? The people you serve.
Not only can you change your life, but you can change the lives of others, too, when you choose to pursue work opportunities in the seniors' living and care industry.
If you're looking for immediate job openings or want to explore educational opportunities and want to chat in a casual environment with the hiring managers and decision-makers face-to-face—all under one roof—you're in luck.
Western Canada's largest Seniors Living Expo & Job Fair is coming to Vancouver Convention Centre East on November 5 and 6, produced by EngAge BC, an operating arm of the BC Care Providers Association.
"We have an ageing population in British Columbia, and that means a lot of older adults will be looking at the lifestyle they want, and the support they may need to help them live well over the next part of their life," says Terry Lake, CEO of BC Care Providers Association and EngAge BC. "That means there's a great opportunity for people interested in all different aspects of the sector to look for career prospects."
The Job Fair at the Seniors Living Expo is a free event and grants visitors the chance to network, share their resumes and learn more about rewarding work with older adults.
There will be information on the various training programs available, while some companies actively recruiting will share their information and insights and interview prospective employees on the spot.
"They'll be private spaces so potential employers can talk to you in a confidential way and hold a screening interview," explains Lake. "You could walk into the job fair in the morning, and by the end of the day, you might have an interesting career path that's outlined for you."
Various positions, departments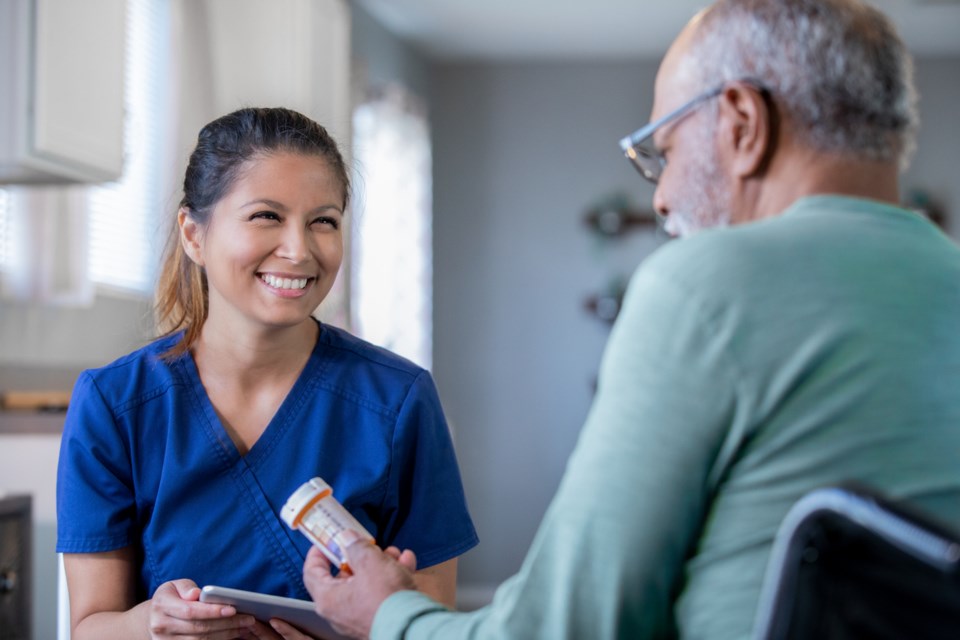 Employers are investing in the future of seniors' living and wellness by investing in you. Perhaps you're looking for a career change and enjoy spending time with seniors. Maybe you're re-entering the workforce or a high school graduate keen to learn more about the marketplace.
Regardless of where you are on the career ladder, there's an opportunity to suit your ambitions, with good benefits and flexible scheduling.
Seniors' living and care employers are actively recruiting and are eager to fill a multitude of roles in a variety of departments:
Housekeeping
Home support (caregiver, personal support worker)
Health-care work (nurses)
Hospitality (food server, cook, dishwasher)
"When you look at hospitality, for instance, a lot of people just think of hotels and restaurants," reveals Lake. "But retirement living has so many opportunities in hospitality, and generally with shifts that are much more attractive than the typical evening and late-night hours often carried out in the hotel and restaurant industry."
"There are also prospects around sales and marketing, business administration, bookkeeping and accounting, and recreation/activities that people really don't consider. They don't think of the seniors' living and wellness sector as having these opportunities."
Being caring and compassionate are fitting attributes, but Lake acknowledges all kinds of skills are needed, and there's not a particular list of qualities companies look for.
"However, you have to like people," he says. "For example, in retirement communities, you interact with seniors on a daily basis who are very outgoing and social, whether you're in housekeeping, the kitchen, serving, or providing recreational activities."
Lake adds, "There's also a lot of behind-the-scenes work in terms of HR, bookkeeping and accounting, for example, all different sorts of activities associated with retirement living communities and the business behind them."
People who work in this field, whether in-home health or retirement living, know it's more than just a job.
"They feel they're contributing in a very positive way to a community and to individuals, and making a big impact on people in the next phase of their life," says Lake. "There's a tremendous amount of job satisfaction. People are building relationships—it's like having an extended family."
Don't miss your chance to meet top-notch companies, learn about exciting positions in the industry, and build strong connections to continue conversations later. Or, maybe, you'll leave with a job offer and begin on the career path of your dreams.

For more information, visit seniorslivingexpo.ca.