The Beaumont Studios, in partnership with The Dusty Flowerpot Cabaret, will host "Tours for the Recently Deceased", October 18 - 31st in Vancouver.
This might be the most creatively creepy Halloween event happening in Vancouver!
Taking place during the 13 days leading up to Halloween, Tours for the Recently Deceased will serve as an interactive, 'choose your own adventure' guided tour that features the iconic characters and creations of superstar filmmaker Tim Burton.
Spread over The Beaumont Studios' two buildings (encompassing over 25,000sqft), each 1 hour tour will split a group of 30 guests into small groups, each sent out to search for the characters and clues needed to reach their next destination and ultimately find their way back to the land of the living.
As guests try to find their way through a  "myriad of eerily lit hallways, creepy warped stairwells, secret doors and a maze of Burtonesque rooms they will be greeted by a host of Burton Characters, including Edward Scissorhands, the Queen of Hearts, Willy Wonka, Oogie Boogie man and more.
Tours for the Recently Deceased is intended to raise funds for The Beaumont, so they can continue their incredible work as a hub for Vancouver's creative community. Situated at the corner of 5th and Alberta street, The Beaumont is home to over 100 resident artists, 40 private studios, an event space, art gallery, and a unique artist-run thrift store.
The Beaumont Studios' founder, Jude Kusnierz, was all over the news in July, speaking out on how Vancouver's crippling taxes were hurting the otherwise very successful art studio. Rather than wallowing in doom and gloom, she's turning it into a party of her own.
Upon the successful completion of the tour, guests of Tours for the Recently Deceased will find their way to the Grand Hall, where they will be greeted by MC, Beetlejuice, who will keep the afterlife afterparty in full swing with music and cocktails.
Tours will run every 20 minutes from 7:00p.m. - 10:00p.m. (11:00p.m. on weekends), with kid-friendly tours running concurrently from 7:20p.m. to 8:40p.m.
Drinks and snacks will be available during the tour, including a chance to sample Sweeney Todd's world-famous 'meat' pies.
Just don't ask what they're made of, okay?
You can learn more about the event and purchase tickets, by visiting the eventbrite link HERE.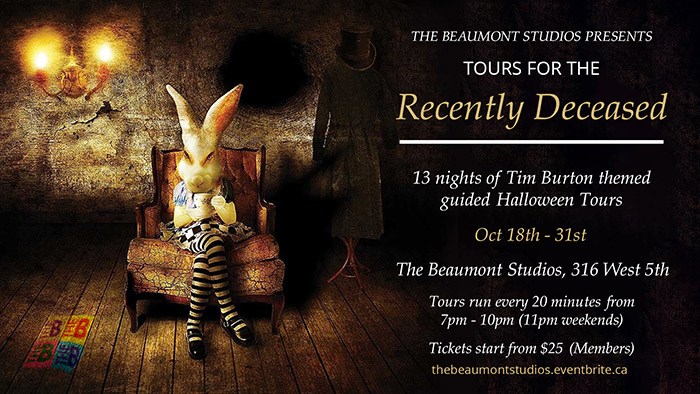 The Beaumont Studios Artist Society was established in 2003 as an open and supportive environment to cater to a wide variety of emerging artists and creative professionals in Vancouver. The event is being run in partnership with The Dusty Flowerpot Cabaret, a non-profit society run by Kat Single-Dain who also produces the Parade of Lost Souls in Vancouver.
This Content is made possible by our Sponsor; it is not written by and does not necessarily reflect the views of the editorial staff.