Believe it or not, it's almost that time! Fall is almost over and soon enough you'll be rushing off to that Holiday party, or trying to fill all the space under your tree. But the age-old question arises – how do you find that perfect holiday gift? Or rather, how do you find that perfect holiday gift without spending hours online, waiting in line, or just giving up and regifting everything you got last year? You need to find something unique, exciting, fun and simple and you needed it yesterday. Luckily, Portobello West has just what you're looking for. Now in its 10th year, Portobello West has 85+ local vendors at this year's Holiday Market that are sure to provide the best of the best in gift selection. Here are some tips on how to narrow down the options to find that perfect holiday gift:
1. Make It Local
Portobello West meticulously curates their markets to offer you only the top BC makers and artisans. They search high and low to discover the best in local BC emerging talent. They're so good at it that they are known as Vancouver's premiere shop & support local event! By buying from local vendors you'll also be supporting the local economy, family owned businesses, and the achievements of a ton of creative and driven entrepreneurs. After a tried and true 10-year track record, multiple events and pop-ups throughout the year and success stories that have helped growing BC businesses get off the ground, why would you ever want to go back to the mall?
2. Make it One of a Kind
There are so many interesting and exciting vendors at this year's Portobello West! With glass blown jewellery, exquisite leather goods, delicious hand made local butter, international award winning fine art, lovingly handmade dog treats, cement vessel candles and 100% silk scarves, who would want cookie cutter products you can buy anywhere? Find something as special as that special someone you're shopping for.
3. Make it Boozy
Something nearly everyone can enjoy. This year, Portobello West will feature wineries, distilleries and breweries that will not only be selling their products, but will offer free samples. With an entrance fee of only $2, that's cheaper than happy hour!
4. Make it Manly!
Whether you're a guy looking for the latest in men's fashion or are gift shopping for your friends and family, Portobello West has got you covered! With grooming products, men's clothing, leather goods, spirits and so much more, you'll be sure to find the perfect holiday gifts for the men in your life.
5. Make it Easy on Yourself
Don't stress! You know what that perfect gift is, but worrying about parking, traffic, traveling, or buying the gift online without seeing it first is stressful. Portobello West is centrally located in the Olympic Village at the Creekside Community centre and the Main and Terminal Skytrain is less than a five-minute walk away! You can also make a relaxing day out of the market, followed by a False Creek ferry ride or stop at Science world in Olympic Village. With live music, food trucks and a wide array of vendors selling gifts for everyone from babies to seniors, Portobello West is the perfect one-stop shopping experience. No need to rush all over town to get your shopping done this year!
With so much selection, a commitment to excellence and fun for the whole family, Portobello West is sure to make the headache of Holiday shopping one of the best parts of the season. See you in Olympic Village!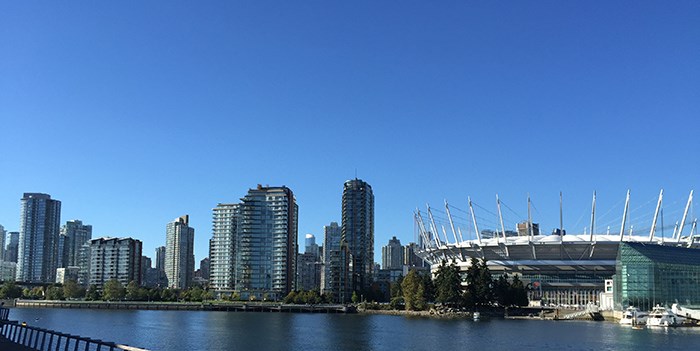 The Portobello West Holiday Market will be held Nov 26 and 27 at Creekside Community Centre in Olympic Village. Shop from 85+ local artisans ranging from Fashion, Jewelry, Art, Home Accessories, Gourmet Treats, Baby & Kids items and more. They'll also have live music, food trucks and activities! Admission is $2, Children under 12 free and you can RSVP online. For more information and a full list of vendors, head to the Portobello West website, or follow Portobello West on Instagram.