Located five hours from Vancouver near Clearwater in the east-central region of B.C., Wells Gray Provincial Park is the province's fourth largest park, set within the world's only inland temperate rainforest.
The park, which is one of the B.C.'s largest protected areas, is known as the land of waterfalls for its 41 (and counting) named waterfalls, spread across a sprawling 5,250 square kilometers of pure wilderness. About half the named falls are found in the Corridor area, which is just minutes from Clearwater Valley Road.
Spring is the best season to see these majestic waterfalls, as during this time of the year, the falls are swollen with spring runoff and the crowds are smaller than in the summer peak times.
While you're wandering through the ancient forests and past Canada's fiercest rapids to get a peak of these cascading waterways, set against pristine turquoise rivers and lakes and fjords, be sure to not miss out on spotting these five spectacular waterfalls from Wells Gray's collection of 40+ named falls.
In addition to hiking to see the waterfalls of Wells Gray Park, did you know you can reach some spectacular and off the beaten path waterfalls by boat and by raft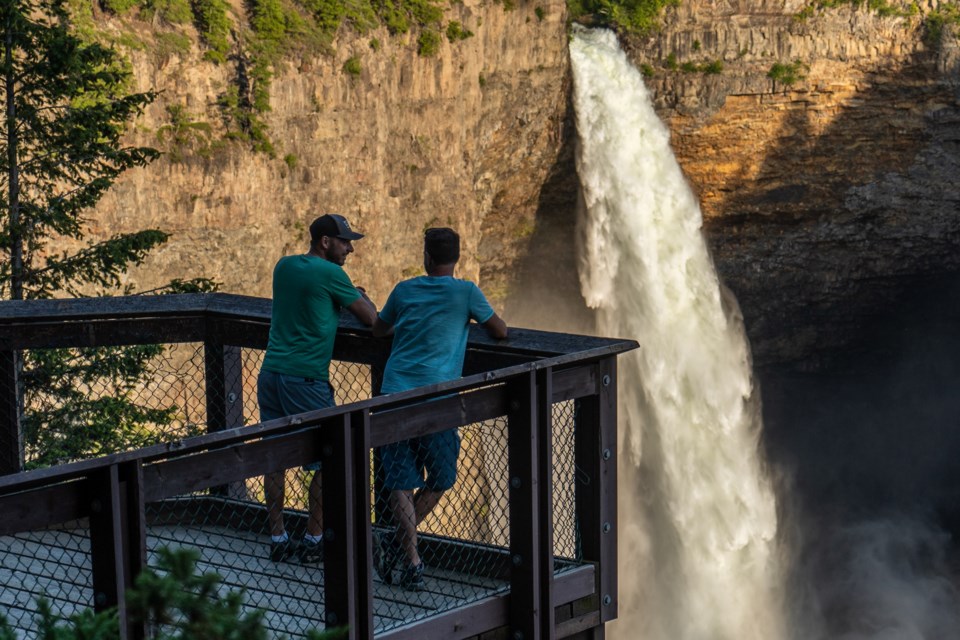 Two Guys at Helmcken Falls. Photo: Jonny Bierman, Eco Escape Travel
Helmcken Falls
As the fourth largest waterfall in Canada, Helmcken Falls is the crown jewel of Wells Gray.
The plunging 141m waterfall pours into a massive bowl shaped by over 200,000 years of volcanic eruption to result in an incredible natural wonder.
The viewing platform on the rim of the canyon offers jaw-dropping panoramic views of the entire falls tumbling into the Murtle River. Helmcken Falls can be accessed by car and by a number of hiking trails — including an one-hour hike along the Rim Trail for an up-close encounter.
Dawson Falls
As one of the seven waterfalls tumbling down the Murtle River, Dawson Falls is B.C.'s closest thing to Niagara Falls. The mighty horseshoe-shaped waterfall Dawson Falls stretches its wide veil 90m across ancient lava beds, creating a shallow but broad cascade of water.
The main viewpoint is a 10-minute walk from Clearwater Valley Road, with another few minutes to get to the top of the falls.
Rainbow Falls
Located 50 kms into the backcountry of Wells Gray Provincial Park is the stunning Rainbow Falls and Campground. Due to its remote and boat access only location, it is a rarely seen waterfall located along the expansive beaches of Azure Lakes.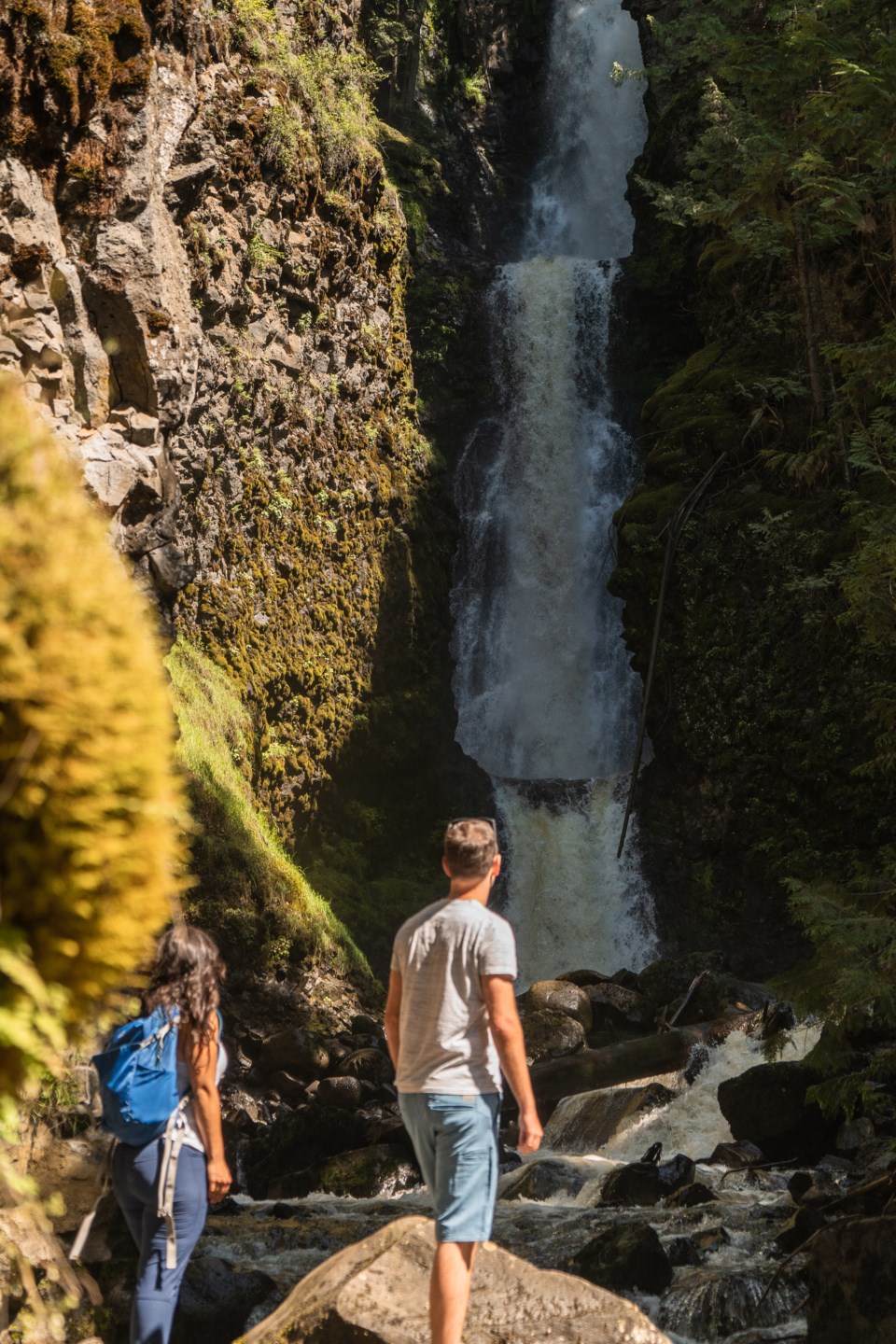 Triple Decker Falls. Photo: Jonny Bierman, Eco Escape Travel
Triple Decker Falls
Surrounded by a lush green canyon, the stunning three-tiered waterfall sees Canyon Creek flowing down three layers of lava rock.
Access to Triple Decker Falls begins at the start of a 7km hike down along the Clearwater River trail.
Stop at the Wells Gray Park Visitor Information Centre in Clearwater for a map and directions.
Moul Falls
If you're adventurous, you can see what lies behind the veil of a waterfall at Moul Falls. Slip between the 35m curtain of falling water and the canyon, and revel in the cool mist of the cold, rushing waters.
A one-hour hike from Clearwater Valley Road, a moss and roots covered trail can take you to the edge of Grouse Creek, where Moul Falls spills into the Clearwater River.
Spahats Creek Falls
Volcanic rock deposits left centuries ago form the layer cake-like canyon at Spahats Falls, making the 75m high waterfall one of the most dramatic in Wells Gray Provincial Park.
After a short drive through the hemlock and cedar forest, you'll see tall falls cascading from a keyhole in the rock face above the Clearwater River.
Go to wellsgray.ca for more information.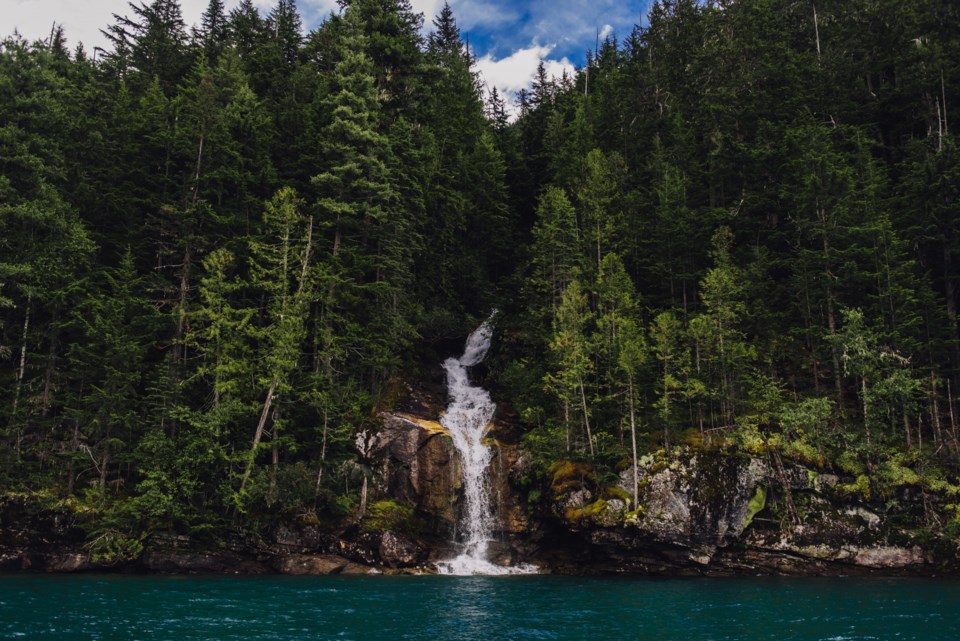 Azure Lake, B.C.. Photo: Holly Louwerse Photography
We've partnered with Tourism Wells Gray to give one lucky winner an unforgettable trip to Rainbow Falls with Clearwater Lake Tours!
This world class trip will take you beyond the roads into the wilderness of Wells Gray Provincial Park. Sit back and enjoy the scenic beauty of the Caribou Mountains.
Waterfalls, rainforest, and wildlife are only a small portion of the adventure that awaits you. Once at the beach enjoy canoeing, swimming, and an interpretive walk through five hundred year old rainforest to the base of Rainbow Falls. Try your luck at fishing or go for a dip as your guide prepares your delicious picnic lunch.
The Wells Gray Grand Prize includes:
A full day boat trip for 2 on Clearwater and Azure Lakes with Clearwater Lake Tours
Total Grand Prize Value: $500 CAD
You can enter via the contest entry form below. For additional chances to win, visit Tourism Wells Gray at their website for 10 bonus entries, and visit their Facebook and Instagram for another 25 bonus entries each.
This contest is open to British Columbia residents and closes on June 17, 2022. The contest winner will be contacted via email on this date.