With holidays like Halloween and Thanksgiving fast approaching, so is harvest time for the produce we associate with the fall season.
Over in the Fraser Valley, the Township of Langley is gearing up to celebrate the advent of autumn with a host of fall-related activities, from u-pick tours at the local pumpkin patches to tours of the region's cranberry bogs.
So take a sip of your pumpkin spice latte or apple cider, and check out some of the attractions you can look forward to during this year's harvest season in the Township of Langley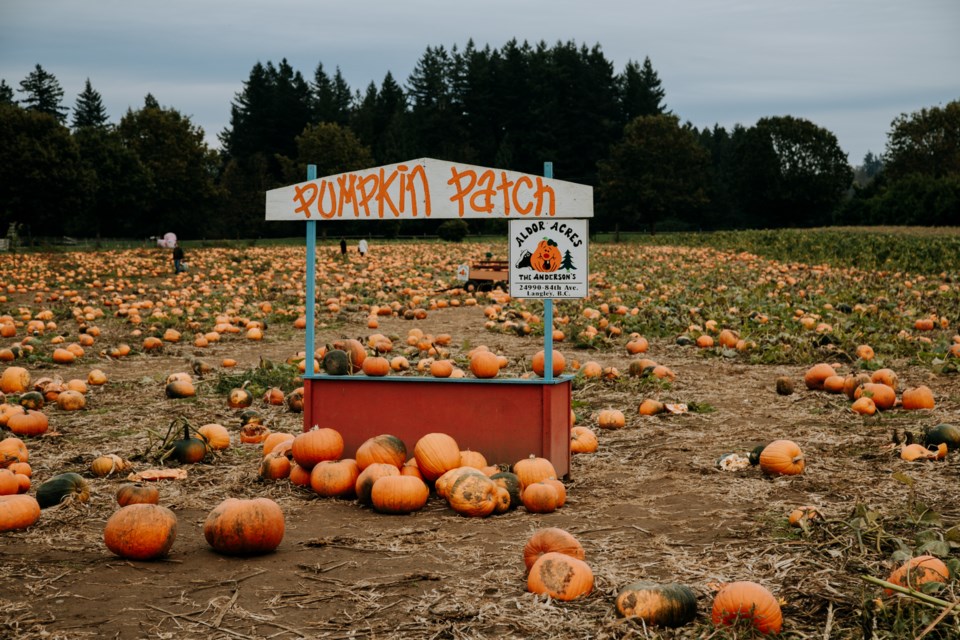 Frolic at the pumpkin patch
Nothing says 'fall has arrived' like a tractor-pulled hayride out to the pumpkin patch. Starting in late September and continuing throughout the month of October, you can visit the farmlands in the Township of Langley to pick out the perfect pumpkin from the sprawling patches, as well as snap the perfect autumn photo-ops!
The pumpkin patch and farm market at Aldor Acres Family Farms runs from Saturday, September 24 to Monday, October 31 from 9 a.m. to 6 p.m. In addition to the vast variety of pumpkins of all shapes, sizes, and colours, Aldor Acres also has fresh-picked corn, u-pick sunflowers, and even a petting zoo with the animals on the farm. Don't forget to pick out some fresh produce, handmade preserves, meat, eggs, and more from the farm market.
The Eagle Acres pumpkin patch runs during October (excluding October 3 to 6, 11 to 13, 17, and 24). Upon entrance, you can relax on a covered hayride that encircles the pumpkin fields and corn fields. Then, take a stroll to the barns to visit over 200 farm animals, and perhaps even try your hand at feeding the cows!
Open from Thursday to Sunday (and on Thanksgiving) throughout the month of October, Loft Country Farms' pumpkin patch has many family-friendly fall activities in addition to their pumpkin selection. You can pan for gems at LC Mining Co, feed treats to farm animals from Clydesdales horses to Kunekune Pigs, and go on pony rides and horse-drawn carriage rides (on weekends and select times during the week).
The Giant Pumpkin Weigh-Off Competition, the only world recognized giant pumpkin weigh-off event in Western Canada, is making its return to the Township of Langley. At last year's annual event, a new record was set for the cultivation of the heaviest pumpkin in B.C. history with a giant pumpkin that weighed 1911 pounds. Will this year's contenders top that record? Go and see for yourself!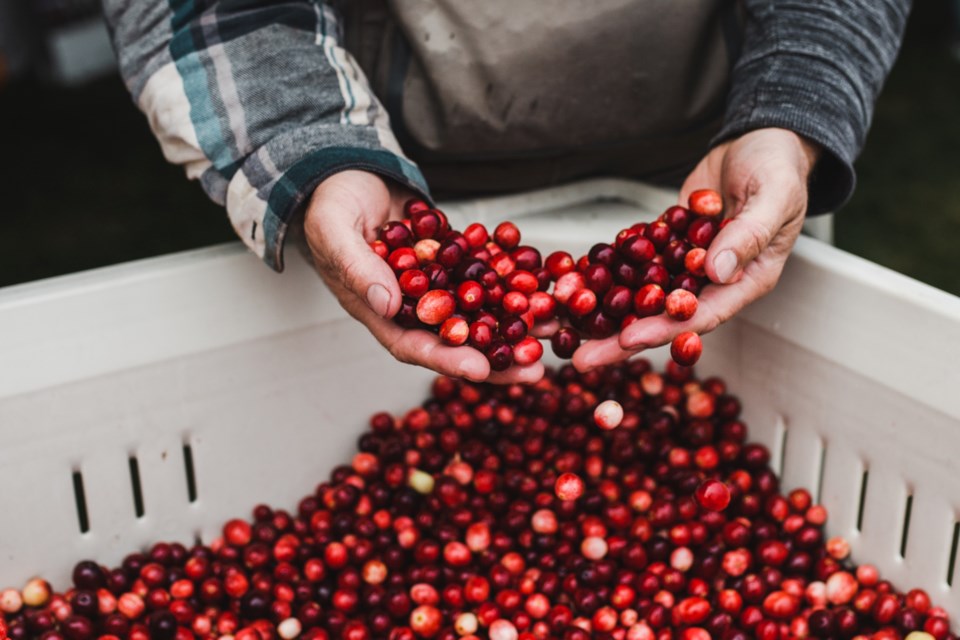 Wade in the cranberry fields
One of only three fruits that are native to North America, cranberries are commonly associated with Thanksgiving and the Yuletide season. In B.C., the cranberry harvest takes place once a year from mid-September through to mid-November, and the Township of Langley happens to be well known for their cranberry farming.
Reopening in late September, The BOG Riverside Cranberry Farm hosts a harvest walk, where visitors can take a self-guided stroll of the perimeter of the field to see the premium quality cranberries being harvested in real time. Those who dare can sign up for the Cranberry Plunge for the opportunity to get an up-close, Instagram-worthy photo op taken in the vibrant field of floating cranberries.
Still can't get enough of cranberry season? The 27th annual Fort Langley Cranberry Festival on October 8 promises to celebrate the Fort Langley area's harvest season by recognizing the cranberry's role in local history, while also highlighting local businesses and their farm-to-table products that showcase this unique fall berry.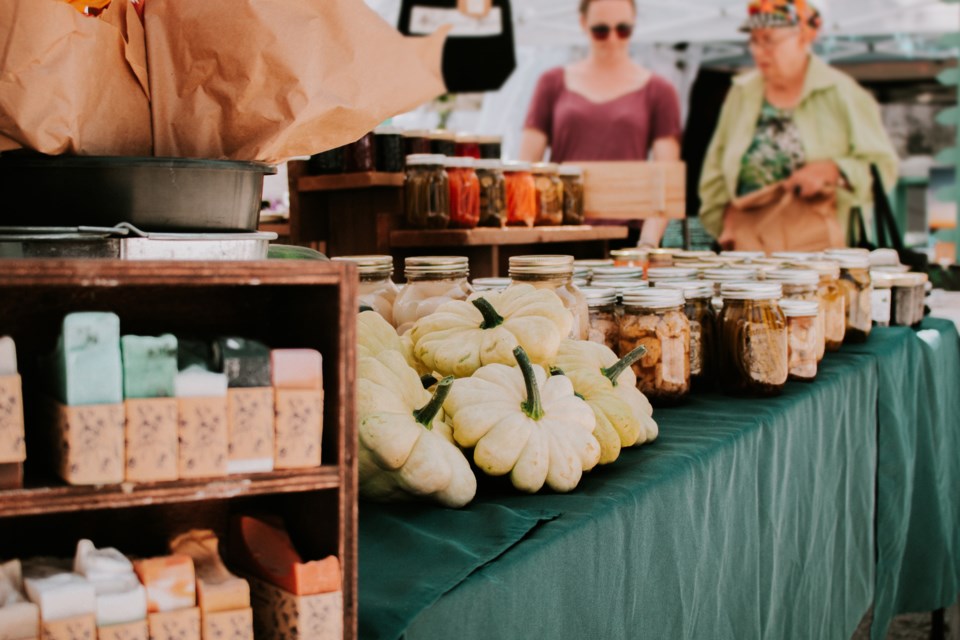 Wander around the Fort Langley markets
Continuing the historic site's trading traditions, Fort Langley runs weekly markets for visitors to give their support to farmers, producers, and artisans from the Township of Langley area and take home some B.C.-grown and B.C.-made goods.
On Friday nights from 5 p.m. to 10 p.m. until October 7, the Fort Langley Night Market at Glover Mary Church features local vendors, food, beverages, and live music.
On Saturdays from 9 a.m. to 3 p.m., the Fort Langley Village Farmers Market by the St. Andrew's Chapel runs through to the official end of the fall season in December.
Trot over to the turkey farms
Thanksgiving is on October 10, so don't forget to snag your turkey for your Thanksgiving dinner before it's too late!
When in the Township of Langley, JD Farms Specialty Turkey is the go-to spot for the best and largest selection of fresh turkeys. Turkeys raised under the JD Farms-certification are fed a natural diet of grain, vitamins, and minerals, without any antibiotics or animal by-products. At the JD Farms bistro and store, you can find a wide variety of turkey products, including homemade smoked turkey sausages, fresh deli cuts, and ready-made meals.
Go to tourism-langley.ca/events for more events and happenings this October in the Township of Langley.