You can use any metric, whether it be longevity, industry plaudits, or customer uptick, and the findings will bear the same successful truth.
Gaining trust, however, is another matter altogether.
Having recently celebrated its one-millionth member, it is undeniable proof that the BCAA has garnered a reputation of trust and reliability that few other organizations have achieved.
To put that milestone in perspective, consider the sheer number of British Columbians – one in three households - who count themselves as BCAA Members. Those Members can always rely on industry-leading products, including home, car, travel, small business insurance, roadside assistance, Evo Car Share, and full auto repair at BCAA's Auto Service Centres across the province.
"We're one of those lucky companies – and there aren't many others – who can say that they've been around since 1906, are still relevant and have that level of trust and connection with British Columbians," says James McDermott, BCAA's Director of Brand Experience. "I think that stems from the fact that we're there for British Columbians when they need us the most."
To mark the historic One Million Members milestone, BCAA is partnering with acclaimed local artists Chairman Ting and Tangible to create a collection of unique BCAA digital art pieces using non-fungible tokens (NFTs).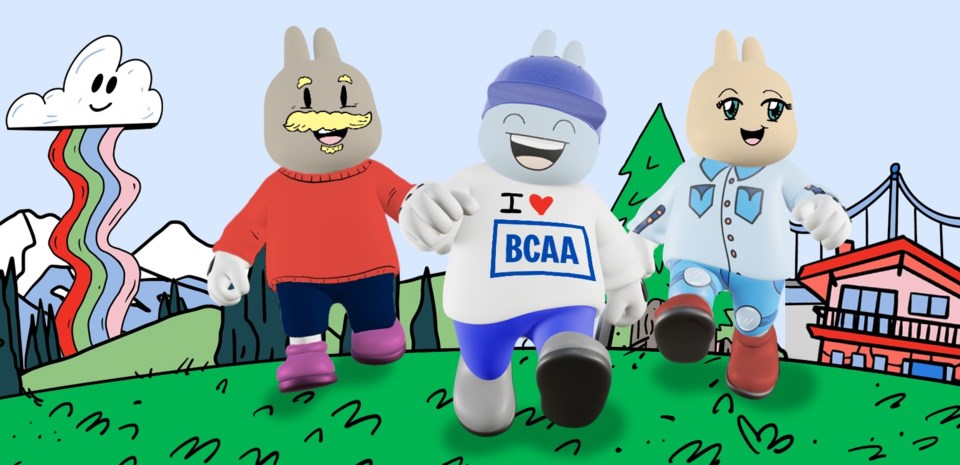 This collection includes distinctive bunny-inspired characters (Carson's signature character) representing the diversity of our province, BCAA Members and British Columbians as BCAA looks to the future and to empower all British Columbians to keep moving forward. Quite literally a one-of-a-kind offering, the BCAA BC Buns NFT contest features unique pieces of digital art available for BCAA Members to win through bcaa.com/millionstrong until October 14.
"This timeless artwork of these bunny-inspired characters perpetually moving forward represents the rich diversity of British Columbians in a playful, unique way," McDermott says. This collection celebrates us hitting this landmark and helps us continue to look to the future and embrace new ideas."
Speaking of landmarks and keeping you moving, consider the international reach of a BCAA Membership. Whether you get a flat in Finland or need a boost in Britain, your BCAA Membership is there for you, too. BCAA has affiliation agreements with other international automobile associations to keep you safe and feeling confident no matter where your travels take you.
Picture a parent whose child breaks down on Vancouver's Cambie Bridge in heavy traffic and is saved by a calm, helpful BCAA Auto Service Technician or a Home Insurance Claims Advisor who delivers claims cheques by boat during a wildfire (yep, that really happened!). There are so many initiatives that BCAA team members have done to help British Columbians during the early stages of the COVID-19 pandemic and beyond. From lending Evo Car Share vehicles to healthcare workers, advocating for road safety throughout BC, providing free BCAA Slow Down Kids Playing signs and giving back in ways that support all British Columbians.
"For less than $7 a month, you're going to get the best roadside assistance that not only follows your vehicle, it follows you," McDermott explains.
"You could be in any vehicle, you could be in a friend's vehicle, or you could be in another country, and you're still going to get the best roadside assistance. We'll be there, or the network that extends across North America and the world will be there to help keep you moving forward."
Perpetual peace of mind may perhaps be the best Membership perk, but it's far from the only one. Members can reap benefits gleaned from thousands of BCAA partnerships in B.C. and beyond: 30% off passes at Playland and the PNE Fair, 30% off single game tickets to the Vancouver Canucks, or three cents off per litre of gas and 10% off car washes and in-store purchases at Shell stations. Add it up, and the savings at Shell alone translate to an annual savings of $138 - enough to pay for your annual BCAA Membership.
Not only do one million Members instil profound trust in the BCAA brand, but so too does the business sector at large. This year, BCAA was voted as the most trusted brand in Canada, in association with the Canadian Automobile Association, by the 2022 Gustavson Brand Trust Index.
"We believe it's our role to make life in BC better for everyone – no matter who you are or where you come from," McDermott says. "That's the power of Membership and its moving British Columbians forward."
For more information about the NFT contest, or to learn how to become a BCAA member, visit www.bcaa.com/millionstrong.