Vancouver's favourite improv company returns with three howling shows this Spooktober! 
"Darkness falls across the land, the laughing hour is close at hand" – see Halloween is supposed to be funny, right?
Either way, we know where you can get the thrills this Halloween.
Spooktober returns to Vancouver TheatreSports (VTS), October 22 - 31st. Not only does Vancouver's award-winning improv company have a Halloween show – they have three! And an eerily entertaining special event. Keep reading to unearth all the deadly details.
Get a group of ghouls together and prepare to cackle at Monster Matches. This show pits teams of monsters against one another in a series of head-to-headless short-form scenarios to see who eeeks out the most laughs. Will the werewolves defeat the witches, or zombies overcome the vampires? In this fast-paced roller-ghoster, the winner is determined by audience judges. Monster Matches runs Tuesday/Wednesday October 22/23 and October 29/30 at 7:30 p.m. and Friday, October 25 at 9:30 p.m.
Looking for some chilling comedy? Check out Cult Fiction – Everyone Laugh Together. Back by popular demand, Cult Fiction is framed as a documentary. Hosted by an investigative journalist; the players utilize audience suggestions to spin a spell-binding tale behind the cult, including the core cult belief and some of its unique traits – the more ridiculous the suggestions, the more inventive the action and louder the laughter. Cult Fiction runs Thursday/Friday October 24/25 and Thursday October 31 through Saturday, November 2 at 7:30 p.m.
If you're really looking for some spooky sillies, check out Kreepy Kitty. This late show sees the action of the show directed by an evil kitty from its window perch. This is one fur-midable kitty with plenty of cat-titude whose claw-ver commands lead to plenty of comedic hiss-terics. Kreepy Kitty plays Thursday, October 24 and 31 at 9:15 and Saturday, October 26 at 11:15.
The real thriller is Halloween Howl, this special event features costumed performers in two Monster Matches, where all but the most cunning ghoul will perish. During intermission, guests can have their fortune told by Madame Improvo or visit Poe Corner, where the spectre of a long-dead poet will 'amaze you with improvised POEms that The Raven itself would find beguiling. Mix and mingle with Denizens of the Dark (roving performers) who'll delight you with their tricky antics. Shake your bones at the Danse Macabre and participate in the Costume Parade to win some wicked prizes. This event sells out every year, so don't miss out, get your tickets now!
Scared of being pulled up on stage? That's one thing you don't need to fear – audience participation is encouraged, but not mandatory. Join VTS for some comedy and a cackle – if you dare.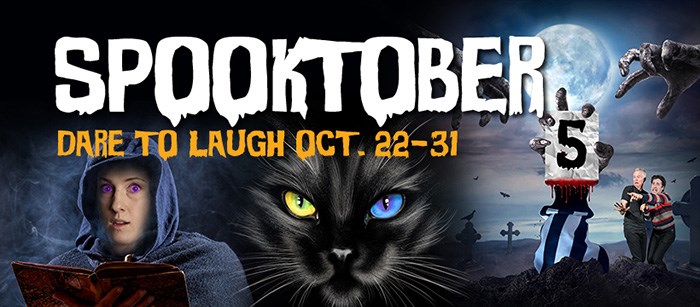 Tickets are available online at VTSL.com