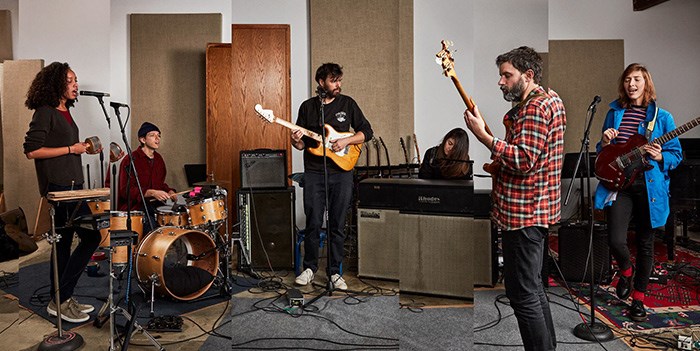 Vancouver International Jazz Festival is known for bringing the world's best jazz musicians to Vancouver for ten days of musical bliss.
What you may not know is that the festival's welcomes hundreds of acts that fall outside the confines of traditional "jazz".
This year's Vogue Series boasts an eclectic line-up of daring musicians ranging from indie darlings to no-holds-barred New York salsa. Taking place at one of Vancouver's most historic and iconic venues, this year's Vogue Series is an absolute must for anyone yearning to discover something bold, fresh and spectacular.
This year's line-up includes...
With seemingly limitless creativity, unorthodox melodies, and off-kilter rhythms, Dirty Projectors synthesize adventurous R&B, orchestral flourishes, electronic experimentation and far left field avant-pop. From indie rock to collaborations with Björk, Solange, and David Byrne, Dirty Projectors' David Longstreth "is a playful conceptualist who moves in a handful of directions all at once" (New York Times).
The 13-piece all-star powerhouse Spanish Harlem Orchestra shows why they're "the leading light of the salsa reconstruction movement" (Newsday) by doing what they do best: hard-hitting, high-energy, salsa! The true voice of the barrio, SHO brings the heat with fresh, intricate arrangements and pulsating rhythms steeped in the authentic salsa dura ("hard salsa") tradition.
High-voltage Birmingham, Alabama-based soul purveyors St. Paul and The Broken Bones sweat, swagger, and shake their way through "outright revelatory", take-no-prisoners live shows. Wildly charismatic frontman Paul Janeway's potent lyrics and Otis Redding-level, soul-shaking vocals "channel fire-and-brimstone energy" (Rolling Stone) while the brawny horn-driven seven-piece band mines a wealth of classic American music influences from Motown's golden age, to Sly Stone and Prince.
Jerry Douglas - June 30 at the Vogue Theatre
Even if you haven't heard of Jerry Douglas, you've probably still heard him. As a sought after session player who has backed the likes of Mumford & Sons and Paul Simon, Jerry is an outright virtuoso. The 14-time Grammy Award winner has absorbed and transcended the conventions of bluegrass, country, jazz, blues, and rock. His bold new music is cinematic and stunningly detailed, hitting on an artful chamber Americana sound beyond the boundaries of anything he—or anyone else—has done before.
In addition to this year's Vogue Series, the TD Vancouver International Jazz Festival will feature 1800 artists, 10 days of music, 150 free shows, 35 indoor and outdoor venues and performances by legendary artists such as Robert Plant and Kamasi Washington.
To learn more, visit coastaljazz.ca