What's summer in Vancouver without a little time on the water?
With the summer sun heating up, there's really no better way to cool down than to get in, out, or on some water. From giant slip-n-slides to scenic harbour cruises, we've partnered with the city's best water activities to compile the ultimate list of ways to enjoy the water this summer in Vancouver. Yes, it's time to make a splash!
Vancouver Water Adventures lets you explore the coastal waters surrounding North America's southernmost fjord, the beautiful and illustrious Howe Sound.
Their Ocean is Yours jet ski tour offers the chance to see a myriad of wildlife and nature; most commonly Bald Eagles, Seals, Islands, Mountains, Glaciers and so much more. With adrenaline inducing speeds up to 80km an hour, you can experience more of Vancouver wilderness and Ocean coast than most could imagine possible. Breathe the fresh coastal air, whilst taking a peek at Tantalus Glacier, and eventually making your way to Bowen, Bowyer or Gambier Island.
Their jet skis are well equipped with 130 horsepower, and with your control at the helm, they will allow you to experience the amazing wonders Vancouver has to offer on the water; a once in a lifetime experience for anyone that loves the great outdoors. Use the Code "AWESOME" in the "have a code" section on their booking page to save 20% on your next booking. See you on the water!
When it comes to summer in the city, the only thing better than being on the beach is being on the water. Goldstar Marina Rentals enables customers to take in the natural beauty of Vancouver and experience it from where the city and its surroundings looks best; the Pacific Ocean. As the first luxury pontoon boat rental in Downtown Vancouver, they offer large boats that can accommodate up to 13 passengers in addition to a fleet of brand new Sea-Doos. 
Unlike typical rental boats, pontoons are a lot more stable and comfortable with lounge style seating, tables and a Bluetooth stereo system. There are barbecues on board too, making them great for a family day out, corporate event, birthday party or just the perfect way to enjoy summer on the water.
Rentals include a safety briefing and a free one-day boating licenses, so you'll be the captain of your own ship or Sea-Doo. Goldstar offers a getaway from all the hustle and bustle of the city, with incredible views that will make for the ultimate summer experience!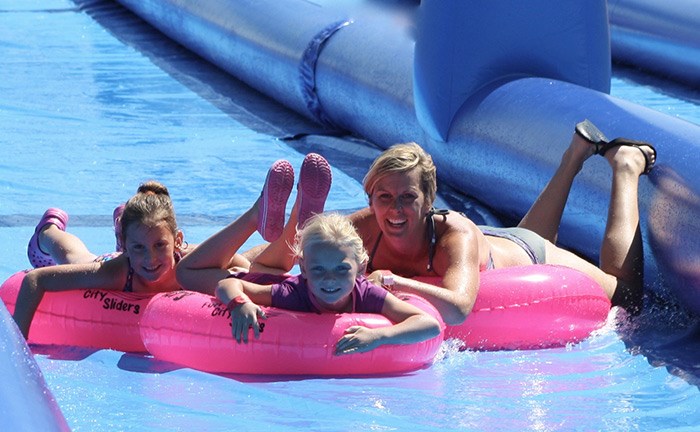 On July 13 and 14, Fun City Sliders will set up on the streets of North Vancouver, turning Lonsdale Avenue into a giant slip-and-slide for some slippery summertime fun!
The two-lane slide with a thick layer of foam underneath and a catch pool at the tail end, is six meters wide and enables sliders to go in small groups for more fun. The 1,000 ft slide is the main attraction, taking sliders ages 5 and up, down Lonsdale from Keith Road to 5th Street, but also hosts an array of community events taking place in and around Victoria Park.  This year's sliders have the choice between Unlimited All Day passes, or Unlimited Half Day Passes. Unfortunately, this event has been cancelled. 
This 4-hour luncheon cruise travels through Vancouver's inner harbour, the Burrard Inlet, and then North into the spectacular setting of IndianArm. Nestled within the Coast Mountain range, the area was once heavily glaciated, leaving behind a spectacular landscape featuring lush green forests protecting this inlet from the open ocean. In addition to witnessing the spectacular scenery, passengers will be treated to a wonderful catered buffet lunch on-board the ship. Be sure to bring your camera and clear space off your phone, this trip will feature stunning views of private islands, wildlife and more.
Learn to sail in beautiful British Columbia!
MacSailing offers hands-on experience under the guidance of skilled and patient instructors in English Bay. They provide private or group lessons as well as tours and corporate events. This is a fantastic way to experience Vancouver's exquisite surroundings while staying active and having fun! MacSailing has the largest coaching team in Canada and offers instruction for all ages and levels on any boat in their fleet. Their instructors come from a variety of sailing backgrounds ranging from national sailing team member to offshore cruiser. Get out on the water and enjoy the best part of living in Vancouver!
This story was updated at 1:15pm on July 5, 2019.