While the rest of Canada prepares to spend the next few months just trying to warm up, we're looking to get outside!
In B.C. we are truly spoiled with some of the most incredible indoor and outdoor winter recreation in the world. And if you're looking to experience the best of what B.C. has to offer, look no further than our nearby neighbors in Vernon, B.C.
Vernon is where small-city charm meets epic, outdoor adventure situated in the heart of B.C.'s Okanagan Valley, located just five hours from Vancouver. The ski runs are officially open – it's time to trade in your rain gear for your winter wear and have some fun on and off the slopes in Vernon, B.C.
On the slope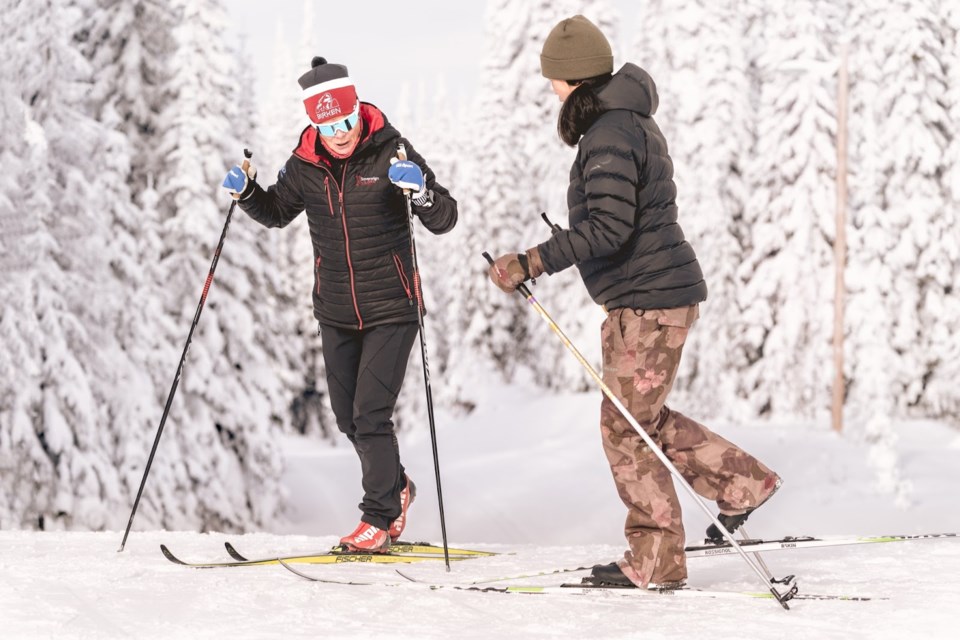 As soon as the snow starts to fall, Vernon comes alive with nearly every winter activity imaginable.
A winter must-visit in Vernon is Sovereign Lake. With 55 km of daily groomed trails, it is the destination for cross-country skiing and snowshoe enthusiasts alike. Don't be intimidated by the scale – Sovereign Lake offers trails for kids, adults, and every skill level in between. If you're feeling a little rusty, you can always sign up for a private or group lesson with one of the club's CANSI-certified instructors. Sovereign Lake also has a Nordic Centre if downhill skiing is your thing. With a projected opening date of November 4, you can be one of the first to experience the 2022/23 winter sports season and all of the glorious champagne powder it has to offer.
Vernon's other top spot for downhill skiing and winter sports is SilverStar resort. Boasting 132 runs and a ski-in ski-out village, there's quite literally something for everyone. They also offer tons of winter activities outside of skiing like tubing, fat biking, snowcat tours, mountain tours, and even snowmobile tours for both adults and kids! Their village is the perfect destination for pre and après activities, and anything else the "not-interested-in-skiing crowd" might be looking for. You can shop til you drop while looking through apparel, gifts, home decor, and candy, or just pop into a spa and call it a day!
For those wanting to stay off the slopes entirely, Vernon has lots of ice skating options as well. Nestled amongst the snow-dusted trees, Brewer's Pond is the perfect place to take a romantic glide with a loved one or harken back to your youth with a game of pond hockey. Vernon has lots of indoor skating options as well, like Kal Tire Place, the Curling Rink, and the Okanagan Training Rink.
Off the slope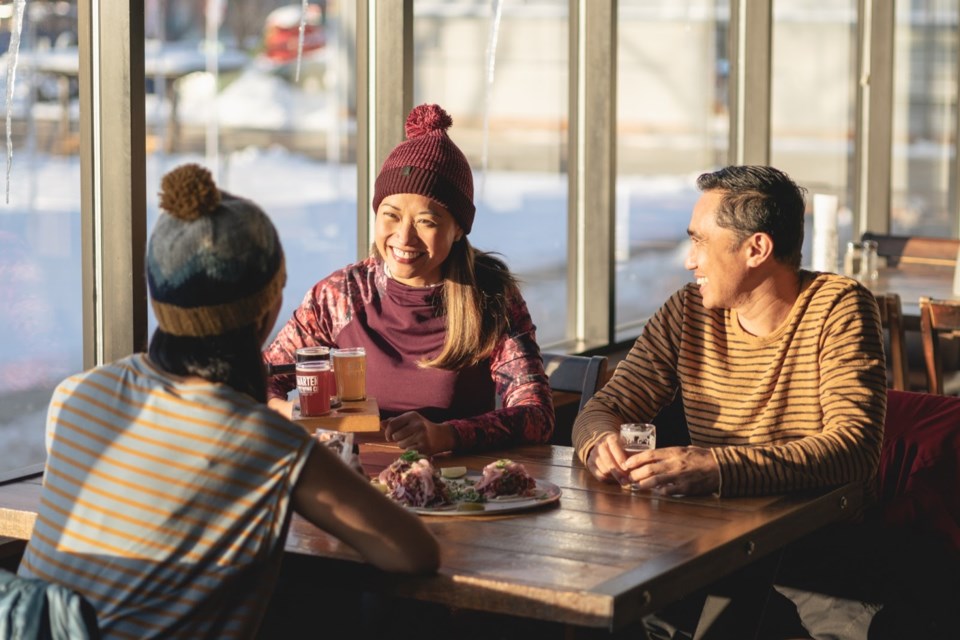 Don't let winter sports take up all your time – Vernon has lots to check out indoors as well!
Vernon's arts and culture calendar is jam-packed with events all season long. Starting at the beginning of November, there are actually multiple events happening every day that will keep you and your friends and family entertained. Be sure to check out the many live performances happening at the Vernon & District Performing Arts center, Jazz Club or the Powerhouse Theatre

Want to try something a little more hands-on? Check out the Christmas Card workshop on Saturday, November 19 at the Prestige Vernon Lodge where you can make 15 cards and 3 bonus mini cards to share with family and friends. They'll have drinks and door prizes too!
Eat, drink and be merry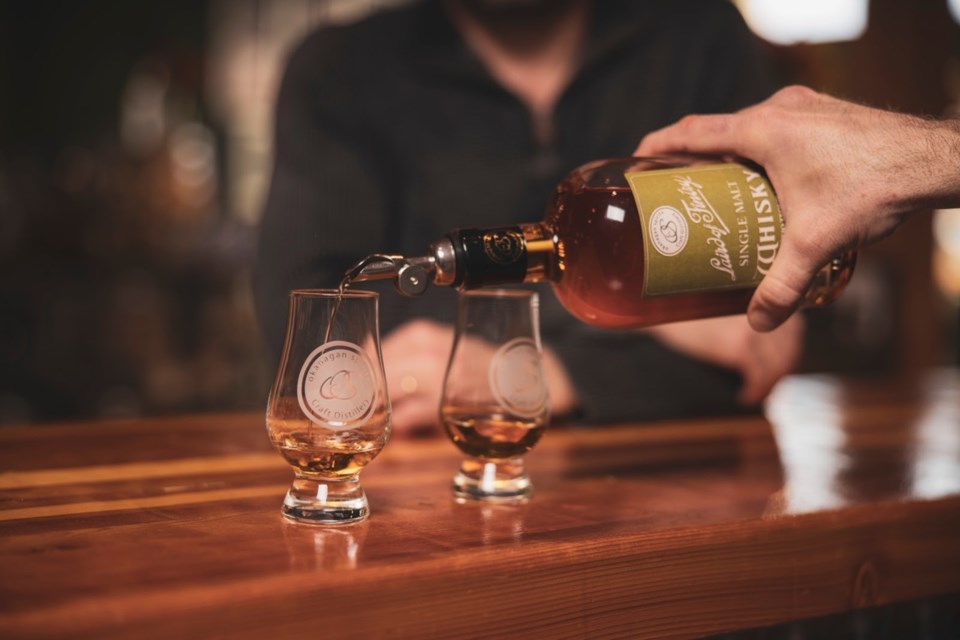 We all know the best way to experience a city is through our taste buds and fortunately, Vernon has no shortage of places to eat and drink that are sure to please any palate.
The local libation scene is strong in Vernon with distilleries, breweries, wineries, cideries, and even locally made mead that will satisfy the cravings of any thirsty travelers. The Marten Brew Pub is a Vernon staple, crafting full-bodied, naturally carbonated, and unfiltered beers with no preservatives and no additives. Okanagan Spirits
is a highly acclaimed, world-class distiller of fine fruit spirits; they actually just won Artisanal Distillery of the year at the 2022 Canadian Whisky awards. Step into their tasting room to try any of their delicious farm-to-flask spirits from their hopped whiskey to their Family Reserve - B.C.'s first apple-based gin.

Vernon hasn't forgotten about wine lovers either. In fact, there are many wine tours to choose from so that you can get a taste of everything Vernon has to offer. Try Cheers! Okanagan for more off-the-beaten-path wineries, Elite Mile to experience a scenic sip, and Sip Happens for custom and private tours (they will even pick you right up from the airport!)

Last but not least, visit Cambium Cider Co, where you can enjoy their simple, rustic, and refined ciders. Everything they offer is farm-to-table and their ciders are pressed, fermented, and bottled on-site alongside a food menu that changes every weekend to make the most of the region's seasonal and unbelievable fresh produce.
If you happened to over-indulge the night before (who can blame you), nothing gets you going better than a strong cup of coffee. Check out the hot sips trail to enjoy Vernon's best coffee and breakfast delights. Of course, Vernon has all the tried and true coffee chains, but they also have local cafés like Bean to Cup who roast their own beans and bake their own delicious pastries, like their incredible almond butterhorns.
To make the most out of your time in Vernon, you're going to want to stay a while! Book a vacation package at one of Vernon's many top accommodations and take advantage of extra perks like a romantic couples getaway package, wine-tasting tours, and everyone's favorite - vacation bundles and discounted rates.

To learn more or start planning your trip, visit tourismvernon.com today