We've partnered with Toyota BC Dealers to award one car owner a $500 gift card to fill their tank.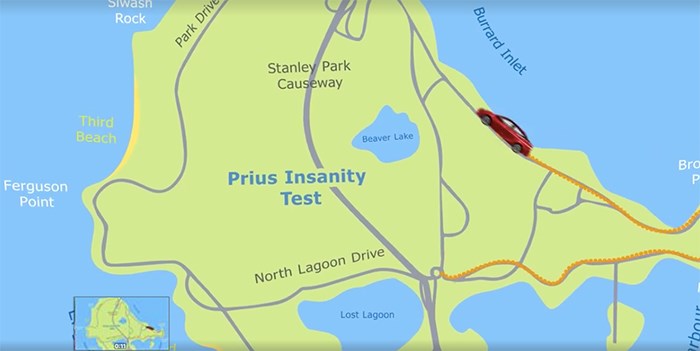 So, for some reason we thought it would be a great idea to see just how many times a Toyota Prius could make it around Stanley Park before running out of gas. Unfortunately for our drivers, it was way longer than we anticipated. Fortunately for you, we caught it all on film and called it the "Stanley Park Sanity Test."
This probably isn't news for anyone who owns a hybrid, but those things can go really far on a single tank. So far, that our drivers managed to loop around the park 36 times, or approximately 263km. 12 hours later, they weren't even close to the "e".
Hybrids use almost 50% less fuel than non-hybrid alternatives. The Toyota Prius gets the best fuel economy of any gasoline-powered car in Consumer Reports testing, and it costs only $26 to fill the tank. In a given year, Prius owners will only spend a few hundred dollars on gas, but whether you own one or not, why pay for gas if you don't have to?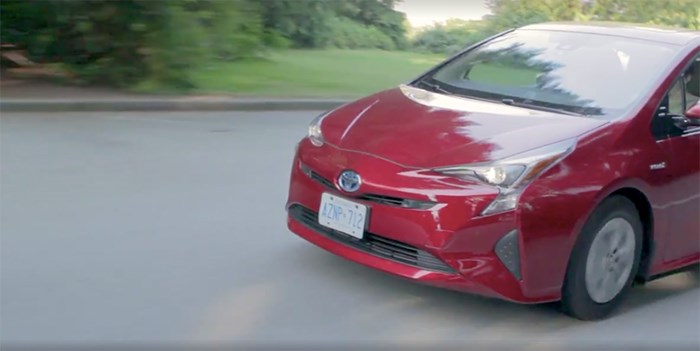 As it turns out, it costs less than $10 to drive around the park for 12 hours, with fuel mileage of approximately 2.8 L/100km. So we're giving away $500 in gas to make it more worth your while. That should keep Prius owners going for almost an entire year. As for the rest of you, just don't use it all looping Stanley Park… Not fun.
The Prius has earned the "Green Top Pick" by Consumer Reports consistently over the past 12 years and is among the most affordable cars to own, when factoring in depreciation, fuel cost, loan interest, insurance premiums, sales tax, and maintenance and repairs.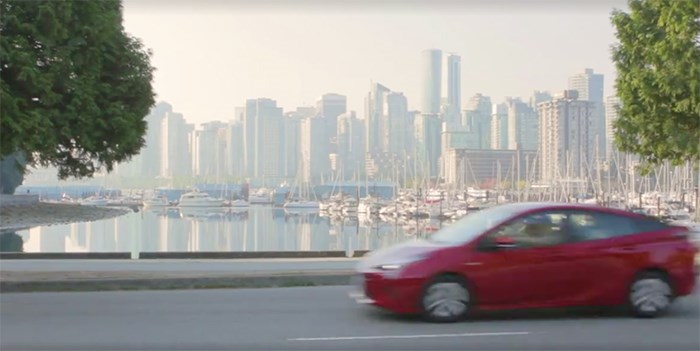 The Prius saves you on fuel by utilizing both the electric motor and gasoline engine together during light acceleration. When you put the pedal to the metal, you utilize the gasoline engine, while the battery works to supply drive power to the electric motor. When you start to brake or slow down, the gasoline engine turns off to save fuel, but since you're still moving, the electric motor converts this motion into power to save for later. When you come to a stop, you're running off of electric power alone, ensuring that you're saving fuel whenever possible. It seems that's why our drivers could have continued around Stanley Park for a very, very long time.
To enter to win your $500 gas gift card, you must do at least one of the following:
1. Tweet the following on Twitter (1 entry):
Win a Year's Worth of Gas for Your Hybrid from @ToyotaBC via @VIAwesome http://ow.ly/2u7U30eZ3Do RT to enter!
2. Comment on our Facebook post saying where you'd drive on a full tank of gas
Contest closes at 11:59pm on October 4, 2017.
The true cost of owning a car is much more than the price you paid for it. Things like fuel, insurance, and maintenance and repair costs add up, which is why it's important to consider all aspects of a vehicle before purchasing it. For more information, visit ToyotaTalk.ca