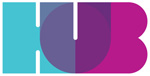 We are HUB. We make cycling better through advocacy, education and celebration.  More cycling means healthier, happier, more connected communities. We're leading the way in making cycling an attractive choice for everyone. Each month V.I.A. provides a platform for us to bring you something awesome involving cycling in the city!
Words: Kristin Lillyman
It has been a busy few months over here, so busy that we haven't had time to write any of it down. To help us out Kristin Lillyman has signed on as HUB's new blogger, very exciting stuff. To introduce her to you we decided to ask her just one question:
Kristin, why is riding a bike so awesome?
Cycling has become trendy, popularized through blogs like Cycle Chic, high-end designers like Kate Spade designing bikes, and bikes in the display windows at Holt Renfrew.  There is also the current state of the economy, accompanied with soaring gas prices, which may motivate people to choose a wallet-friendly form of transportation.  After selling my car earlier this year, I will fully admit to loving the fact I don't have to fill up at the gas station, pay insurance, or for parking (not to mention the amount of time I spent looking for a parking spot in the West End). To me, letting go of my car has felt like freedom and I couldn't be happier with my decision.
There are very simple reasons I love riding my bike, and why you might too!
1.       A to B
I have slowly* come to realize that riding my bike is often the fastest, cheapest, and least stressful way to get most places in Vancouver. My bike takes me to work, to yoga, to parties, to restaurants, to concerts, to beaches. It is simple and fun, and literally gets me everywhere I need to go – from point A to point B.
*I say slowly, because it took me about 3 years of riding my bike to fully 'get' this and sell my car.
2.       Smiling
I am quite certain that in no other mode of transportation will you smile more than on your bike. I see people on bikes smiling all the time – and we smile at each other (it is contagious!).
My colleague and I were biking home from work recently and he turned to me and said "there is no way I would be smiling like this if I was on the skytrain". He was smiling from ear to ear, which was a great reminder of how fun it really is, especially with a friend.  (Note: I am not anti-transit, in fact I ride transit frequently… It just isn't quite as fun as riding your bike).
3.       The  social experience
For one reason or another, when I am taking transit, I usually have my head phones on and sort of zone out; I almost don't want to be looked at or talked to.  Whereas, on my bike, I often have impromptu conversations with other cyclists, car drivers, and with pedestrians.
I also observe more about the communities I travel through. I notice buildings I never knew existed, I stop in at shops I wouldn't normally see from a bus or car window, and I often run into friends. A car can be so isolating, but on a bike, you really experience your community in an interactive way.
4.       Leg muscles
There are numerous benefits that you may or may not notice right away, but riding up a hill this weekend with my friend to a BBQ, she pointed out my increasingly toned calves! (This is a giant achievement for me as I do not easily put on any muscle mass)
5.       Sharing the love
Since I enjoy riding my bike so much, I have shared my passion with those around me.  I have realized that with a little encouragement and guidance we can get a lot more people riding their bike. Nothing makes me more excited than someone who tries biking to work/school and falls in love with it the way I did. I had a colleague come up to me yesterday and tell me that she had started riding to work (she had asked me for some tips about a month earlier), and her journey to work on her bike is now her favorite part of her day.  Knowing that I helped motivate her to ride her bike to work (and she loved it!) absolutely made my day.
I am setting out to find out why people in Vancouver ride their bikes.  Tell me why you like to ride your bike @kris_lilly or email social@bikehub.ca.