In this series we stop people along the bike lanes in Vancouver and have chats with them about their thoughts on cycling, their bikes, and more. Have a look at the archive HERE.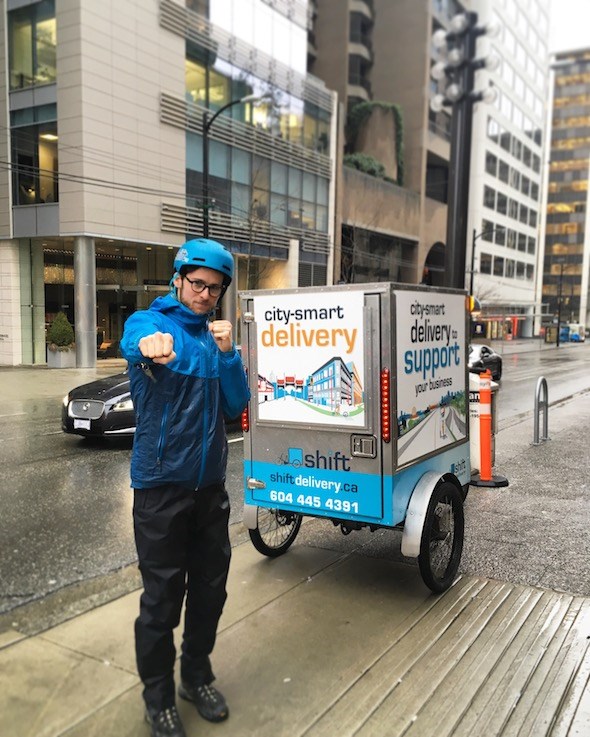 Name: Devan Mcclelland, Co-owner at Shift Delivery.
Tell me what your average commute looks like.
It's a 15 minute relaxed cycle to the office. East along 10th and south down Woodland.
How was Shift Delivery started?
6 years ago, Robyn Ashwell and four other SFU students began plotting a trike delivery worker's co-op in their classroom. Unlike most hypothetical class projects, they rode with it. Two trikes were originally purchased and now we have a fleet of eight. I don't get founders credit, but I'm thankful for all their hard work.
What sorts of stuff do you get asked to deliver? Is it just deliveries for businesses or for the average person as well?
To name a few: Organic groceries from Spud, corporate catering from Foodee, and office supplies from Mills. We mainly work in the business to business world because our trikes carry such large volumes, sometimes up to 500 pounds.
Whats the strangest thing thing you have had to deliver?
It's not that strange, but we pedal Shirtland dry cleaning to offices downtown. Picture a mobile closet on the back of a cargo trike. It's pretty nifty.
What would make your deliveries easier in Vancouver? Or do you find it is quite a stream lined process?
Can someone help the city secure their new garden planters? Haha. The greenery is wonderful, but vehicles continually bump them into the bike lanes while parking. The Hornby and Dunsmuir bike lanes are where the magic happens. It's so heartwarming to wave at curious pedestrians or chat with a person on two wheels.
Were you much of a cyclist before you joined Shift?
Totally. The bicycle has taken me to Belgium, Vienna, Copenhagen, Salt Spring Island and up and down the Sunshine Coast. Next up, maybe a trip across Canada? The bicycle gives me freedom of travel and puts me in a meditative state (but don't worry, I always keep my eyes open).
What kind of bike do you ride when you are off work?
A hybrid city bike with moustache handlebars. I have recently come to appreciate a more upright riding position, which allows for optimized cherry blossom gazing. And I always keep my bike rack and pannier bags at the ready for grocery pickups on Commercial drive.
For more information about Shift Delivery check out their website here!