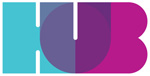 We are HUB. We make cycling better through education, action and events.  More cycling means healthier, happier, more connected communities. We're leading the way in making cycling an attractive choice for everyone. Each month V.I.A. provides a platform for us to bring you something awesome involving cycling in the city!
HUB Bike to Work Week is going strong with over 2700 people signed up, biking to work and loving the beautiful fall weather we've been having.
On Wednesday morning a HUB Celebration Station was set up at Smithe and Expo where we saw hundreds of people biking onto and off of the Cambie Bridge. One such commuter, Anne Dodington, stopped long enough for us to chat with her about her biking habit.
Why are you biking to work?
I used to work in Dunbar and I used to try and ride my bike but once we had children I had to do school drop off so I drove every day for 14 years. But I recently got a job downtown and we live across the creek, at Broadway and Oak. My husband has been riding to work every day for the last 20 years and so I am starting to join him and ride my bike.
What is it that changed that allowed you to start biking? 
A closer commute to work and my daughter's school. We can now walk her to school with our bikes, drop her off and still make it to work on time.
What is it that made you want to start biking to work?
Just getting outside. It really helps. Last year being inside the car - going from the parkade to my car and then into work - I never got outside at all and I really noticed that I didn't get any sun. I felt kind of bad.  So this way I think I am getting at least a bit of outdoor time and a bit of light and I think that is going to affect my mood.  Also it's super easy. There are very few hills on this commute so I have no excuses - it is only 10 minutes.
What is your favorite part of your commute?
The Cambie bridge, looking over at the water. I always look to see if I can find a seal, and sometimes I'm lucky. I just really enjoy that - it's an absolute pleasure.
Any tips for people who might want to try biking at this time of year?
Get a really good pair of rain pants and a really good rain coat and you will be laughing in any weather.
Time for a skill testing question... I notice that you have a HUB sticker on your bag, do you know what HUB is?
It's a bicycling organization, I know that they advocate for better bike routes and more services for cyclists in the city. I have been getting their emails for years but I thought we had better join.
So you're a HUB Member?
Yes, we joined today!
There is still time to sign up, log your routes and join us at a Celebration Station. HUB's Bike to Work Week Wrap-Up Hot Chocolate Social is on Friday, November 1st, 4 – 6:30pm along the Union-Adanac bikeway between Main and Gore, come out and say hi, pick up your very own membership and support HUB and better biking across the region.