Winter is coming and TransLink is ready.
That was the message at a press event in Burnaby Thursday morning, as the transit authority unveiled its plan to keep buses and SkyTrain lines running smoothly during the cold months.
[caption id="attachment_283166" align="aligncenter" width="700"]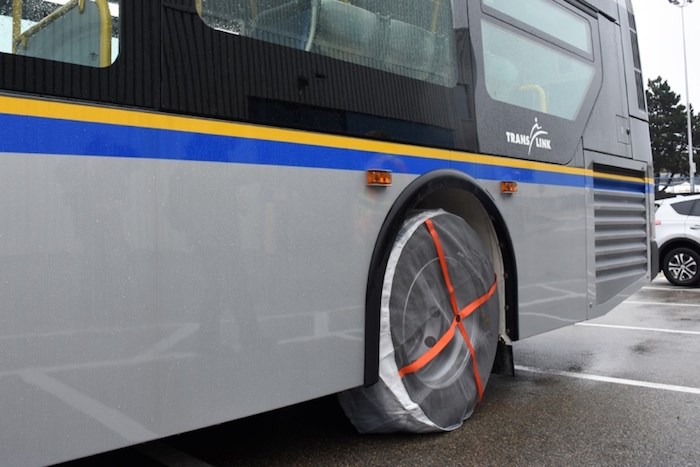 TransLink will use more Kevlar tire socks on its buses this year. (Photo by Kelvin Gawley)
[/caption]
The Farmer's Almanac is predicting a mild winter, but "regardless of any predictions, it's important we always prepare for winter's worst," TransLink spokesperson Chris Bryan said.
Buses
More buses will be outfitted with Kevlar tire socks this year to help them gain traction in ice and snow. On snowy days, buses to and from Lynn Valley, Simon Fraser University and Grouse Mountain will be outfitted with the tire slip-ons.
Last year, TransLink tested the socks on its Burnaby Mountain routes and was impressed with how they improved grip and control, according to Coast Mountain Bus Company's vice president of operations, Don Palmer.
TransLink is believed to be the first transit authority in North America to use the socks.
But the socks only last about two hours or 50 kilometres before tearing and deteriorating, Palmer said.
"We're working closely with the manufacturer to find ways to make tire socks last longer before they need to be replaced.
Each set of tire socks cost about $250 and last only a couple hours but they're still a cheaper alternative to buying more durable snow tires, according to Simon Agnew, a maintenance engineer with TransLink. He said TransLink would need to buy close to 10,000 snow tires to outfit its vehicles.
https://twitter.com/KelvinGawley/status/1058055145601196032?ref_src=twsrc%5Etfw%7Ctwcamp%5Etweetembed%7Ctwterm%5E1058055145601196032&ref_url=https%3A%2F%2Fwww.burnabynow.com%2Fnews%2Fput-a-sock-on-it-translink-readies-buses-skytrain-for-winter-conditions-1.23484114
"It would be a huge effort for our technicians to try and handle," Agnew said. "And even the storage of it and the purchasing of that many tires to maybe offer slightly better performance for the odd day."TransLink estimates the snow socks will cost an extra $9,600 and will be covered by its existing operating budget.
Palmer said TransLink will continue working with municipalities to ensure major east/west and north/south corridors are cleared for buses.
"The municipalities have been great to partner with," Palmer said.
TransLink will also be spraying its trolley wires with anti-icing spray on cold days and switching out articulated buses for traditional 40-foot buses when traction decreases.
SkyTrain
There are now two kilometres of heat tracing on the section of the Canada Line that saw heavy ice buildup in 2017, which cause significant delays. And de-icing trains will run the length of all SkyTrain tracks overnight to keep the tracks clear.
HandyDART
To keep HandyDART service running as smoothly as possible, TransLink says it will increase staffing on bad weather days and contact customers and day programs to ensure walkways and driveways are clear and salted.