Remember the Penny Smash project we co-produced where 4 local artists contributed designs that you could buy for $2, and all of the money raised from it was going to be given to charity and put towards arts and culture grants? Well it's Bike to Work Week and we're proud to announce that the first Penny Smash grant has gone to industrial designer, Greg Papove, to realize his WhoopDeeDoo project!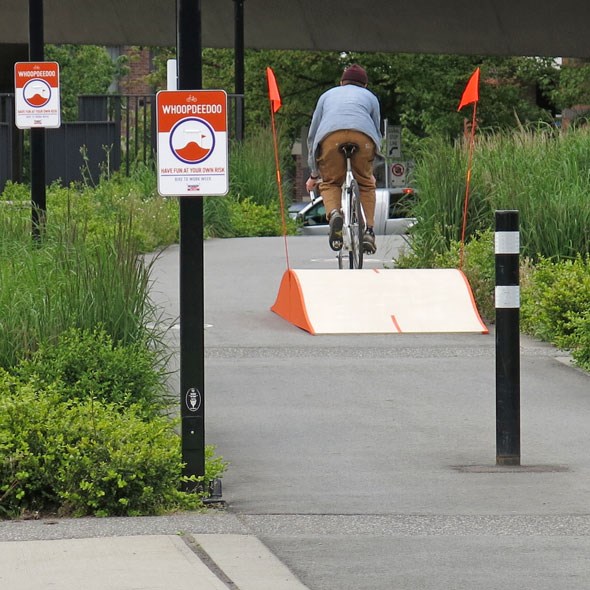 Greg's concept is simple: add a little bit of fun to the daily commute of local cyclists by putting a mellow, marked bump onto one of the bike paths. A small "Whoop dee doo" moment to mix up what may sometimes feel like a daily grind of getting to and from work by bike.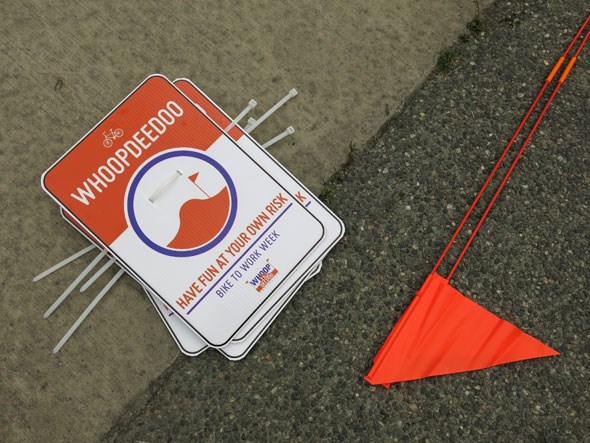 Signage/logo/poster design by Claire Balderston
The WhoopDeeDoo is clearly marked and was placed across the street from the Olympic Village Canada Line station last night. Hopefully you enjoyed it on your commute to work today or will be able to check it out some time in the next few days. Here's a video of my 4 year old son rolling over it...
http://vimeo.com/67036509
Have you been cooking up a creative project that requires a few hundred dollars to get off the ground? Something like Greg's WhoopDeeDoo where the primary goal isn't to make money but is for you to make Vancouver a more awesome and fun place? The Penny Smash committee has an informal grant approval process in place right now where we're accepting pitches and putting them to an internal vote. We hope to make at least 2 projects like this happen over the next few months. If you've got a great idea, email it to contact@vancouverisawesome.com (along with a detailed budget and timeline) at and I'll make sure to get them in front of the committee.