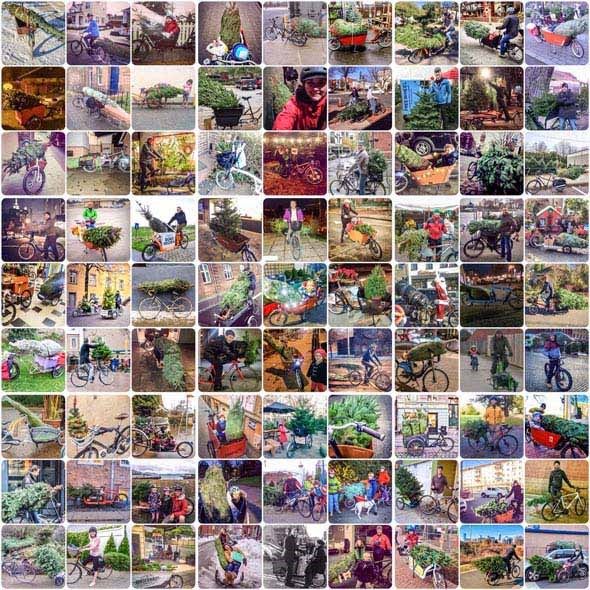 Last week, we told you about how for the first Christmas since moving to Vancouver in 2007, we finally picked up a real tree with our newly acquired trioBike Cargo. We spoke about how this was the start of a brand new family tradition, and the memories we had created would provide fond thoughts of a happy Christmas, even as the seasons turn and time passes. It seemed the story resonated with others as well, with a few friends sharing their own photos of a pedal-powered Christmas. One of our followers also sent us an advertisement from a local high-interest loan company, depicting someone hauling a tree behind a bicycle with the tag line: "Time to get the car fixed?" The timing seemed serendipitous following our story of not needing a car to pick up our Christmas tree, and with that in mind, we were inspired to see just how many others had created their own memories of bicycle-themed tree pick-ups. The results were beyond what we expected.
On December 7th, we put the call out – Modacity was crowdsourcing photos of people picking up their Christmas tree by bicycle for an album on Facebook. Within just 24 hours, we already had eight photos. Pretty spectacular considering it was a Sunday, but when we awoke Monday morning, there were a few more photos waiting for us, and then throughout the week more people started sending their own photos. People from around the globe wanted to share their visual stories of the creative way they had hauled their tree from the lot and to their living room. There were photos of bakfiets, complete with sleepy toddlers nestled against the tree, Yubas and Xtracycles with a tree tucked securely in the sidebags, and even ones like that of our neighbour, with a tree securely attached to the back rack of a traditional bicycle. We are amazed at the industrious efforts people have taken to transport their trees, and will admit, there's really no good reason we should have waited this long to do it ourselves.
Within just one week, our crowd-sourced album has already exceeded one hundred photos. People are still sending in photos from all over the globe – our furthest one coming from Atyrau, Kazakhstan. All from a simple post about our own family Christmas story; one we hoped would inspire others, but in a funny turn of events, people have instead inspired us. They have helped us feel encouraged this is not some fringe activity, but one done by all manner of people from cities all over the world that celebrate Christmas. Perhaps the aforementioned loan company should change its tag line from "Time to get the car fixed" to "Time to get your bike serviced", because - as it turns out - people can achieve a great deal with a simple bicycle and a little inspiration!
Did you pick up your Christmas tree by bicycle this year? If so, share an image with us via Facebook, Twitter, or e-mail, and we'll add it to this photo gallery!
***
Chris and Melissa Bruntlett are the co-founders of Modacity, a multi-service consultancy focused on inspiring healthier, happier, simpler forms of urban mobility through words, photography and film. You can find them on Twitter: @modacitylife.