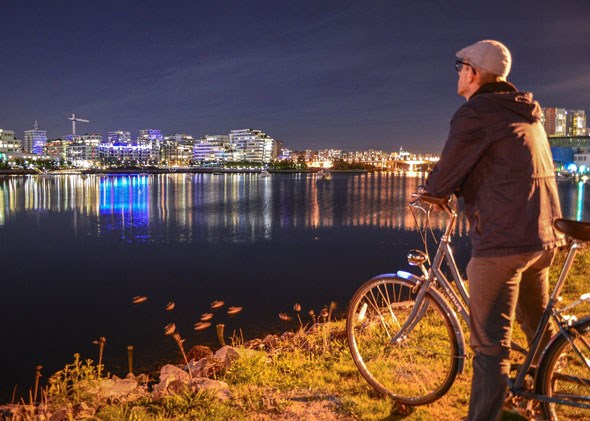 "Instead of wondering when your next vacation is, maybe you should set up a life you don't need to escape from." – Seth Godin
Amidst a chaotic Christmas holiday that saw stops in Seattle, Portland, San Francisco and Los Angeles, I somehow managed to carve out some quality time with Happy City, the new book by East Vancouver's own Charles Montgomery. In it, Montgomery envisions the 21st century city not just as a wealth creation machine, but also a happiness creating one. He argues the post-war suburban experiment (which he refers to as the "dispersed city") has not only been an economic and environmental disaster, it has done little to improve our overall quality of life; leading to feelings of isolation, selfishness, and a myriad of physical and emotional diseases we are only just beginning to understand.
Not only is it an engrossing and fascinating read, but it was also quite a personal one, perfectly articulating our family's decade-long journey from the suburbs of Toronto to the heartbeat of Vancouver. It involved selling our house, the family car, a good number of our possessions, and settling into a third floor, 900 square foot, three bedroom co-operative apartment in the vibrant, walkable Commercial Drive neighborhood. It has been a pursuit of happiness, not through financial success or the accumulation of goods, but through four straightforward ideas: proximity, mobility, autonomy, and simplicity.
Proximity:
Without a doubt, the single biggest draw of our place on Commercial Drive is its direct proximity to (almost) everything we need. My daughter's elementary school, my son's pre-school, the Broadway Skytrain station, 10th Avenue Bikeway, Trout Lake Community Centre, and dozens of cafés, markets, and restaurants are all within a short 15-minute walk. And if we feel the need to connect with Mother Nature, we are no more than two stops on the train from the downtown peninsula, along with miles of seawall along the Pacific Ocean, and a stunning backdrop of the North Shore Mountains.
The true value of this decision was crystallized for me one day, when I was at the office, having delegated my visiting parents with the task of walking my son to pre-school. I returned home to astonished anecdotes of his guided tour of The Drive: he introduced them to the many shop owners he knew, from "Auntie Tina", who sold us fresh pasta (and gave him free cookies), to Michelle, who taught him ballet, and Kelly, who cut his hair. Every storefront had a story and a special meaning; and at the ripe young age of four, he already knew the people and places in his community like the back of his hand.
Mobility:
There is a telling irony in the fact that selling the family car brought with it true mobility, long promised by the automobile age, but never actually delivered. We have discovered the incredible sense of freedom that comes with making the vast majority of trips on our own two feet, either by walking, cycling (walking with wheels), or transit (a walk interrupted). Our children can comfortably walk, bike, or scoot to and from school every single day; and soon enough, will be able to travel freely across the entire city, without the need of a driver's license, or a ride from Mom or Dad to get them there.
Not only do we spend far less time getting from A to B, but doing so is a much more active, joyful and rewarding experience. When walking or cycling, we each have an intimate, unfiltered, first-hand connection to Vancouver, its geography, landmarks, and acquaintances we may run into along the way. When riding transit, we can relax, cuddle and converse as a family. And regardless of transport mode, we don't have to worry about fitting exercise into our schedules, as the city itself becomes our daily workout.
Autonomy:
These lifestyle changes have brought with them an incomparable sense of autonomy, where concepts of ownership are (mostly) redundant. Our co-operative housing model means each member shares ownership and maintenance of the building. In the rare case that we need an automobile, we borrow one from the Modo Car Co-op. If we need a drill for renovations, we borrow one from the Vancouver Tool Library. We have a small plot for growing fruits and vegetables in a nearby community garden. And rarely having to worry about unexpected vehicle repairs or expenses makes all of our lives easier.
Sadly, many in our society still consider the quantitative, but meaningless accumulations the benchmarks of success. For us, having less space ultimately means owning less stuff, allowing us to focus on the more qualitative pleasures of satisfaction and fulfillment. We – and many in our generation – are learning to do things a little bit differently, valuing personal relationships and experiences over all things, especially the almighty dollar.
Simplicity:
Perhaps most significantly, living smaller and closer has lead to a tremendous simplification of our lives, where our day-to-day existence is marked with very little stress or complication. Less time wasted commuting long distances (and also less time working to pay for it) ultimately means we can spend more time connecting and contributing to our community. It affords me time to devote to the world of bicycle promotion, through writing, photography, speaking and filmmaking. And it allows my wife to blog about our adventures, inspiring a global audience with stories of our car-free life.
Best of all, this shift has lead to plenty of quality time spent together as a family. We sit down for dinner almost every single night of the week. Walking, cycling, or riding the bus provides ample opportunity to hold hands, make eye contact, and chat about any number of issues, big or small. Having few debts or extraneous expenses allows us to put our money towards more worthwhile experiences: the aforementioned Christmas vacation, for example, or an afternoon at BC Place cheering on the Whitecaps.
Sustainability:
There is one added bonus to our family's pursuit of happiness: it has also significantly reduced our environmental footprint. We produce about a third of the physical waste and carbon than we did in the suburbs. As Montgomery points out, the greener, happier and resilient city all occupy the same place. Which is why attempts to call Vancouver the "World's Greenest City" miss the mark, in my humble opinion. Aiming to be the "World's Happiest City" would be a more effective sales pitch; framing the discussion around what we have to gain – rather than give up – in order to live sustainably.
We returned to East Vancouver just in time to ring in the New Year, as the talk of the people around us shifted towards going "back to reality". It was at that point that it dawned on me: our reality is pretty damn good. On "Blue Monday" (regarded the most depressing day of the year), my wife and I treated ourselves to our monthly bike date, which in this case consisted of dinner at a friend's restaurant in Mount Pleasant, and a concert in Chinatown, travelling to both venues the only way we know how. Pedaling side-by-side that evening, we reflected on the life we've built together, and the fact that our family is undeniably healthier, wealthier, and happier than we've ever been. As Charles Montgomery implores, we are helping to build the happy city, just by living it.
***
Chris Bruntlett is a Residential Designer and father of two, living the (car-free) East Van dream. Outside of the office, he diligently documents the rise of mainstream bicycle culture via words, photographs, and film. He cherishes the ability to live and work in a dense, vibrant, sustainable city, and contribute to that vision on a daily basis. You can find Chris on Twitter: @cbruntlett