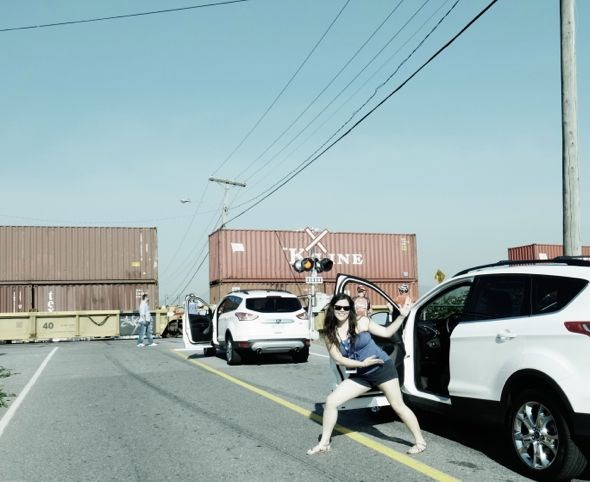 Text by Anna N. Reid and Jennifer Kim
A couple of weeks ago on a gorgeous mid-September day, Ford Canada and the lovely ladies at Highview Communications invited us to "Escape for a Day" with the 2013 Ford Escape. The exact itinerary was under wraps for us, but here are some spoilers for you:
1. Pylons
2. Beautiful Belcarra park
3. Food porn
We got to the Delta Suites Casino Hotel in Burnaby at 11am prepared for anything. Here we enjoyed an early lunch and brief orientation along with our fellow escapees: May and Dennis Pang, Raj Taneja, Rebecca Bollwitt, Grace Cheung, and Ariane Colebrander were just a few of the local blog and social media stars at this all day event.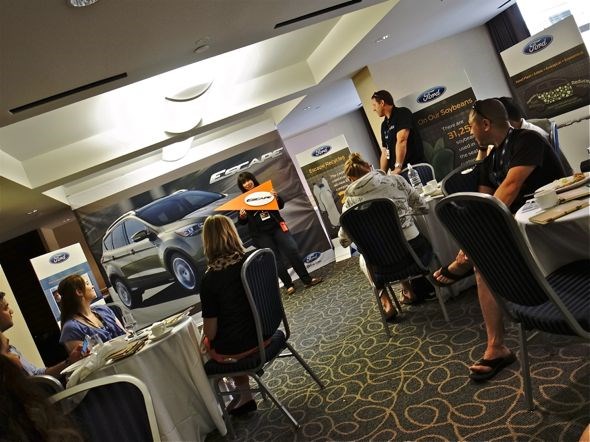 Eating and Learning
We'd learned during orientation that this peppy SUV has a conscience, with an impressive gas mileage. Roughly 25 recycled water bottles per vehicle are used for the carpeting, and recycled fabrics woven into the insulation for sound absorption. When you relate these stats to production across North America we're looking at millions of pounds of re-purposed material - always a good thing.  After 3 and a half modest plates of catered lunch we stepped out to the parking lot to see our car for the day, a brand new shiny-white 2013 Ford Escape.
The Ford Escape 2013 Fleet
Inside our Ford Escape we found a ring-bound map with driving directions and an ipod touch to record our antics throughout the day. The first stop was Coquitlam Centre to visit the Ford Activity Tent.  We tested out the Active Park Assist feature which had our jaws on the floor - with the push of a button the 2013 Escape automatically detects an appropriate parking space and literally steers itself to parallel park perfectly. It was like that pottery-wheel scene from Ghost, but the Ford Escape was Patrick Swayze and we were Demi Moore, the car gently guiding us with an invisible, intelligent hand. We were amazed and slightly creeped out (mostly amazed). We were also impressed by the foot activated rear gate opening mechanism that came in quite handy in our game of trunk packing tetris.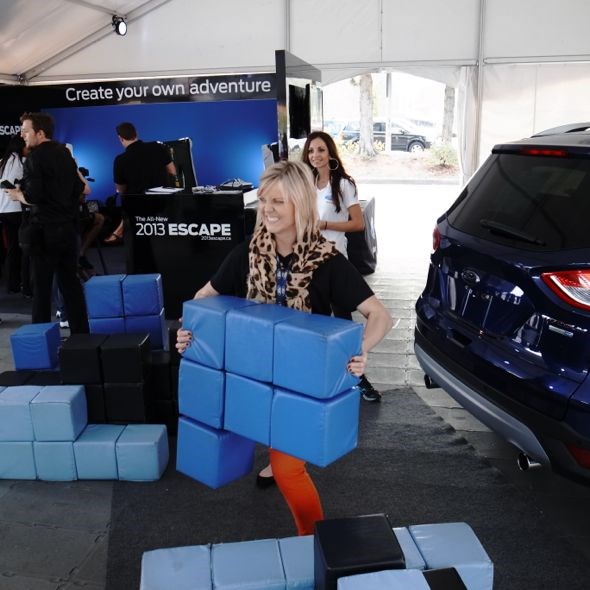 Kate Macdougall of Highview Communications showing us how to Tetris
Our next stop was the BC Driving Centre in Pitt Meadows for our closed course testing of the automatic braking system and all the other safety features of the SUV. We were encouraged to "go nuts" and we really took that to heart. A team of professional drivers took us out initially to show us the course - the first section was for testing the ABS, the second for corner handling and the third section of the course tested the Intelligent 4-wheel drive System, which according to the Ford booklet, "monitor[s] traction and cornering conditions over 60 times a second to seamlessly adjust torque distribution as needed to help you maintain control". This it did.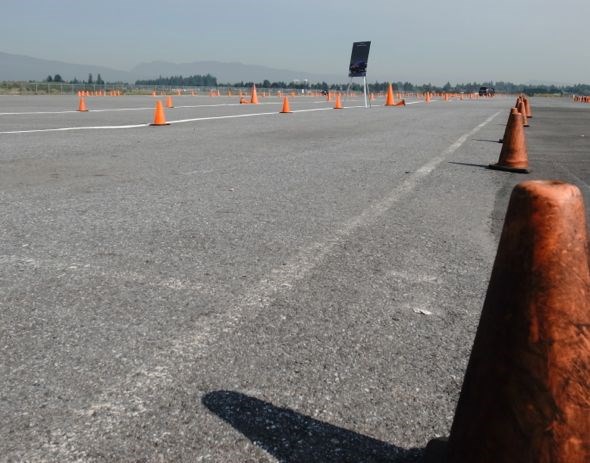 Pylon Cemetary
We were a little guarded on our first run, but quickly caught on. We added some tunes and got into a Thelma and Louise vibe for a total of five tire-burning runs around the course. If you want to see a video of one of our runs please be sure to reduce the volume first, as there are several shrieks of joy-fear in there. The car performed extremely well and felt safe even when pushed to its limits. We had to be reminded several times that we ought not to test the Ford Escape's sweet safety features in such a heavy-handed way out in the real world.
After that we were treated to a mini adrenaline detox at Belcarra Regional Park with Takaya Tours, who guided us on a beautiful canoe ride. Our hosts gave us some perspective on the history, traditions and culture of the Tsleil-Waututh First Nation. Belcarra was originally the Winter Village for the Tsleil-Waututh.  The corresponding Summer Village was across the water at Cate's Park. We also learned that the high branches of the trees of Boulder Island once held the Tsleil-Waututh dead - their funeral custom before missionary influence - pretty neat.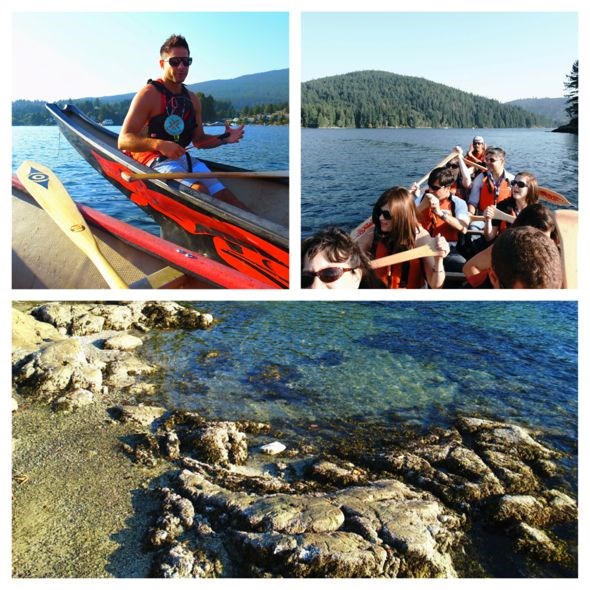 Beautiful Belcarra
It felt really great to feel the wind out on the water as the sun set on our day of escape, but it felt even better to return to the Delta suites for the final wind-down dinner at EBO restuarant, prepared by executive chef Daniel Craig and accompanied by Burrowing Owl wines. Here we got to relax and eat way more than it is any of anyone's business all while talking over the day's adventures with our new fellow blog and social media friends.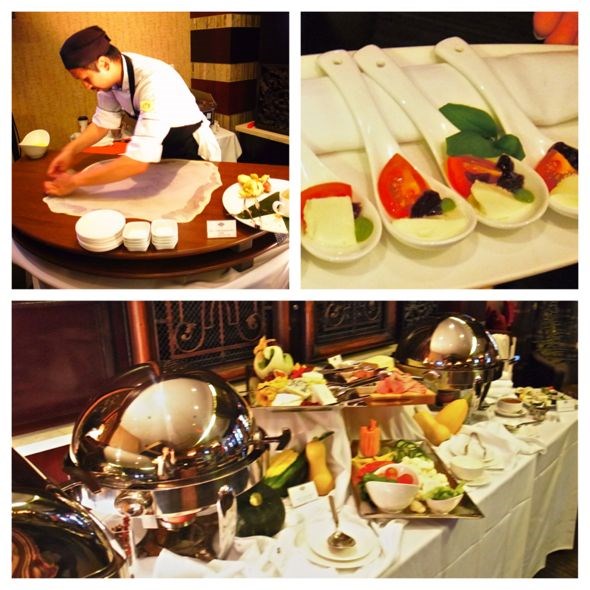 EBO Restaurant
The spread at EBO was fantastic. Apart from a buffet of somewhat standard Westcoast fare like sushi and dimsum, we were treated to several seasonal hors d'oeuvres like prosciutto wrapped melon and spoonfuls of an inventive take on the caprese salad. But the true highlights of the meal were the roti canai, handmade in front of our eyes by chef John Cheng of JC Roti, and the melt in your mouth rib-eye roast courtesy of chef Daniel Craig.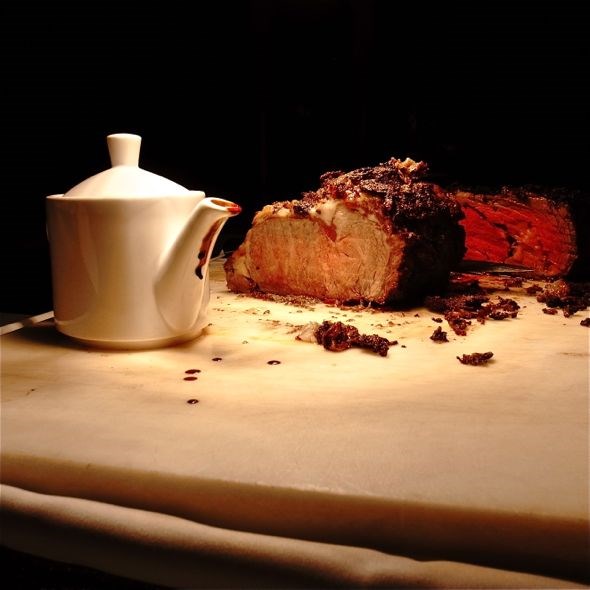 Rib-eye Royale: Quantum of Sauce, by chef Daniel Craig
Paired with the Burrowing Owl Syrah, it was hard to put our forks down and pay attention to the highlight reel of the day's events the Ford team had put together.  We studied the menu at EBO and deemed it well worth the drive to Burnaby, especially for their Sunday Brunch. At the end of the night we were given USBs with all the photos and videos taken during the day as well as a miniature 2013 Ford Escape toy model car to take home with us. We tried riding it at home, but it was missing that signature pep...
Thanks for the memories, Ford Canada! We had a blast.

All photos by Jennifer Kim