In this series we stop people along the bike lanes in Vancouver and have chats with them about their thoughts on cycling, their bikes, and more. Have a look at the archive HERE.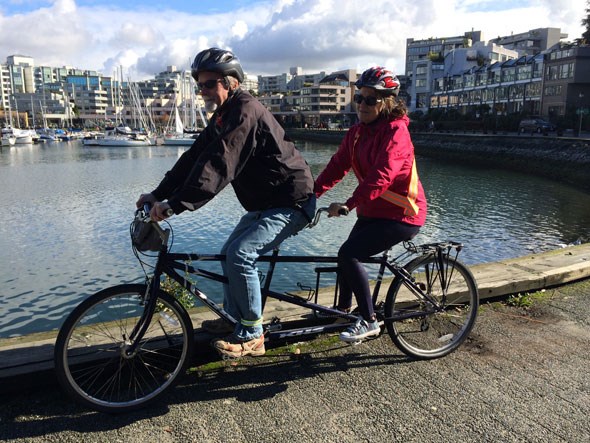 Names?
Hardy and Jenny.
Where are you guys off to today?
Hardy: We are on our way to Granville Island to hang out for a while.
How long have you guys ridden tandem for?
Hardy: This is about our fifth or sixth year.
Was it hard to get the hang of?
Hardy: It was a little more challenging than a regular bike. Jenny can't ride a bicycle so on the first day we thought we would only ride about two or three kilometres. Then we ended up going more than ten. It has just become easier ever since.
What kind of bike is it?
Hardy: It's a KHS, which is made in the USA. It's a good bicycle and it meets our needs.
Are there any bike shops that you prefer in town?
Hardy: Mountain Equipment Co-op and the Bike Doctor are two that we frequent because we live near there.
Are you two planning on biking through the winter?
Hardy: Jenny is Australian so we go to Sydney for nearly six months of the year. We will be leaving to go there soon.
Did you grow up in Vancouver, Hardy?
Hardy: No, but I have been here since '67.
How long have you been in Vancouver, Jenny?
Jenny: I've been coming and going from Australia for a good six or seven years.
Is this how you commute around town?
Jenny: We use it all the time. If we have to go downtown we take the bike. This is our main mode of transportation, as we don't have a car. It's either the tandem bike, we walk, or we take the bus. This is a great city for it riding and you really don't need a car.
Hardy: We are gone for so much of the year, so it's not necessary to own a vehicle. Last year we rented a car for a week, and the year before that for a couple of weeks. We only rent a car for trips out of the city, as the city is so bikeable.