In this series we stop people along the bike lanes in Vancouver and have chats with them about their thoughts on cycling, their bikes, and more. Have a look at the archive HERE.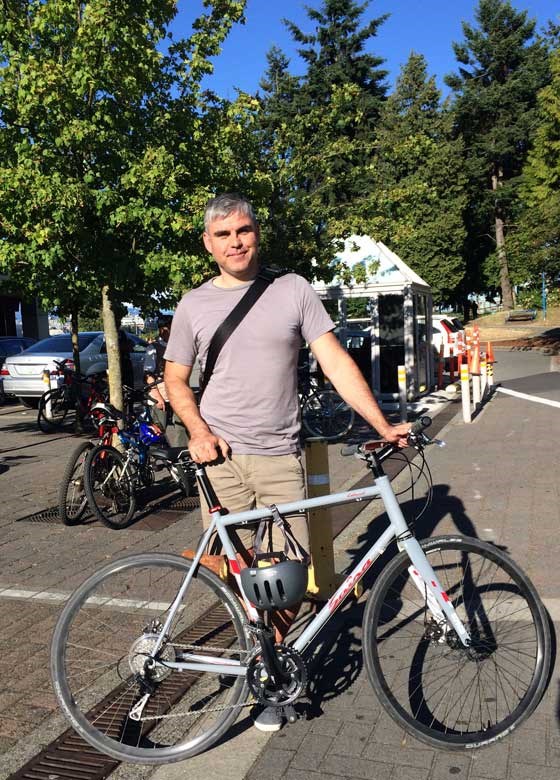 Name?
Istban.
Are you from Vancouver?
Yes.
What part of Vancouver do you live in?
Olympic Village.
Do you like living in that part of the city?
Yes, its pretty lively and central.
Tell me about your bike?
It's a Salsa Colossal and I'm pretty excited about it as it's my first road bike. I always rode big wheeled mountain bikes that sucked for commuting and I finally decided to buy something with skinny tires. It makes me want to ride far more often.
You commute by bike then?
A little bit, when I have to head into the office I do, but I work from home most of the time.
What is the farthest you have ridden your bike?
Not that far, maybe 30 to 40 kilometers.
Do you have any favorite parts of Vancouver that you like biking around?
I like taking my bike out to UBC, even with its challenging hill at the end of it.
What brings you out to the Plaza of Nations night market tonight?
I just wanted to go out for a ride because it was such a nice day. It was a little too windy to go to the beach, so I thought I would ride around instead.
Are there any events in Vancouver that you are excited about this summer?
There is always stuff going on around, but usually I just go down to the little square in Olympic Village to see what's happening there. That or I take my bike and end up stumbling upon events like this.
You didn't know that the Plaza of Nation night market was happening tonight?
No clue. I saw some random band and thought I'd check it out. My problem is that I never known where to look for the events that are going on, so I end of either coming across something or find out about it the week after it has happened.
Well a good solution for that is checking out the Vancouver is Awesome website. We've got you covered for that sort of thing.