In this series we stop people along the bike lanes in Vancouver and have chats with them about their thoughts on cycling, their bikes, and more. Have a look at the archive HERE.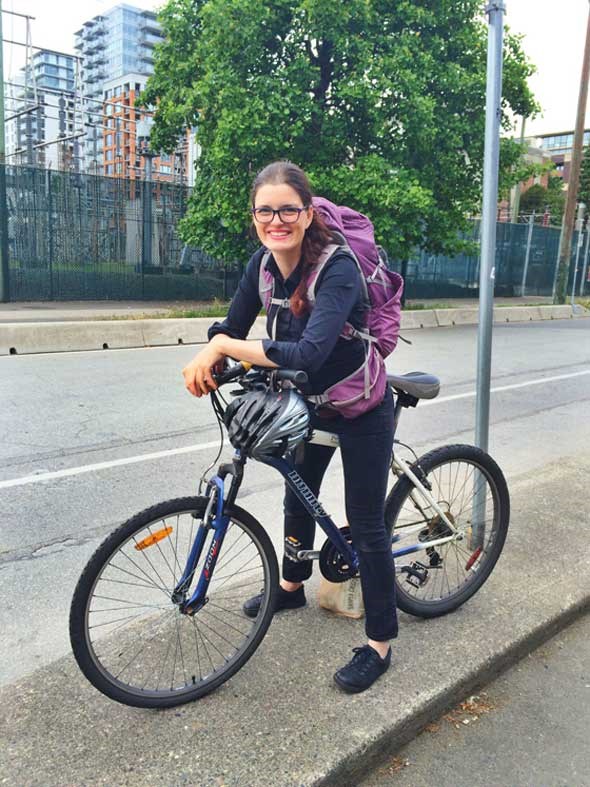 Name?
Natalie
Tell me about your bike.
My husband needed a bike so I went onto Craigslist, and found one for him. I have a discrimination against getting really good bikes as I don't want them to be stolen, just give me one that works well. I found this bike online for $80, it's a little ghetto but I just recently put $200 into fixing it up. I could have gotten another bike but because of the time that it took to get this bike and the fact that it fits me, I'm like whatever I'll just spend the money on it.
Where are you biking from today?
I'm just coming from work where I was learning how to be a team player and what that means. It doesn't mean being best friends with somebody, it means being part of the whole of the team, working with strengths and weaknesses and seeing where a person best fits in.
Where do you work at?
I work at the Take 5 coffee shop downtown.
That's great that your work would have that kind of team building exercise.
Especially since I didn't learn it when I was younger, and it's something you need as you mature.
Do you normally commute this way from work? Are you an avid cyclist?
I wouldn't say that necessarily as I also like to walk a lot of the time. But for work I don't actually like taking the bus because I'm afraid of cooties that crawl on the the seats, plus I have to leave really early to get to work and my bus doesn't leave until it's too late. So for me the bike is perfect and I'll ride rain or shine, except when it's slippery snow. I love it. It's a nice ride in and it really wakes you up.
Do you have any plans for the summer?
Not really, I'm on this saving money kick, because I love just spending money and finally God has just said to us, save your money, put some pennies away, and I'm just loving it. I'm also on a new diet where I am cutting out half of my sugar and it feels really good. I feel like a new woman. I feel so sober and so good by doing this and working out. I'm doing different things that are changing from last year and this way I get to save up to go to school as well. My husband just bought a car so we are going to go to Kimberley for a little vacation.
What is your favourite part about biking in Vancouver?
Vancouver is a good place. I like the bike lanes that we have here because you can go all the way down on one and hit the seawall or Granville Island and it provides safety for the cyclists. I'm not going to lie and say that I always use the bike routes, but at the same time cars really think they own the road and they run red lights so you have to be extra careful when riding with them.