In this series we stop people along the bike lanes in Vancouver and have chats with them about their thoughts on cycling, their bikes, and more. Have a look at the archive HERE.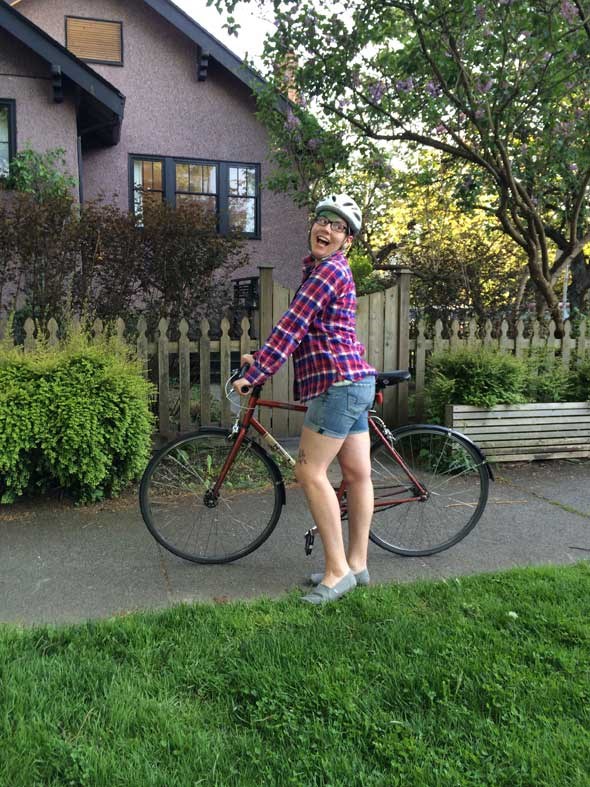 Name?
Nicky.
Tell me about your bike?
I've had my bike for about 8 months. I bought her off of my friend Andrew who works at Our Community Bikes. He put her together himself. She's not too flashy but gets me from point A to B.
What does your daily commute look like?
I bike to work every day which is about a 15 minute ride from my house.
Are you from Vancouver?
I'm from London, Ontario and moved here about two years ago.
What was the draw in moving to Vancouver?
My best friend was already living in Vancouver and I always said I would move out here once school finished. It was on my "to-do" list.
What is your favourite part about biking?
Probably the fact that biking is a lot faster than using transit. It's especially apparent during rush hour traffic when my commute to and from work would take me double the time if I had taken transit.
What are you looking forward to most about the summer ahead?
Not having to wear rain gear when I ride. Also relaxing in Grandview Park on my days off.
Do you have any favourite events you like to attend in Vancouver?
Musical Bingo Monday's at The Astoria. I might be biased though considering it's an event that I host. Also Denim Vest and Rent Cheque can't be missed.
What is your best biking memory?
I think my best biking memory so far is the first night my friends convinced me to get on this random bike to get to a party. I was so nervous of being on the road at first, but I'm so glad that I did it because I have been riding ever since. I bought that exact bike that I rode to the party the very next weekend.
Biking is fairly new activity for you then?
I rode bikes as a kid but I was never a commuter in Ontario. When there isn't snow there it's super humid and way too hot. In Vancouver it's ideal bike weather.