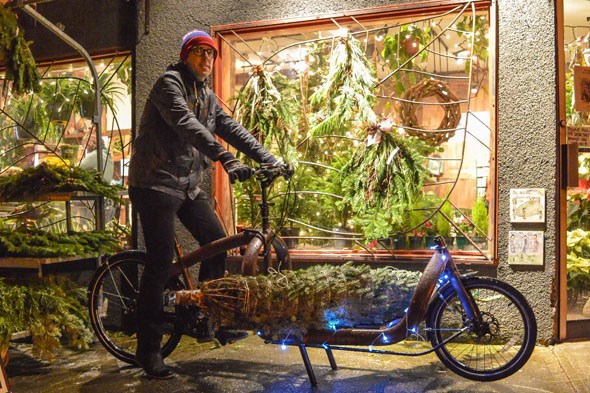 Back in March, Chris wrote an essay for Vancouver Is Awesome about Charles Montgomery's fantastic new book Happy City, and how it perfectly articulated our family's own decade-long journey from the suburbs of Toronto to the heartbeat of Vancouver. In the coming months, he and I are going to share with you the experiences unique to this city that fill us with pride, joy and excitement; allowing us to build a happier city, just by living it.
The holidays are always an exciting time of year in the Bruntlett household. Each year around mid-November the kids start getting little jolts of excitement, and we all start thinking about all the fun activities we'll do over the Christmas Break. After moving across the country from our extended family in 2007, Chris and I look forward to this time because it affords us the opportunity to create new traditions with our own children, and each year has offered a new and unique adventure to add to our happy memories. This year, we are particularly excited because we've recently had a new addition to our home, which is quickly expanding our possibilities as a bicycle family, and has incited another brand new tradition – the picking up of a real Christmas tree.
Growing up, I was privileged to enjoy the yearly tradition of heading off to the countryside to select and cut down our own version of the Griswold Family Christmas Tree. After moving to Vancouver, our first apartment building had a strict "no real tree" policy, so we invested in an artificial one, which we lovingly assembled every year for seven years, even after moving to a "tree-friendly" building. Then earlier this year, we became the proud owners of a trioBike Cargo, and I immediately knew that 2014 would be different.
Being a car-lite family, getting out of the city can sometimes be a logistical challenge, not to mention pricey affair (with the cost of a car rental or car-share), at a time when the budget is tight. But our new cargo bike changed everything. We've both spent countless hours revelling over images from Copenhagen and Amsterdam of citizens picking up their Christmas tree by bicycle, jealous of what we could only imagine was an exciting bit of family fun – and now we could finally join in on the excitement ourselves!
So as night fell this past Thursday, our family of four set off to collect our Christmas tree on two wheels. Unfortunately, the weather wasn't on our side, as the crisp winter spell we enjoyed earlier in the week gave way to milder, wetter days. But nothing was going to stop us, as the fairy lights wrapped on the trioBike guided our way. Thankfully, our destination wasn't far from home, since we're fortunate to live just a few blocks from Figaro's Garden, an amazing nursery on Victoria Drive run by our friends Hartley Rosen and Anne-Marie Whittaker, which we visit year-round for all of our gardening needs.
At the shop, Conor, one of the many helpful staff, was happy to offer advice on each of the four types of trees they had, including which ones were the most fragrant, an important characteristic. After graciously taking us through all the options, and letting the children get a little more hands on knowledge, they picked a Noble Fir, and Conor got us all set up, including helping Chris get it secured to the front bed of the cargo bike. We cannot undervalue how important we feel it is to support local businesses. The care and respect they have for their products and the quality of service is so personal, and we are more than happy to spend our money to help support the local economy.
Strapped up and ready to go, we set off back home to get our tree set up. Of course, this being Canada, we certainly got a few strange looks as we cycled along with a tree tied to the front of the trioBike, but we have a feeling we won't be the only family taking part in this tradition, and it will become a more common sight in the years to come. As for the tree itself, it is a happy addition to our cozy apartment, which, yes, allows real trees.
As a family, we carefully and lovingly decorated the branches with the myriad decorations we have collected over the years, some dating back to the early days of our (now eighteen year) relationship, others crafts the kids have added as they've grown up, and our newest addition, a tradition we have had since before children, ensuring each year one new decoration is added to the collection and along with it a special memory.
With that, a new tradition has begun for the Bruntlett household. When we first found out we were getting the trioBike Cargo, we knew it would change the way we live for the better, and our first major haul couldn't have been a more perfect memory to create. It is without question that we know each year we will be making the trip to pick up our real Christmas tree, and we want to send a very heartfelt thank you to Lamar and the team at Allô Vélo for setting us up with this fantastic bicycle. And if you are hoping to add a cargo bike to your family of bikes, their online shop is offering free shipping (North America wide) on all trioBikes and accessories, until December 31st. It could be a great way to start your own family tradition, and create your own (cycling) memories!
To view the full collection of photographs taken by the author, please click here.
Did you pick up your Christmas tree by bicycle this year? If so, share an image with us via Facebook, Twitter, or e-mail, and we'll add it to this photo gallery!
***
Chris and Melissa Bruntlett are the co-founders of Modacity, a multi-service consultancy focused on inspiring healthier, happier, simpler forms of urban mobility through words, photography and film. You can find them on Twitter: @modacitylife.