We're a biking city, but the means a lot of different things to a lot of different people…
Some Vancouverites rely on inexpensive craigslist finds while others opt to invest in the best-of-the-best. From carbon frames to aerodynamic designs, Vancouver's bike lanes are filled with gorgeous, one-of-kind bikes with price tags that would have most Vancouverites pumping their brakes. So, what sets apart the world's best bikes from a second-hand two-wheeler?
According to Veloholic Cycles, who describe themselves as the "finest" bike shop in the city, higher price tags have everything to do with quality, craftsmanship and reputation.
Quality and design
High-end and luxury bikes like the ones featured below are made from the world's best carbon fiber, typically what's used in aerospace design. The process of forming this specialty carbon fiber requires a lot more precision and special tooling than your average frame. However, this means most super bikes share the same qualities; they're super stiff and super light, which in road bike world means more speed, comfort, cornering stability, and power transfer efficiency. In addition to design, each component is a top end product. Just one of the precision ceramic bearings will cost $300 alone!
Craftsmanship
These bikes are low in production, which means not many of them exist in the world. For example, Ax-lightness can only produce 3 VIAO ULTRA frameset a month! All these superbikes also have high-quality, hand-done, custom paint jobs. Because production of these bikes is so limited, they've become highly collectible and therefore, highly expensive.
Reputation and brand history
Buying a luxury bike is similar to purchasing a Ferrari, Lamborghini, Bugatti. These brands stand for something. Colnago has 60 years of history, and is considered one of the best frame manufacturers in Italy. Cipollini is famous in making exotic high quality frames that are 100% made in Italy, while Ax-lightness is known with their ability to produce super light carbon technology. Sarto, which means 'tailor' in Italian, is known for creating custom bikes, tailored to needs of individual riders and again, are handmade in Italy.
In short, there are a ton of factors at play when it comes to big price tags on bikes, but ultimately, the needs of individual rider deem what's truly necessary on the road. One thing we can all agree on is that these bikes are gorgeous. Take a look at the most expensive bikes in Vancouver below.
1. Custom Sarto Seta - $20,000 CAD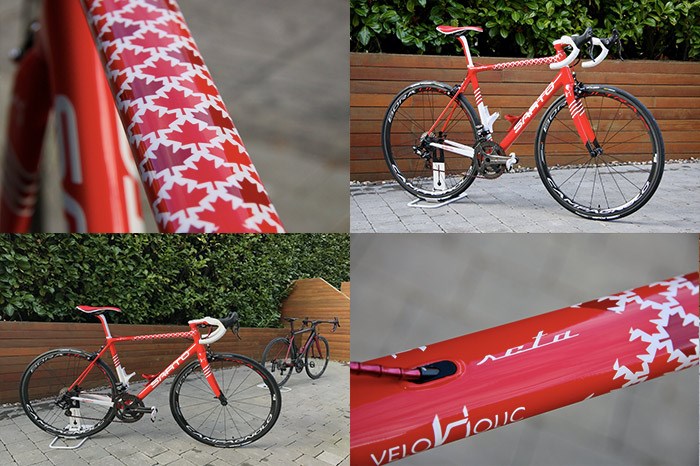 Sarto, the finest handmade custom bicycles since 1950! Sarto means 'tailor' in Italian, which makes sense since Sarto bicycles are 100% custom made in Italy. They are fully customizable to fit your geometry. This special Canada-themed bike was designed by Veloholic and made by Sarto to celebrate Canada 150 years old anniversary.
Frameset: Custom Sarto Seta
Handlebar: 3T Ergonova Team 40cm, custom painted to match
Stem: WR Compositi ST1 ALPHA 100mm, custom painted to match
Bar tapes: Supacaz Super Sticky KUSH White
Saddle: Sarto Pura Pelle, custom colour
Bottle Cages: Custom Sarto Carbon bottle cages
Groupset: Campagnolo Super Record EPS V3
Wheelset: Campagnolo Bora Ultra 35 Clinchers
Tires: Michelin Power Competition 700 x 25 Clinchers
Bottom Brackets: Ceramicspeed BSA Ultra torque, coated, anodized Red
Chain: KMC DLC X11SL Black and Red
Pedals: Time Xpresso 10 Canada Flag limited edition
Cable & Housing: Jagwire Elite Link, anodized Red.
Finishing weight: 6.5kg, 14.3 lbs.
MSRP: $20,000 CAD
2. Lightweight Urgestalt Weiss ed. - $22,000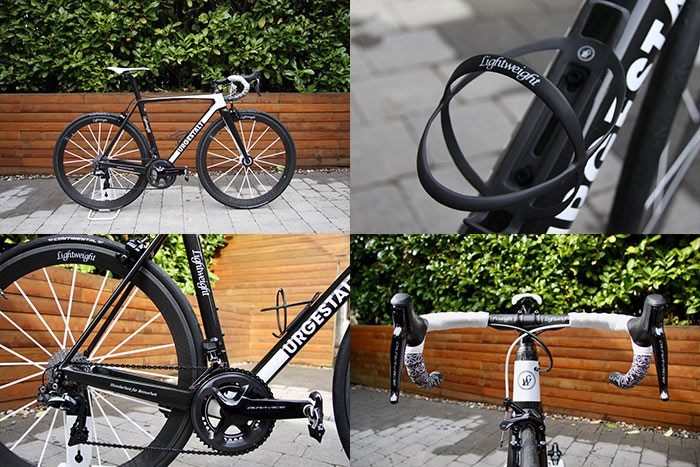 Lightweight is the ultimate carbon composite company in Germany. They developed the first ever all-carbon wheels, which have since been recognized as the best premium wheels on the market.
Frameset: Lightweight Urgestalt Weiss edition
Wheelset: Lightweight Meilenstein Weiss edition
Tires: Continental Gran Prix 4000 S II 700 X 25C
Groupset: Shimano Dura Ace R9150 di2 groupset with D-Fly unit
Bottle Cage: Lightweight Edelhelfer
Handlebar: Lightweight Kompaktbügel 40cm
Stem: Extralite HyperStem stealth black 110mm
Saddle: Lightweight x Selle Italia SLR
Pedal: Time Xpresso 15 Tianium-Carbon
Bar Tapes: Supacaz Balck & White Starfade
Bottom brackets: Ceramispeed BB86, coated, Black
Chain: KMC DLC X11SL BLACK
Finishing weight: 6.3kg, 13.8lbs
MSRP: $22,000
3. Cipollini NK1K - $26,000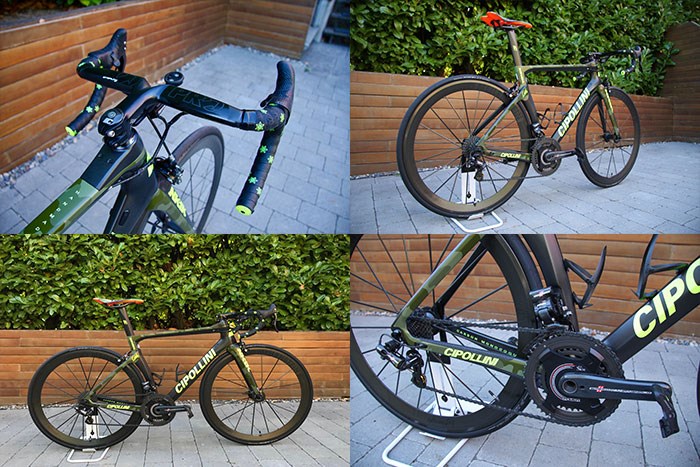 Cipollini was started about 9 years ago; Mario Cipollini had retired from bike racing, but was still looking for a new bike to ride. Finding nothing satisfied his tastes, he decided to make a bike to his own specifications. Mario approached a company about creating his own line of bikes and Cipollini was born. Cipollini Bikes are built in 4 Italian factories, with the goal of creating the best bikes in the world.
Frameset: Cipollini NK1K, Camouflage Green, size Medium, Direct mount brakes
Groupset: Campagnolo Super Record EPS, 50/34 chain rings, 12-29 casette
Powermeter: SRM Campagnolo 4 bolts 170mm powermeter
Bottom brackets: Ceramicspeed 386 Ultra Torque, coated
Pulley wheels: Ceramicspeed Campagnolo 11 speed coated, gold
Saddle: Astute Skylite VT, Camouflage limited edition
Cockpit: PRO Stealth Integrated bar, 100mm 40cm
Wheelset: Lightweight Meilenstein Schwarz Black edition, clinchers
Pedal: Look Keo Blade 2 Peter Sagan edition
Bar Tapes: Supacaz Neon Yellow Galaxy
Bottle cages: Tune Wassertrager 2.0 carbon bottle cages
Finish weight: 7.3 kg, 16.1 lbs
MSRP: $26,000
4. Colnago Ottanta 5 Limited Edition - $20,000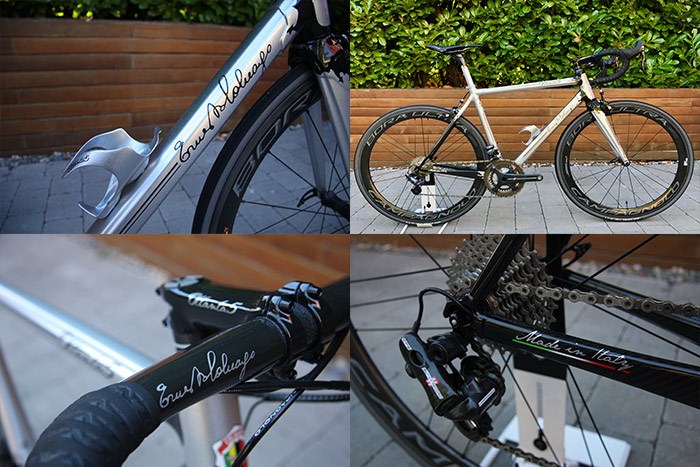 This Colnago Ottanta 5 Limited Edition was produced to celebrate Colnago's founder, Ernesto Colnago's 85th birthday. There are only 85 of these around the world, but fortunately, there are three in Canada, two of which are in Vancouver.
Frameset: Colnago Ottanta5 C60, 1 of 85
Handlebar: Ottanta5
Stem: Ottanta5
Bar tapes: Colnago bar tape
Saddle: Ottanta5
Bottle Cages: Ottanta5
Groupset: Campagnolo Super Record EPS
Wheelset: Campagnolo Bora Ultra 50 clinchers
Tires: Vittoria Coras G+ 25C
Bottom Brackets: Campagnolo PF41 UT
Chain: Campagnolo Record 11Â
Pedals: N/A
Cable & Housing: Campagnolo
Finishing weight: 6.8kg
MSRP: $21,000
5. Ax-lightness VIAL Evo Ultra - $20,000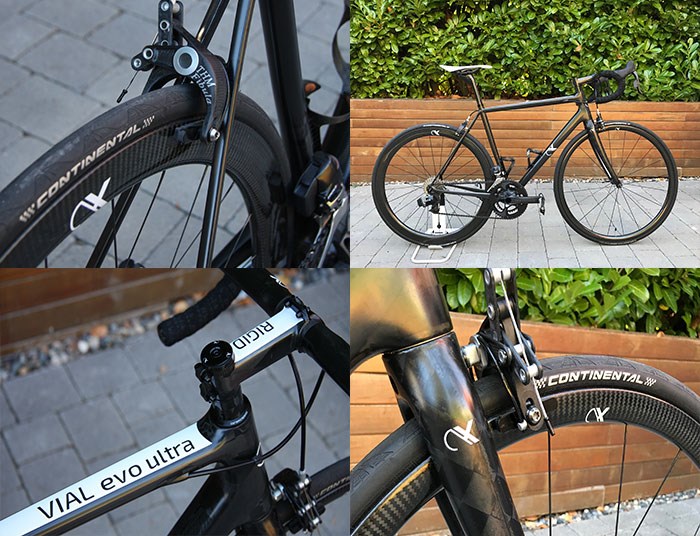 Ax-lightness is a German company that only manufacture exotic carbon fibre products. In 1999 the first steps that would lead to the company's success has been carved with the idea for Sprint, the first carbon saddle. The first small batch production took off shortly after and by 2001, Ax-lightness products had already been used in the Tour de France.
Frames: Ax-lightness VIAL evo Ultra, size medium, with THM Scapula CT fork
Groupset: Sram eTap, Sram XG1190 11-28 cassette,
Crankset: THM Clavicula SE 170mm with Praxis 50/34 chain rings
Brakes: THM Fibula brakes,
Wheelset: ax-lightness Road Ultra 28/45 clinchers
Stem: ax-lightness Rigid stem 100mm
Bar: ax-lightness ax4200 Ergo bar 42cm
Seatpost: ax-lightness Daedalus Premium L2 seatpost
Saddle: ax-lightness Leaf Leather limited edition
Bottle cages: ax-lightness Nasdorowje bottle cages
Pedals: Time Xpresso 15 pedals
Finished weight: 5.38kgs, 11.86lbs.
MSRP: $20,000