Much like the False Creek fill story that was inspired by a little old house. This installment of VWA is inspired by a curious little stretch of track that I noticed recently on a bike ride..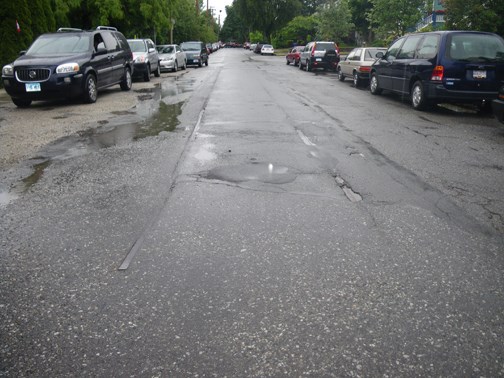 Located on Quebec St between 12th and 13th in front of the Firehall - these tracks are a reminder of the extensive network of streetcars (trolleys) and interurbans that served the good people of the Lower Mainland from 1890 until 1955.  More specifically these tracks are here because the spot that now houses IGA and Blockbuster video is the former location of the Mount Pleasant Streetcar Barn.
As mentioned in an earlier post, the little boomtown of Vancouver was burned to the ground in 1886.  The rebuilding effort was immediate and literally tens of thousands of people poured into the city in the years that followed. So many in fact, that a method of "people moving" needed to be established.  Originally planned as a horse-drawn system, Vancouver's electric streetcar line was put into service in June 1890. Its was a single line that took people from around Main St station, through Chinatown/Gastown and ended up near Drake and Granville.  The first streetcars were little 4 wheelers that were similar in appearance to the cable cars in SF.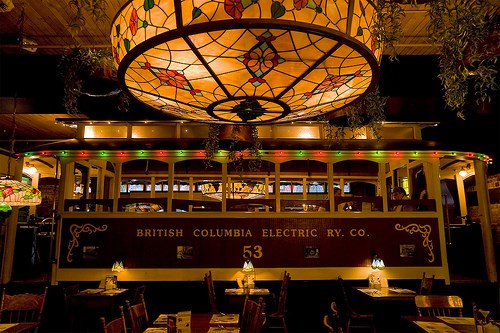 In fact you can sit in an original one at The Old Spaghetti Factory in Gastown!  This little guy from 1907, survived as a "salt car" servicing the lines in the winters long after the others were taken out of service.
As Vancouver continued to grow, so did the demand for more streetcar service. Lines were added all over town.  Main St, Hastings, Robson, Broadway, Granville and Commercial Drive just to name a few. This map shows you the extent of the system.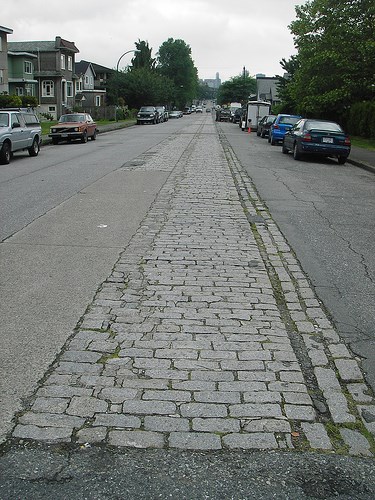 Francis St in East Van
Now beyond just the inner city lines. Service known as "Interurbans" was put into effect around the turn of the century.  These bigger cars would wisk people from their downtown station at Carroll/Hastings to outlaying areas like Steveston, Burnaby, Surrey, Abbotsford, and New West.  Ironically almost 40 yrs after being taken out of service in lieu of busses, the Skytrain was opened in 1986 and followed much of the same line as the Interurban. 20 yrs after that and the constructiont of a train to Richmond essentially does the same. Except it had to be buried this time as Westside people didn't want it to run on the existing Arbutus rail line because skytrains are yucky. Add to that the recent movement afoot in the Valley to bring rail service back there and its interesting to see how history can repeat itself.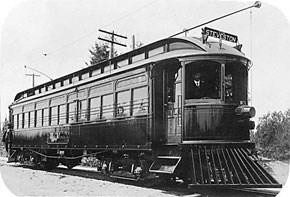 Luckily two original Interurbans were saved and restored!  You can check them out on the Vancouver Historic Railway between Granville Island and Science World.  Although at the moment service has stopped due to Olympic construction, it will be back better than ever real soon!
I for one think streetcars are totally cool, and a great way of getting around. Whenever I visit a place like San Francisco with its awesome preserved and modern streetcars I find myself wishing Vancouver had kept theirs too.  No hurky jerky pollutey busses, just silent electric trolley's wisking us around. Who knows, perhaps someday we will see this again...
httpv://www.youtube.com/watch?v=BPxcTM4MOhc
Until then we can feel grateful for things like this which help us to remember how awesome Vancouver was!!