Last weekend I headed to Vancouver Island to attend a Pacific Salmon Foundation event (which I'll write about in another post) and wound up on one of my favourite roads in BC: "Highway" 19A, otherwise known as the Oceanside Route. Formerly a major thoroughfare going from just south of Parksville up to Campbell River, I understand that in the 90's the government of the day decided to create an expressway just West of it. It made for a quicker trip north but essentially choked off the volume of tourists to a number of small towns as well as the livelihood of people who ran businesses that catered to them. It's by no means a ghost town at this point as the towns are still very much alive, but the road is haunted by relics of the past and it makes for a scenic drive.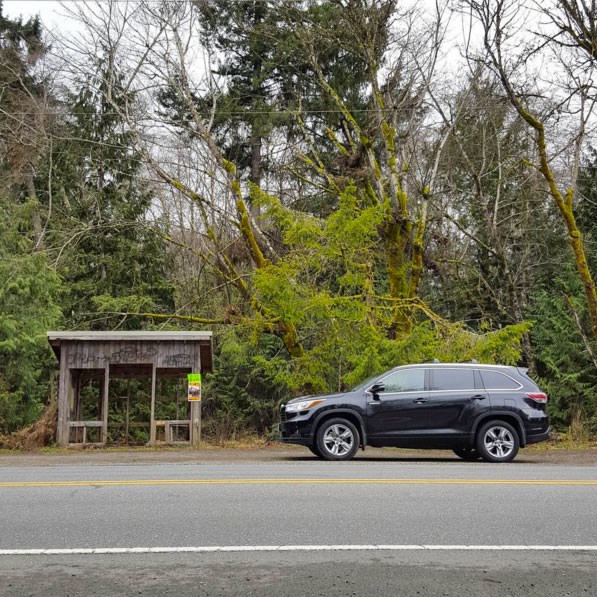 The old bus shelter above had a new poster up on it.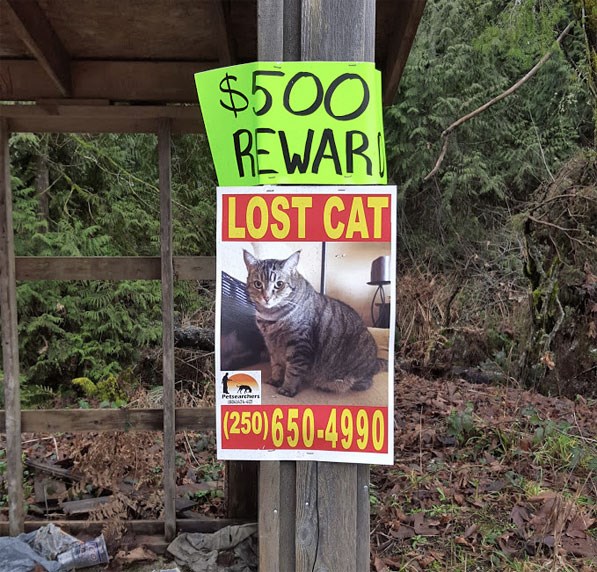 Old painted steel bridges like this dot the way.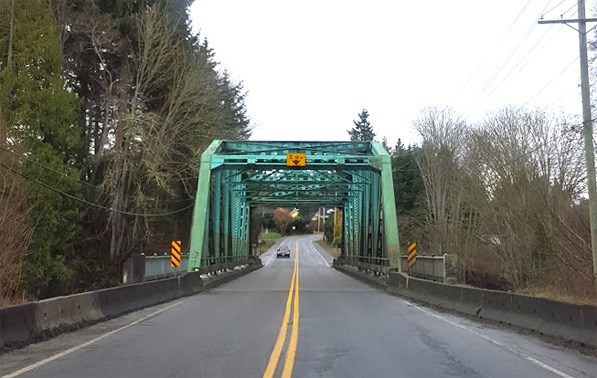 Running adjacent the highway on one side is the ocean and on the other is a deactivated rail line which has plenty of old trestles to walk over. Crossing them feels fairly sketchy with no guard rails in place, but there's no risk of Stand By Me moments of having to jump off the tracks for trains; it all balances out.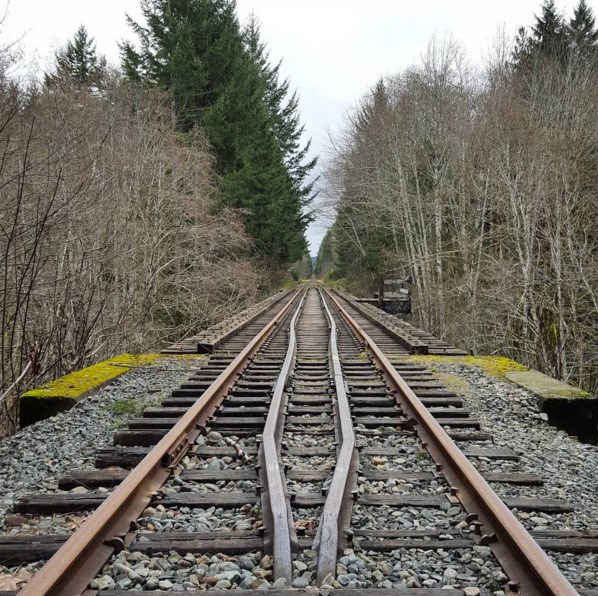 Another spirit along the route is the Ghost of Old Gas Prices Past. All along the drive it was below a dollar, which is partly due to them not having the same gas tax that we have here in the Lower Mainland. I get great mileage in my beloved Toyota Highlander Hybrid that I take on all of these adventures but I love cheap gas as much as the next person and am always stoked to take advantage.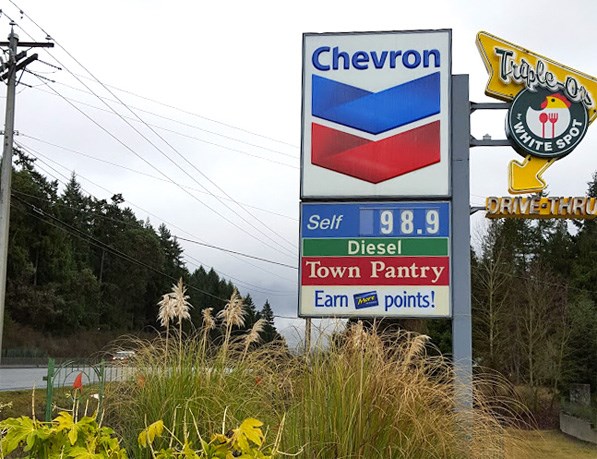 My destination was the Crown Mansion in the town of Qualicum Beach. It's a giant old mansion that was built in 1914 and has been converted into a number of hotel rooms as well as private residences. Walking in you immediately get the feeling that the place is full of ghosts.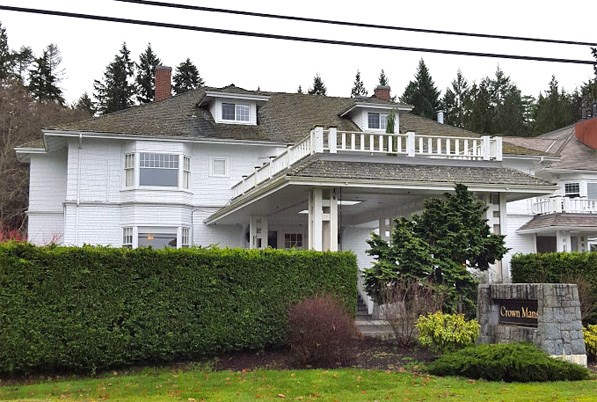 I've stayed in places where there are plenty of ghost stories being told about them, and when I ask the staff they generally try to steer me away from writing about the subject because they feel it might scare customers away. However the person who checked me in here was more than happy to tell me all about how the games room (pictured left, below) is one of the most "active" rooms in the building. She also let me know that the dining room (right) has had its share of sightings.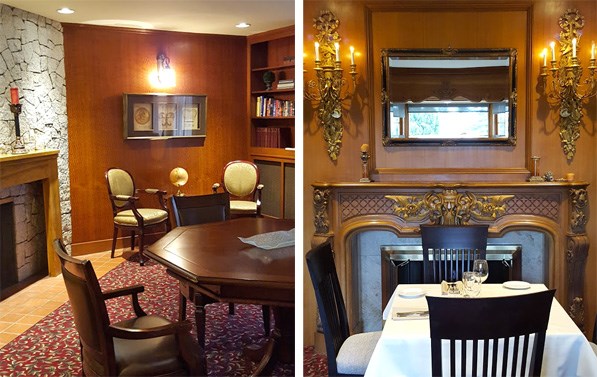 She told me all about Mr Money (one of the original owners) and how people often see the ghost of his dog shown with him in this photo below, which hangs in the main lobby. They'll hear the dog walking around, and many people report seeing him in the form of a ghost puppy.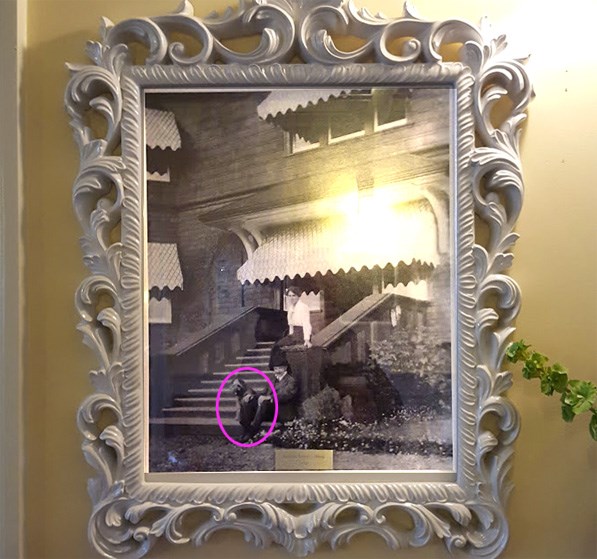 Upon getting into my room an eerie feeling followed me, with antique-style furniture (see the bed stand left) and a haunting view of the grounds and my vehicle out old single pane windows. Aside from that the place was quite modern - two flat screen TVs, a wine cooler, all of the modern amenities you'd expect from a $200/night room.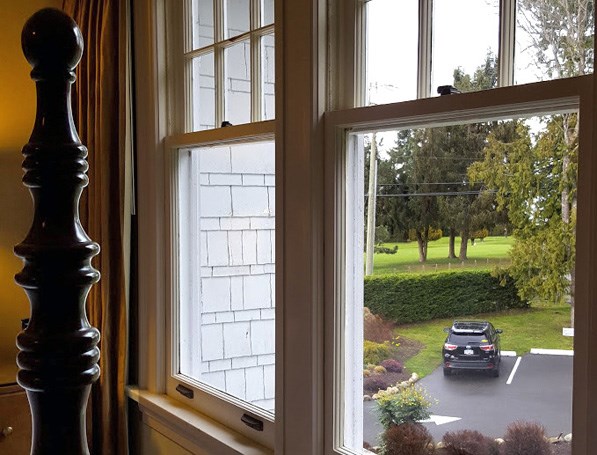 I should tell you this: I don't actually believe in ghosts. At all. However all of these stories combined with the general old-timey feel of the place freaked me out a little as I got settled in my room, alone. I made myself a coffee and sat down next to this fancy lamp below when I noticed that the crystals hanging off of it were swaying for what appeared to be no reason. I sat completely still for a couple minutes staring at it, thinking that maybe my walking around made the old floors shake and caused the lamp to move, but they didn't stop swaying. Finally I realized that the fan for the furnace was blowing across the room onto the lamp, making it appear as though a ghost was trying to send me a message.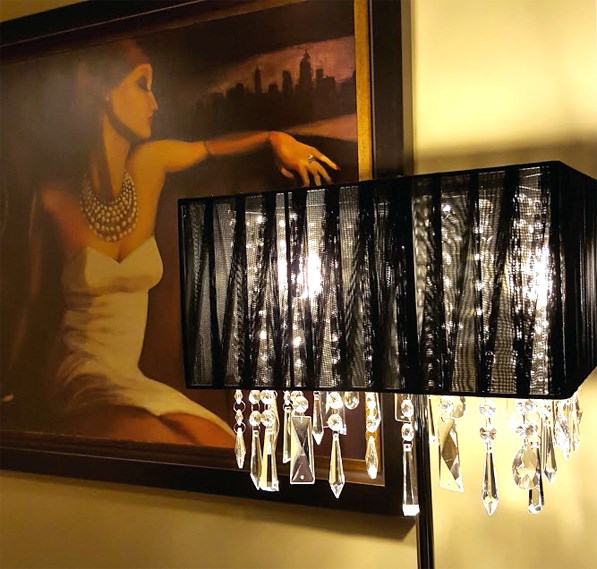 After my coffee I set out for a walk to a property next door called the Qualicum Beach Heritage Forest. It's home to 400-year-old fir trees and a number of other species, and it used to belong to the same people who owned the mansion. In 1995 they had expressed interest in selling it off and the craziest fluke happened: a resident of the town found a piece of paper on the sidewalk that outlined a plan to buy the land, mow down the forest and create 110 residential lots. The townspeople were not having that, so they banded together and raised more than a million dollars to purchase the land and turn it into a protected area.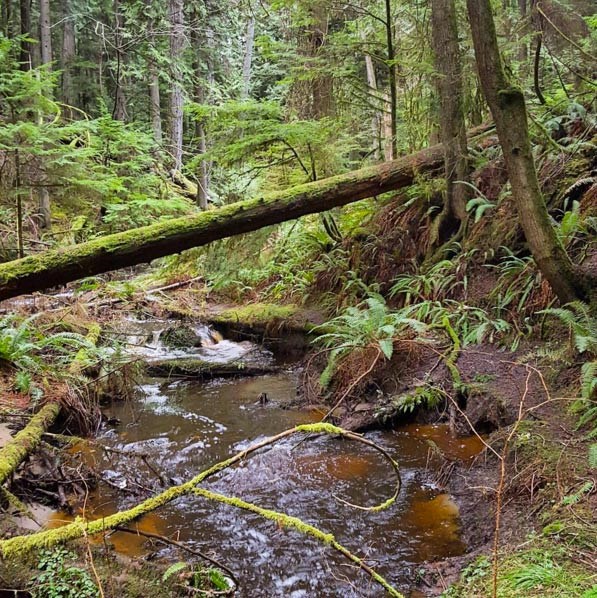 It's a haunting experience walking through it, knowing that it could have become just another row of townhomes. Instead it's a wonderfully preserved space with plenty of wayfinding signs that tell people about the area, and what they're looking at.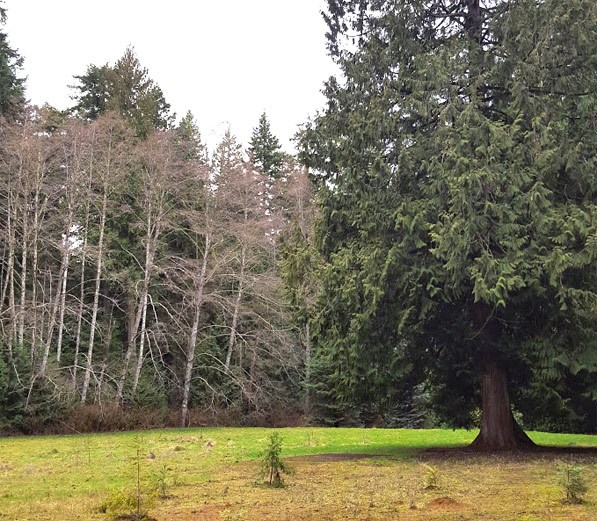 Close to this "nurse log" is a sign explaining how often times Hemlock tree seeds will fall onto old stumps and then grow out of them. In time as the tree grows bigger, the stumps rot out from under them and they get "stilted roots". There are a number of them growing on the sides of the trails. I've only shown the bottom but this particular tree is about 40 feet tall.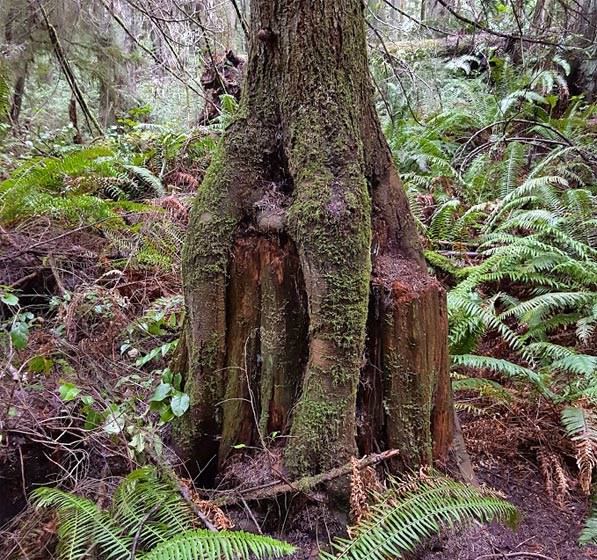 So, in all, a worthwhile trip to Qualicum Beach! Ghost adventures on Vancouver Island!