Locals looking for direct, return airfare to paradise may want to take advantage of some ultra-low fares courtesy of WestJet right now.
Canada's second-largest airline is selling return trips to the Aloha State for a steal in March 2022.
Of course, many flights are being cancelled due to staffing issues caused by inclement weather and the Omicron variant. If you do plan to buy a flight a couple of months in advance, ensure you have a robust, comprehensive insurance plan.
For now, the Canadian government advises against international travel. If you do travel, ensure you have medical coverage specifically for COVID-19 and related expenses.
Typically, round-trip, direct flights to Honolulu from Vancouver start around $450 CAD and go up from there. Right now, however, WestJet is offering flights for $331.11 CAD with all taxes and fees included on several dates this winter and into spring.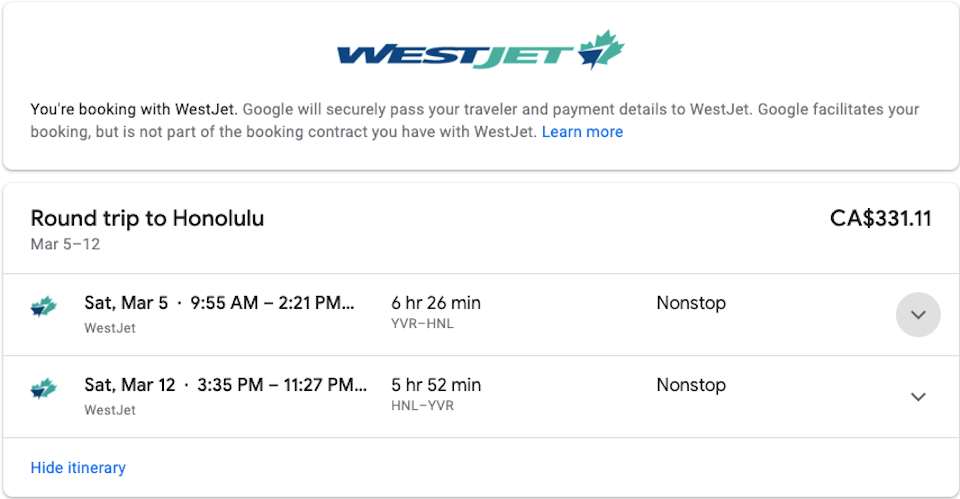 Explore Honolulu and beyond
Not only is Honolulu famous for its breathtaking, crescent-shaped beach, but it also offers incredible nightlife, shopping and dining.
Hawaii also offers a range of natural gems to explore on each of the islands as well as many places to dine, shop, and catch live shows. From the Mauna Kea Summit to the massive, approachable populations of manta rays, the rich history of Lahaina to the stunning Waikiki Beach, the islands ooze tropical beauty.
Book your ticket with WestJet here.
Metro Vancouver residents: What to know about travel right now
Disclaimer: Vancouver Is Awesome does not support travel during the non-essential travel advisory. Many foreign governments are implementing strict travel restrictions due to the spread of the Omicron variant and international transportation options may be limited. As a result, you may have difficulty returning to Canada.