Looking forward to a tropical vacation during the long, wet Vancouver winter?
Several airlines have lowered their ticket prices on flights out of the Lower Mainland to Hawaii for fall and winter 2021. What's more, many of the flights offer direct options out of Vancouver International Airport (YVR), which means you can avoid the hassle of lengthy stopovers en route to your holiday.
British Columbians may now visit Hawaii without quarantining thanks to new rules south of the border, too. In tandem with the reopening of the U.S.-Canada land border, Hawaiian Governor David Ige announced that international travellers can now visit Hawaii without the mandatory quarantine. Find out everything you need to know about the state's new rules for international travellers.
While there are a plethora of cheap flights to choose from this fall, some options offer particularly inexpensive fares. For example, a WestJet flight ticketed to Delta Airlines departing on Dec. 6 out of Vancouver and flying directly to Honolulu and returning a week later costs $451.36 CAD including all taxes and fees.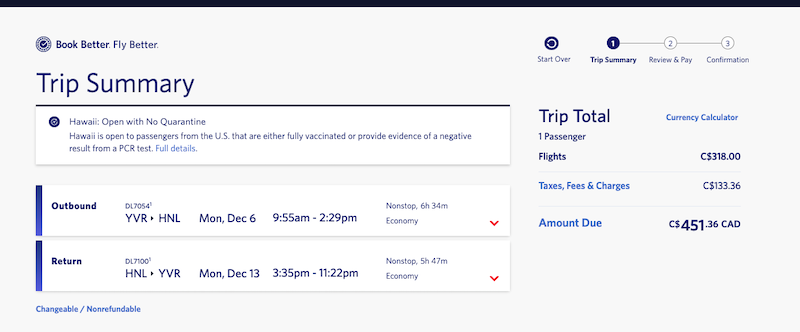 If you prefer to go through WestJet directly, the flight will cost a total of $471.30 CAD including all taxes and fees (only a $20 CAD difference).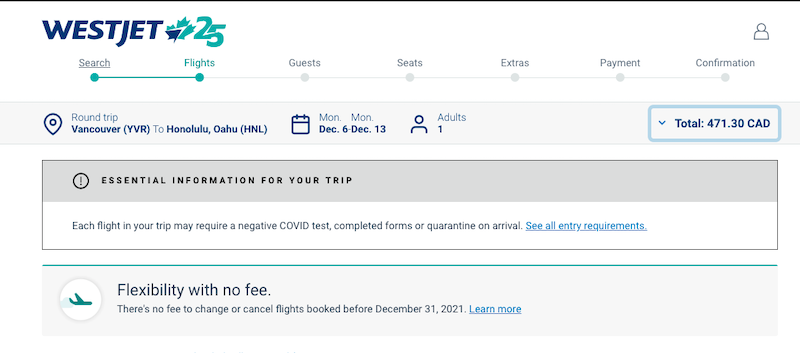 COVID-19 self-testing kits for travel
There are several clinics in the Lower Mainland you can visit to obtain the negative coronavirus test result needed for travel.
COVID-19 testing for travel may cost upwards of $150 CAD per person, although prices vary. Find out more information about the process and some local companies that provide the tests.
For testing from the comfort of your home, a Canadian company sells portable self-administered COVID-19 molecular and antigen test kits to avoid the hassle of visiting clinics. Find out more information about the company and its self-testing process.
Explore Honolulu and beyond
Not only is Honolulu famous for its breathtaking, crescent-shaped beach, but it also offers incredible nightlife, shopping and dining.
Hawaii also offers a range of natural gems to explore on each of the islands as well as many places to dine, shop, and catch live shows. From the Mauna Kea Summit to the massive, approachable populations of manta rays, the rich history of Lahaina to the stunning Waikiki Beach, the islands ooze tropical beauty.