Metro Vancouverites looking to fly across the country may take advantage of several reduced fares right now.
Flair Airlines, a low-cost Canadian carrier, is offering deals out of Vancouver International Airport (YVR) and Abbotsford International Airport (YXX) at a steal.
Flights out of YVR start for as little as $49 CAD including taxes and fees and flights out of YXX start as low as $39 CAD.
For Vancouverites looking to travel across Canada, however, flights flying directly from YVR to Toronto's Lester B. Pearson International Airport (YYZ) cost as low as $89 CAD including all taxes and fees for a variety of dates.
The return flights cost roughly the same price, which means locals can enjoy a round-trip fare for under $200 CAD including all taxes and fees. These flights typically cost over $400 CAD return, which means Flair offers a considerable discount on the popular route.
Locals may also fly directly from Vancouver to Montreal for as little as $49 CAD including all taxes and fees.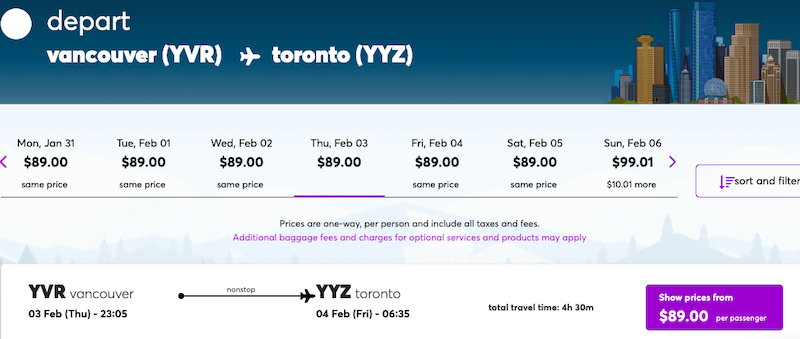 Earlier this year, Flair announced that it will offer several flights out of the Lower Mainland to popular tourist destinations south of the border.
The budget Canadian airline will now offer non-stop, low-fare flights between eight Canadian cities and six U.S destinations: Fort Lauderdale, Orlando-Sanford, Phoenix-Mesa, Hollywood-Burbank, Palm Springs and Las Vegas.
You can book your flight with Flair Airlines online.