Are you dreaming of taking a bite out of the big apple on the cheap?
Whether that's a unique shopping experience in Soho, a massive slice of foldable pizza in Brooklyn, or simply getting lost in the vibrant lights of Times Square — New York has something for everyone.
Right now, there are several tickets from Vancouver to the 'city that doesn't sleep' for under $400 CAD including all taxes and fees.
For example, a flight departing Vancouver International Airport (YVR) on Jan. 26, 2022, to New York's John F. Kennedy International Airport (JFK) and returning on Feb. 1, 2022, costs a total of $380.74 CAD including all taxes and fees. There is a stopover in Calgary in both directions, although each of them is under three hours.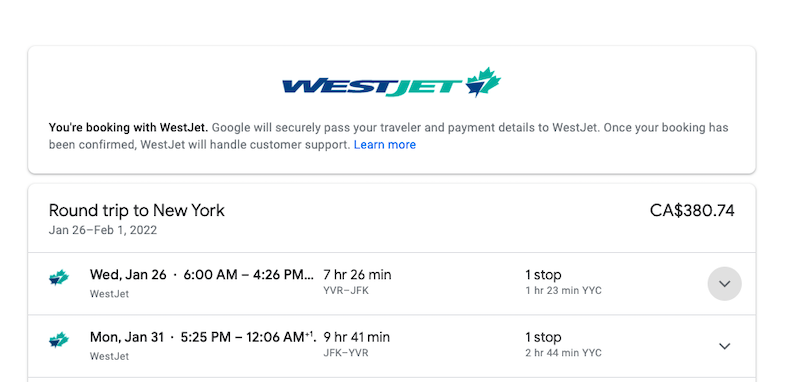 Discover New York
NYC offers endless things to see and do, as well as a variety of places to stay. Of course, staying in Manhattan or right in Times Square typically costs a bit more, but it may be worthwhile to stay downtown. Also, a CityPASS for New York gets you discounted admission into most of the city's big attractions. If you purchase one before you start visiting, it can reduce the overall cost of your trip.
You can book your ticket online through Google Flights.
COVID-19 self-testing kits for travel
There are several clinics in the Lower Mainland you can visit to obtain the negative coronavirus test result needed for travel.
COVID-19 testing for travel may cost upwards of $150 CAD per person, although prices vary. Find out more information about the process and some local companies that provide the tests.
For testing from the comfort of your home, a Canadian company sells portable self-administered COVID-19 molecular and antigen test kits to avoid the hassle of visiting clinics. Find out more information about the company and its self-testing process.
International travel for Canadians
The Canadian government recently lifted the country's non-essential travel advisory, which was in place since March 13, 2020, at the onset of the COVID-19 pandemic. However, there are several things to consider when you travel outside of the country.
Find out more information about international travel.
On Oct. 29, Canada's vaccine card was made available to B.C. residents looking to travel in Canada and internationally. Find out how you can get your federal proof of vaccination.